Here we go guys, are you looking for the funny hilarious Dominic family meme? so you are at the right place. Here I am going to present to you the best funny and nonsense (Dominic) Vin diesel family meme, which was recently trended worldwide.
As we all know, people are so creative and make memes daily, and nowadays it is becoming a part of our daily life to see them for fun. Via social media, we see these memes and shared them. As soon as F9 was released in North America, then the Dom memes started coming into a trend, these memes celebrating Dom and his love of family. Also, A mother's ring could be a great gift for your loved ones.
READ MORE – Hrithik Roshan's Krrish Movie Hilarious Meme Is Getting Viral – Fans Got Crazy
Dominic Family Meme: 20 Best Vin Diesel Family Memes Ever
1 – Avenger End Game Vs Fast And Furious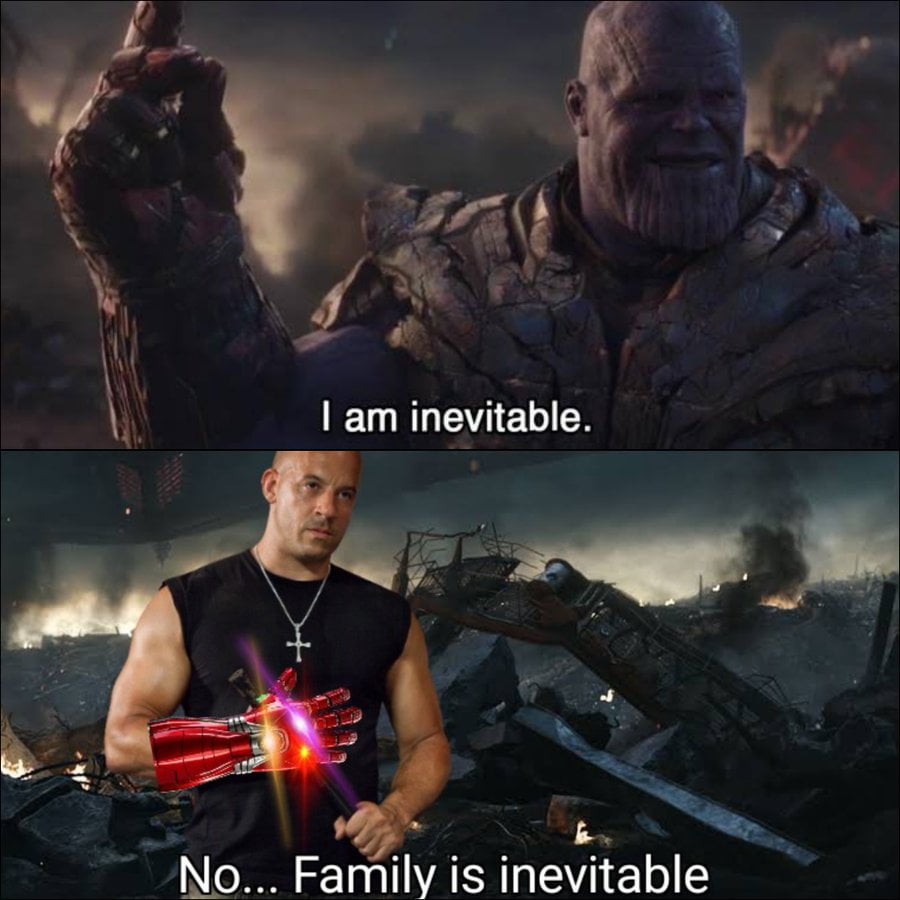 This was the scene from Avenger End Game movie when Thanos says, "I am Inevitable" and people added this with Dominic Meme below where dom says, "No… Family Is Inevitable." So funny.
2 – Trending Meme Logo Of Drake
🤣 I disagree 🤣 #VinDiesel #vindieselmemes @Lena58265425 @durden7881 @ronniehowlett3 @Kitty_Colossus @GothamsKitten @vindiesel @AdamStiebing @GeekVibesNation @pheltzcomics pic.twitter.com/4s2Ex6ITKs

— Son-Of-Krypton (@SonOfKryton) July 6, 2021
One of the Twitter users shared this meme where we see Dom's reaction for the Family meme.
3 – The Movie Scene From Avengers
I can already tell the Vin Diesel family meme will never get old for me pic.twitter.com/VYLPJFpfd3

— Washington Post TikTok Guy 🥛 (@davejorgenson) July 7, 2021
Loki says, I have an army and people added Dom where Dom says, I have Family.
4 – Vin Diesel Family Memes
Vin diesel family meme #vindieselmemes #vindiesel #family #f9 #FastAndFurious9 #MEMES pic.twitter.com/YdT9VVjOVF

— Vk (@Vk6169) July 6, 2021
5 – Thor Ragnarok Collab With Dominic
Dominic Ragnarok. #vindieselmemes pic.twitter.com/lIABznuEh0

— Rizky Arifin (@RizkymArifin) July 6, 2021
6 – This Is Unexpected Meme Of Dom
My favorite Vin diesel memes.. pic.twitter.com/uLUtIwqhT7

— Daniel™ (@Donanuna) July 9, 2021
7 – The Titanic Meme With Dom
im here for vin diesel family memes😂 pic.twitter.com/wDebkqUUOo

— chichi🌻🇨🇦🏳️‍🌈 (@25ShadesOfBrown) July 7, 2021
8 – Vin Diesel In John Wick Universe
Vin Diesel in John Wick universe. pic.twitter.com/MATwe9FRnh

— SVM (@ShivamChatak) July 5, 2021
Say No More, Dogs are family. let's get them.
9 – The IT Hiring Meme With Dom
We didn't get approval to post this. #VinDieselMemes pic.twitter.com/7gKRdT2U25

— Pulsar Advertising (@pulsarad) July 7, 2021
10 – The Best One So Far – Game Of Thrones Vs Vin Diesel
The best one so far 😭😭 #GameOfThrones #vindieselmemes pic.twitter.com/Aj9AjiGoo8

— Vélodr🌀Ⓜ️adaire (@VelodromeAdaire) July 6, 2021
11 – Calling In Everyone
Needed to get my mind off of things, so I tried my hand on the Vin Diesel meme with Spy Kids. #VinDiesel #fam #F9 #family #spykids #vindieselmemes pic.twitter.com/8bU8iRwaGz

— Erenaroonie!💖💜💙 (@erenaroonie) July 6, 2021
12 – Nothing Stronger Than Family – Hilarious
Nothin stronger than family #vindieselmemes pic.twitter.com/TxjrgyG4eo

— Glockamole (@Glockamolle) July 6, 2021
13 – Now We Are Done With You – #pimple
We are done with you #pimples
.
.
.
.#pimpleproblems #momentmarketing #socialmediamarketing #trending #trendingnow #pimplesremover #acneremoval #memes #memesdaily #memesindia #pimplememes #momentmarketing2021 #marketing #vindieselmemes #funnymemes #careforall #clickoncare pic.twitter.com/Ym7Uycq8Zw

— ClickOnCare (@clickoncare) July 6, 2021
14 – When Dom Get On Spotify And Found One Of The Songs Then He Enjoyed
When Dom get on Spotify and found one of the songs that he enjoys #VinDiesel #FastAndFurious9 #VinDieselmemes #family https://t.co/TFAG6U6z1A https://t.co/YtTfLABEf1 pic.twitter.com/cFqWEGW1Et

— Bink3yx (@Bink3y_is_Sweet) July 6, 2021
15 – Herry Potter Vs Dominic Family Meme
These Vin Diesel memes are killing me dude 🤣🤣🤣 pic.twitter.com/V3BVXqEXoh

— Steve Fall (@SteveFall) July 5, 2021
16 – Family Forever
These Vin Diesel memes are killing me dude 🤣🤣🤣 pic.twitter.com/401lqqSVel

— A$AP Rozkie (@RozkieSan) July 4, 2021
17 – I Am Just Here For The Vin Diesel Family Meme – Harry Potter
I'm just here for the Vin Diesel Family memes. pic.twitter.com/XSo3xnMmX9

— Cassidy Haynes of Bodyslam.net (@Casshooole) July 5, 2021
18 – Dom! The Power Of Family
#Godzilla #FastAndFurious pic.twitter.com/W0lsHP4Ci5

— Let's Talk Godzilla (@GodzillaLets) July 4, 2021
19 – Can't get over
Can't get over Vin diesel's meme 😂 pic.twitter.com/NYcSplZWa3

— Vansh 🔅 (@Vanshhjaiswall) July 6, 2021
20 -Vin Diesel Vs Thor Ragnarok
Vin Diesel Family x thor ragnarok pic.twitter.com/IraI4mdaKh

— ⚡R D 📖 (@therdmeme) July 6, 2021