Greetings and a warm embrace to our readers on our page! Today, how about looking at Bruno Mars's Songs? Reading below you will find a list of 20 best Bruno hits. Keep reading below to know more insights.
Who Is Bruno Mars?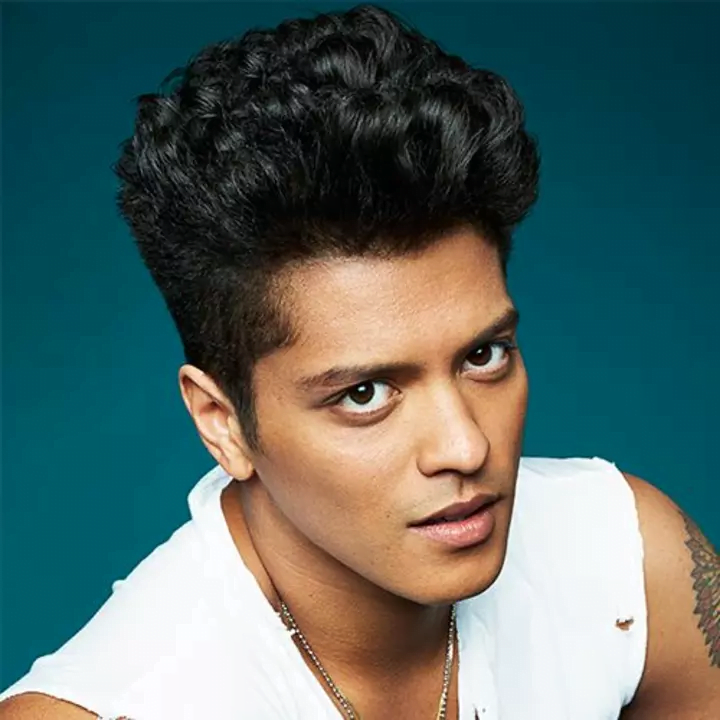 Bruno Mars is a well-known American singer, songwriter, record producer, and dancer. He was born on October 8, 1985, in Honolulu, Hawaii, with the birth name Peter Gene Hernandez.
Bruno Mars gained widespread fame in the late 2000s and early 2010s with the release of several hit songs and albums.
Some of his most popular songs include "Just the Way You Are," "Grenade," "Locked Out of Heaven," "Uptown Funk" (a collaboration with Mark Ronson), and "24K Magic." 
READ MORE – 30 Best 80s Rap Songs You Must Listen 
His music style is a blend of various genres, including pop, R&B, funk, soul, and reggae.
Bruno Mars's Accolades
Mars has received numerous awards and accolades throughout his career, including Grammy Awards, and he is widely regarded as one of the most successful and influential artists of his generation. Besides his solo work, he has also collaborated with other artists in the music industry.
Why Did Bruno Mars's Songs Become Popular?
One of the primary reasons for Bruno Mars' songs becoming so popular is his exceptional musical versatility. He effortlessly blends various genres, including pop, R&B, funk, soul, and reggae, creating a unique and fresh sound that appeals to a wide audience.
His ability to infuse classic elements with modern production techniques sets him apart as a true musical virtuoso. Moreover, Bruno Mars' rich and soulful voice, coupled with his impressive stage presence and charismatic performances, has mesmerized fans around the globe.
His lyrical prowess also contributes to his songs' popularity. Bruno Mars has an uncanny ability to craft catchy and relatable lyrics that resonate with listeners on a personal level. Whether he's singing about love, heartbreak, or empowerment, his songs have a universal appeal that transcends boundaries and cultures.
Bruno Mars' popularity is further enhanced by his showmanship and live performances. He is known for delivering electrifying and energetic shows that leave audiences in awe. His infectious energy and genuine passion for music make his concerts unforgettable experiences, fostering a strong connection between him and his fans.
Furthermore, Beyond his musical talents, Bruno Mars' charisma and down-to-earth personality have endeared him to a massive following. He has garnered a loyal fan base who admire not only his musical abilities but also his humility and authenticity as an artist.
In conclusion, Bruno Mars' songs became popular due to his exceptional musical versatility, relatable lyrics, captivating live performances, and genuine personality. His ability to effortlessly blend various genres and create timeless hits has solidified his status as one of the most celebrated artists in the contemporary music industry. With Bruno Mars' continuous dedication to his craft, there's no doubt that his star will continue to shine brightly for years to come. To know more about his tour or tracks by clicking here.
Some Engrossing Facts About Bruno:
Love for Retro Fashion: Bruno Mars is known for his impeccable sense of style, often incorporating retro fashion elements in his wardrobe choices. He has a fondness for vintage clothing, classic hats, and stylish sunglasses, which have become a signature part of his image.
Arrested for Drug Possession: In September 2010, Bruno Mars was arrested in Las Vegas for cocaine possession. He later pleaded guilty and completed a court-ordered drug counseling program, which he described as a turning point in his life.
Guinness World Record Holder: Bruno Mars set a Guinness World Record for the "Most Watched Super Bowl Halftime Show" in 2014. His halftime performance during Super Bowl XLVIII was viewed by a record-breaking 115.3 million viewers.
Influence of His Family: Bruno Mars comes from a family with a strong musical background. His father, Peter Hernandez, was a Latin percussionist, and his mother, Bernadette San Pedro Bayot, was a singer and dancer. They played a significant role in shaping his passion for music.
READ MORE – 31 Best Songs On Suicide You Must Listen 
List Of Bruno Mars's Songs: 
1- That's What I Like
2- 24K Magic
3- Treasure
4- Just the Way You Are
5- When I Was Your Man
6- Grenade
7- The Lazy Song
8- Finesse
9- Uptown Funk
10- It Will Rain 
11- Perm
12- Versace on the Floor
13- Please Me
14- Count on Me
15- Locked Out of Heaven
16- Fly As Me
17- Runaway Baby
18- Nothin' on You
19- Liquor Store Blues
20- Young, Wild & Free
We aspire to have provided you with an enjoyable experience while browsing our site.