Hey folks, today I am going to spot some light on Famous Celebrity Twins. However, do you know? Twins serve a double dosage of fashion, acting, and musical excellence.
Talking about it further, Twins like Mary-Kate and Ashley Olsen have transformed over the years. 
They started their career by being in children's TV roles. Nevertheless, now they are making their name in the fashion industry. 
Moreover, you will be amazed to know, that there's the youngest generation of celebrity twins like Knox and Vivienne Jolie-Pitt, Rumi and Sir Carter, and Ella and Alexander Clooney who is already making a name for themselves in Hollywood. 
Here I have prepared a list of popular 10 famous twins that you definitely must know. 
So without any further delay, let's dive straight into the list. 
READ MORE – Most Beautiful Actress: 12 Prettiest Actresses In The World 
1- Mary-Kate and Ashley Olsen
Mary-Kate Olsen is an American fashion designer and former actress. 
However, She began her acting career nine months after her birth, sharing the role of Michelle Tanner with her twin sister Ashley Olsen in the television sitcom Full House. 
Furthermore, They also starred in numerous films together. The sisters first found fame as Michelle Tanner on Full House and starred in numerous teen films such as Passport To Paris and It Takes Two and their hit Nickelodeon series Two Of A Kind.
Moreover, As adults, the sisters have side-stepped into the fashion world, launching successful labels such as The Row and Elizabeth and James. The last film she starred in with her twin sister was New York Minute (2004). She continued with her acting career independently, appearing in a few guest-star roles in films and a music video.
People around the world can't resist appreciating their beauty with their brains. Indeed these Famous Celebrity Twins are true paragons of beauty with brains. 
2- Sir and Rumi Carter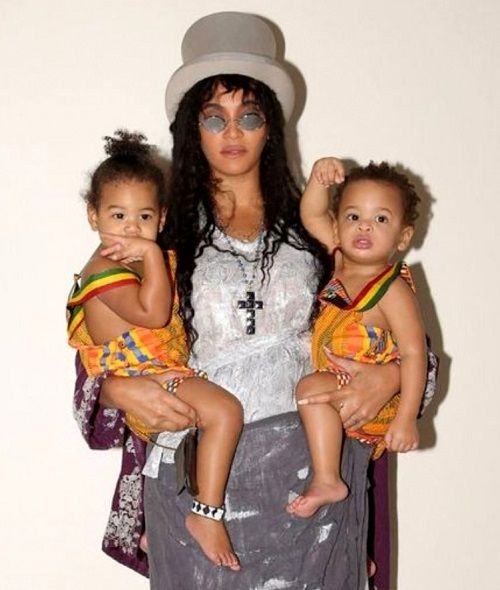 Sir Carter is a Louisiana Creole-American/African-American media personality.
Beyoncé's twins, Rumi and Sir Carter are 5 years old! From splashing around in the water to making adorable cameos in Black Is King take a look at their cutest moments.
However, It seems like just yesterday the Grammy winner welcomed her twins, Rumi Carter and Sir Carter, with her husband Jay-Z. 
Although, It's safe to say Rumi and Sir Carter had the best seats in the house!
We wish these Famous Celebrity Twins a very healthy and joyful life ahead! 
READ MORE – 20 Best Makeup Brands You Should Know
3- Marissa and Giovanni Ribisi
To begin with, Santina Marissa Ribisi is an American actress who performed in the films Dazed and Confused, True Crime, The Brady Bunch Movie, Pleasantville, and Don's Plum and television shows such as Felicity, Friends, Grace Under Fire, Watching Ellie, and Tales of the City. 
Furthermore, Antonino Giovanni Ribisi is an American film and television actor known for his roles in the TV series Sneaky Pete and the films Saving Private Ryan, Avatar, A Million Ways to Die in the West, and Lost in Translation. 
However, He also had recurring roles in television series such as The Wonder Years, My Name Is Earl, and Friends.
4- Dylan and Cole Sprouse
The Famous Celebrity Twins were once famous for starring in The Suite Life of Zack & Cody. 
Furthermore, Dylan Thomas Sprouse is best known for his role as Zack Martin on the Disney Channel series The Suite Life of Zack & Cody and its spin-off, The Suite Life on Deck, where he starred alongside Cole.
Moreover, Cole Mitchell Sprouse is an American actor and photographer. Known for his role as Cody Martin on the Disney Channel series The Suite Life of Zack & Cody and its spin-off series The Suite Life on Deck. 
READ MORE – 12 Expensive Shoe Brands In The World 
5- Laurent and Larry Bourgeois
Professionally known as Les Twins, the French twin dancers have multi-hyphen careers as choreographers, producers, models, designers, and creative directors of their brand Eleven Paris.
Furthermore, they recognized internationally for their talents in new styles of hip-hop dancing, and various dancing styles. They are identical twin brothers.
They are Born and raised in Sarcelles, France, the self-taught dance duo became the darlings of the French audience in 2008 as finalists on the popular television show Incroyable Talent.
6- Hunter and Scarlett Johansson
They might be twins but there's not a lot that makes these two identical.
Actor Hunter Johansson was born on November 22, 1984, in Manhattan, New York City, New York, USA. He received his education from the University of Vermont situated in New England. 
Whilst, Hunter is younger than Scarlett by 3 minutes. Scarlett in an interview revealed that his brother is the one who introduced her to President Obama.
Furthermore, He is also spotted several times with his twin sister on the red carpet events. He has also been reported to host several charity and fundraising events.
Moreover, Scarlett Johansson was named the "Sexiest Woman Alive", She is an actress, a singer, model, and endorser.
These famous twins look adorable together. 
READ MORE – 12 Most Famous Trios Of All Time 
7- Charlotte and Samantha Ronson
Charlotte is a fashion designer currently based in Los Angeles, US. Charlotte Ronson always had an interest in fashion, however, she began designing after friends asked her to create pieces for them. 
Samantha Ronson is a DJ, singer, and songwriter who lives in Santa Monica, California, US.
However, they are doing wonderful things in their lives for which they get appreciated by a plethora of people around the world.  
8- Max and Emme Muñiz
These two adorable twins, co-parented by their famous parents Jennifer Lopez and Marc Anthony.
However, Earlier this summer, they made their modeling debut to star in a new Coach campaign. One of the most Famous Celebrity Twins ever.
READ MORE – South India Actor: Top 15 Big South Indian Hero Name 
9- May and Ruth Bell
The twins are red carpet regulars after first capturing the fashion world's focus when they spotted, aged 16, at Lakeside shopping center in Essex by a scout from Elite.
However, After Ruth shaved her head, their profile was heightened.
Furthermore,  In recent years, they've modeled for Alexander McQueen, Saint Laurent, The Kooples, Dior, Topshop, and Burberry, showing no sign of stopping. 
10- Rami and Sami Malek
Rami, is an Oscar winner, James Bond villain, and boyfriend to Lucy Boyton while his identical twin brother, Sami, is a teacher in Los Angeles.
However, they indeed look identical copies of each other. One of the most Famous Celebrity Twins ever.