Rapper kaam bhari and nuka released their new rap song 'AYO BURN'.
'AYO BURN' is released under the Record Label of Bollywood Star Ranveer Singh.
After Gully Boy Ranveer singh has partnered with filmmaker Navzar Eranee and announces New Independent Music Label IncInk Records.
'AYO BURN' Rap Written and Performed by Nuka feat. Kaam Bhaari and Music is Produced by Nuka.
In the video, lot of other artist do Cameos like Rākhis, Spitfire, Devil the Rhymer, Wordsmth, Henna Brar etc.
Watch Now – AYO BURN | Nuka feat. Kaam Bhaari | IncInk
The music video of 'Ayo Burn' is directed and edited by Nuka (Anushka Manchanda) and the amazing concept by Ananya Dasgupta and also she is a producer of this project.
The 'AYO BURN' is a fast tempo rap track with the amazing bars of kaam bhaari and nuka. kaam bhaari is known for his unique rap flow, while the other side nuka is extremely amazing on beats. If you love the new sounds or kind of new generation music then you absolutely love this track.
Read More – Vh1 Supersonic Reveals 2020 Lineup
Stream And Download 'AYO BURN'
iTunes : https://music.apple.com/us/album/ayo-…
Spotify : https://open.spotify.com/track/40mbUJ…
JioSaavn : https://www.jiosaavn.com/song/ayo-bur…
Gaana : https://gaana.com/album/ayo-burn
Wynk : https://wynk.in/u/EpJWrDe5j
Hungama : https://www.hungama.com/album/ayo-bur…
This is a second collab of kaam bhaari and Nuka they already produce a track together called 'Mohabbat' kaam bhaari, Rakhis and nuka. Nuka is music producer on IncInk records.
Read More – TroyBoi Releases New Drop "Mmmm" [Must Listen]
Kaam Bhaari –
Kaam Bhaari is one of the youngest rappers of his generation. From the streets of Kandivali to being a label signed recording artist, he chronicles his journey through his favorite medium, rap. Kaam Bhaari, a young emcee with a knack for taking people's breath away with his rap, has translated his success with a lot of hard work. He was intrigued by hip hop at a very young age and was discovered by Superstars like Ranveer Singh. Kaam Bhaari was also one of the final four rappers to perform with Ranveer Singh as part of the famous brand Jack & Jones' competition.
Read More – Diljit Dosanjh 'Stranger Song' Ft. Simar Kaur
Nuka (Anushka Manchanda) –
Anushka Manchanda is an Indian singer, model, actress and former VJ. She came to prominence as a member of the Indipop girl group Viva!. Manchanda was also a participant in the reality television series Jhalak Dikhhla Jaa.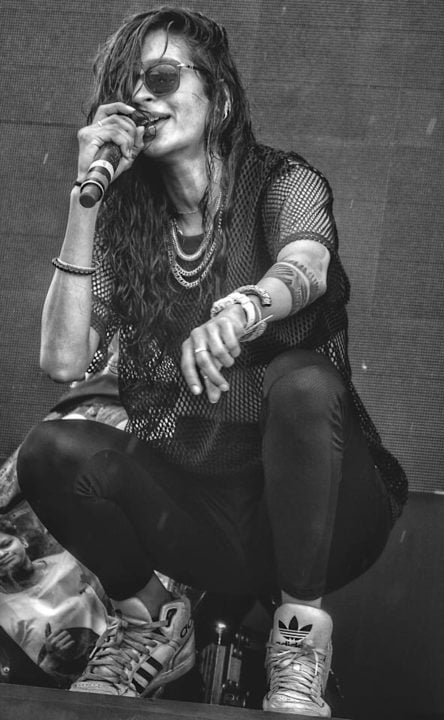 Read More – Michelle Obama Shares 2020 Workout Playlist
"You can be an activist and an artist and you can keep your integrity. Because otherwise what are you saying through your art anyway?" says Anushka Manchanda aka NUKA. The producer/lyricist has had a storm brewing in the back of her head for about a year and a half now and her experimentation in production finally found its synergy right when she realized she had a lot to say. "When you do more research and you start reading about stuff, you realize that it's not just the last two years…The story has been the same for a long time. The kind of revolution that's happening in the country right now…I haven't seen this before, ever. I feel like maybe, now, things might change." She's talking about public dissent and people taking to the streets to stand up for what they believe in as they respond to the ongoing political current about citizenship in India. And what better medium for dialogue than art?
Cast –
Nivedita Sharma, Anjali Verma, Sheetal Perry, Afia Modak, Alisha Shaikh, Diksha Rana, Swetta Poojarie, Ticko, Shashank Dogra, Vinay Khandelwal, Tushar Gupta, Ravi Ramchandra Sharma, Gowtham Shola, Aniruddha Mahale, Ankit Parthe
Read More – Tomorrowland Reveals Amazeball 2020 Stage Host List
Cameos –
by the IncInk Family and Friends: Rākhis, Spitfire, Devil the Rhymer, Wordsmth, Henna Brar, Simran Singh, Shezi Iqbal, Asxem Dlean, Gautam Deb, Siddhi Konduskar, Nikita Salunke, Apurva Jadhav, Tanya Agarwal, Gaurav Kataria, Gowtham Shola and Deepak Manchanda
Follow Nuka on:
Instagram: https://instagram.com/kissnuka?igshid…
& https://instagram.com/anushkadisco?ig…
Facebook: https://www.facebook.com/IAmAnushka/
Follow Kaam Bhaari on:
Instagram: https://www.instagram.com/kaambhaari/
Facebook: https://www.facebook.com/kaambhaari101/
Follow IncInk on :
YouTube : http://bit.ly/IncInkRecords
Instagram : http://www.instagram.com/incinkrecords
Facebook : http://www.facebook.com/incinkrecords