Indian hip hop artist Badshah has officially announced about his upcoming new album – 'The Power Of Dreams Of A Kid' #TPODOAK. – Watch the full teaser below.
On 7th June, Badshah hinted that his long-awaited upcoming album is on the way. It seems like he has completed his new album work. This album will blast the desi hip hop style. something big is on the way. He also captioned his recent post on Instagram, "2010 wala scene #TPODOAK," it seems like his new album will relate his full journey.
MUST-READ – Punjabi Singer Tarsem Jassar Releases New Song 'My Pride' Ft. Fateh
Badshah wrote the caption about his new album on Youtube, "Be brave and live the life of your dreams. A little heart to heart with Me and my life-giver who also gave me the strength to chase my dreams. I am pouring my heart out in this Album. Stay Tuned. The Power of Dreams of a Kid."
Badshah Announces His Second Album – 'The Power of Dreams'
Badshah had been uploading his story since morning on Instagram for the announcement of his new album, and now he announced the teaser of the album, where he is talking to his mom for the future plan and his mom is explaining the reality of life, what type of problems would come in life.
READ MORE – Harf Cheema Drops New Punjabi Song 'College Wale Yaar' Ft. Jass Manak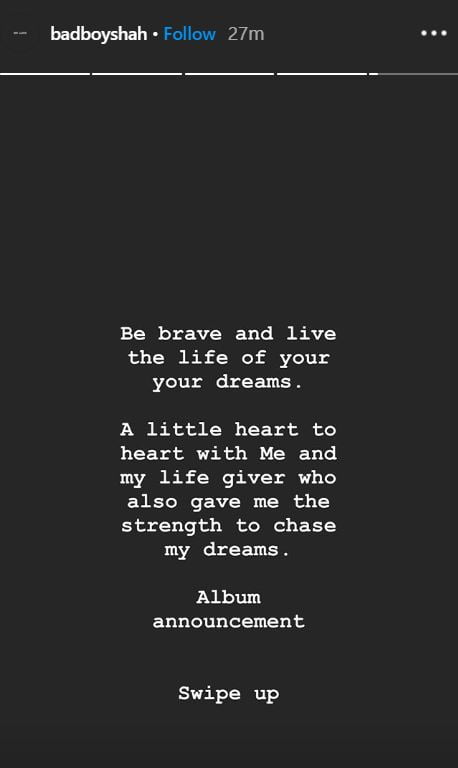 Last week, Badshah had a conversation with Raj Jones revealed a lot of truths, and announced his plans which every Hip-Hop fan needs to know! This article is a summary of the Interview that Badhshah did with Raj Jones. Badshah openly talked about things in this Interview and cleared all doubts about his recent controversy and his upcoming lyrical Hip-Hop tracks.
READ MORE – Listen To Khan Bhaini And Shipra Goyal's New Punjabi Song 'NAKHRO'
Both Raj Jones and Badhshah had fun talks about his songs and his recent movie, Badshah shared his relations with artists and his family, Badshah gave shoutouts to few great Hip-Hop artists and one thing which we noticed is that he might lean toward the lyrical Hip-Hop more now. Read the full article by clicking here.