The South Korean Girl group officially known as BLACKPINK now becomes the 4th most subscribed artist on YouTube they just crossed EMINEM'S Official YouTube Artist Channel. The girl band group formed by YG Entertainment, consisting of members Jisoo, Jennie, Rosé, and Lisa. Right now on 14 August 2020, the Blackpink Youtube channel has 43.8 million subscribers.
The girl band is formed in 2016 and their official Youtube channel was also created in 2016. The first video with titled 'BLACKPINK – DANCE PRACTICE VIDEO' is uploaded on 5 July 2016. Blackpink's most viral song DDU-DU DDU-DU'S official video is the most viewed video on the channel with over 1.2 Billion views. The second most viewed music video from the channel is 'Kill this Love' with 964 Million views.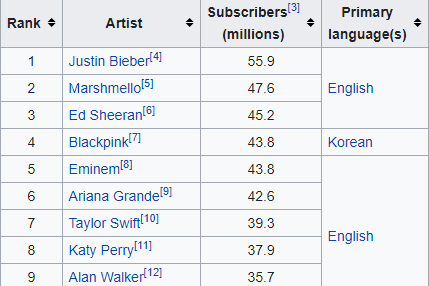 Recently, BLACKPINK has shared a video, where they are celebrating their 4th year of anniversary. Watch the video below.
Read More – BLACKPINK Celebrates 4th Anniversary With Q&A Video
They shared a Q&A session video on their Youtube channel, In the video, all the four members of BLACKPINK reply questions on how they really feel about their 4th anniversary, sharing their most unforgettable and memorable moments, the songs that make them dance, and extra.