Short Read –
The music festival Bluedot has revealed their full lineup 2020. Check out the dates below.
The main headliners will be Björk, Groove Armada And Metronomy at Bluedot festival.
The event will takes place between 23-26 July, will see Groove Armada headline on Friday night, whilst Metronomy will headline Saturday.
The festival, which is located at Cheshire's iconic Jodrell Bank Observatory. Björk will close the festival with her headline performance on Sunday 26.
Tickets will go on sale 10 AM – Friday 14 Feb. So grub the tickets by clicking here : http://discoverthebluedot.com
Read More :- Lindsey Buckingham Announces First Solo Tour 2020
Full Article –
Check out the full list of headliners below.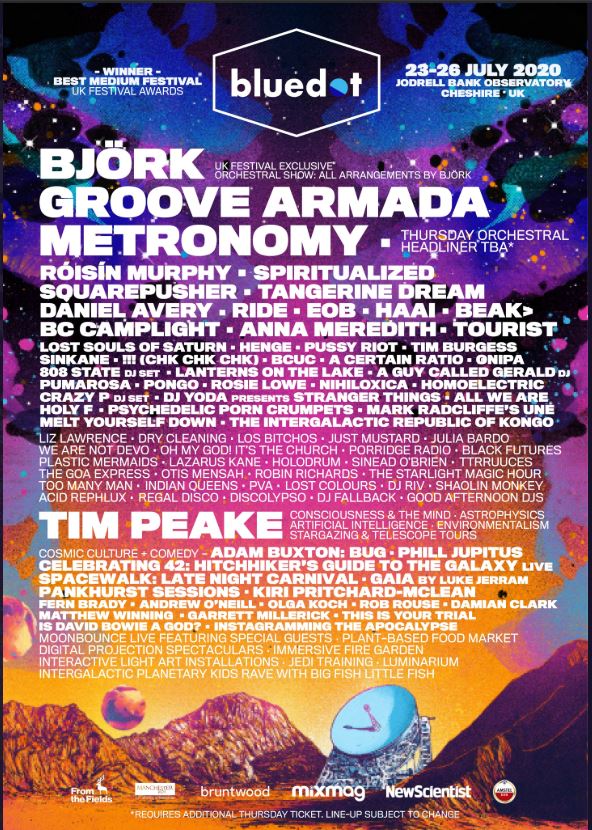 The music festival Bluedot has revealed their full lineup 2020 with main headliners be Björk, Groove Armada And Metronomy.
Tickets will go on sale 10 AM – Friday 14 Feb. So grub the tickets by clicking here : http://discoverthebluedot.com
Bluedot's headliners all had a hint of the science nerd about them, with Hot Chip on the Friday and New Order on the Sunday, but none more so than Kraftwerk, who dress like cosplayers doing Tron at Comicon and perform before 3D visuals, requiring the audience to wear cardboard glasses which are handed out on set.
Read More :- Reading & Leeds Festival Reveals The Full Lineup With Main Headliners Stormzy, Rage Against…
Bluedot is a music, science and culture event held annually in July since 2016 at Jodrell Bank Observatory in Cheshire, England, combining music, live science experiments, expert talks and immersive artworks. The event is endorsed by the University of Manchester, current owners of the observatory.
Stay Tune With Siachen Studios For More Latest Updates And News.