Short Read –
The Rock band Genesis has officially confirmed their comeback 2020 tour After 13 Years.
This time lineup features classic-era members Phil Collins, Tony Banks and Mike Rutherford.
Meanwhile, including long-time touring guitarist/bassist Daryl Stuermer and, for the first time, Phil's son Nic Collins on drums.
The rock band group, last performed together in 2007 to mark their 40th anniversary.
Check out all tour 2020 dates and grab the tickets by clicking here
Must Read – Ultra Abu Dhabi Has Cancelled Due To Coronavirus
Full Article –
The Rock band Genesis has officially confirmed their comeback 2020 tour After 13 Years. This time lineup features classic-era members Phil Collins, Tony Banks and Mike Rutherford along long-time touring guitarist/bassist Daryl Stuermer and, for the first time, Phil's son Nic Collins on drums.
Rutherford said, "I think it's a natural moment. Phil's been out on tour for the last two-and-a-half years and his son Nick has been drumming, so it seemed like the natural moment to have a conversation about it. We're all still good friends, we're all above the grass and here we are!," The rock band group last performed together in 2007.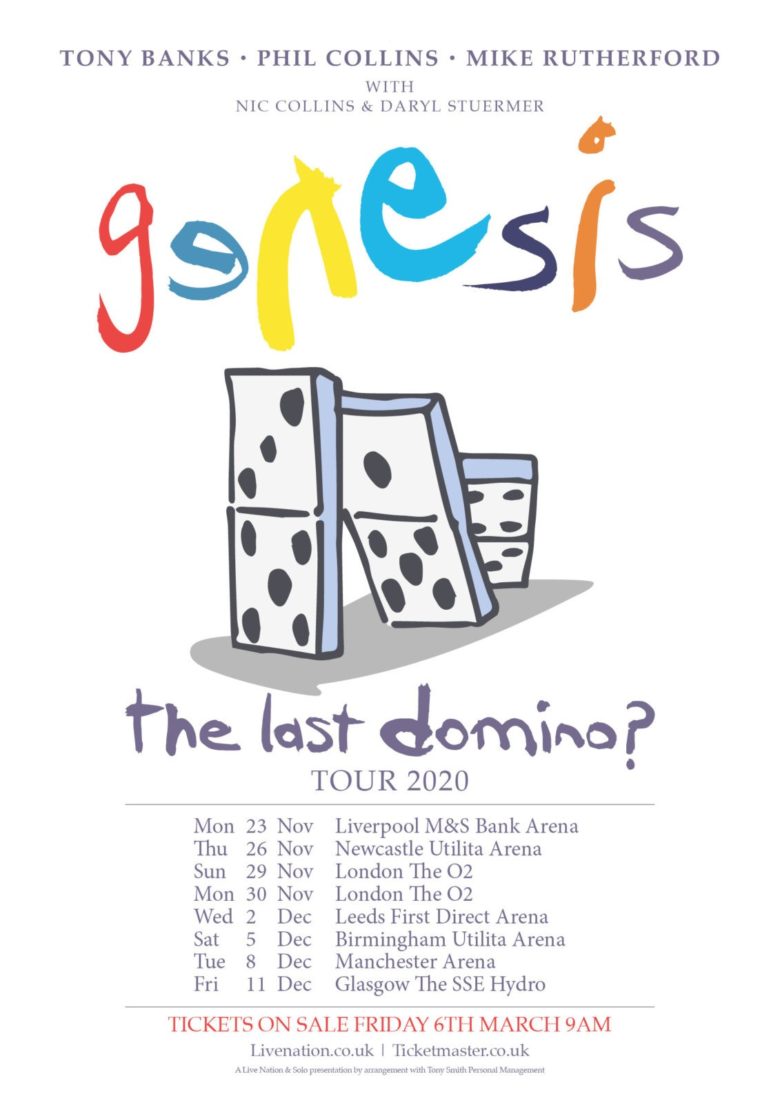 Collins drummer explained: "For me, it was something that was working and it was a problem we had to overcome, although I'll be doing my best to play some bits on the tour. I've been working out what songs to play, but Tony and Mike came to the shows at the Albert Hall and both were taken with the way he understood what was needed."
"He plays a bit like me when he wants to. I'm one of his many influences, being his dad. He plays like me and he kinda has the same attitude as me, so that was a good starter."
Genesis Tour Dates
November 16th – Dublin @ 3 Arena
November 19th – Belfast @ SSE Arena
November 23rd – Liverpool @ M&S Bank Arena
November 26th – Leeds @ First Direct Arena
November 29th – London @ The O2
November 30th – London @ The O2
December 2nd – Manchester @ Manchester Arena
December 5th – Birmingham @ Birmingham Arena
December 8th – Glasgow @ SSE Hydro Arena
December 11th – Newcastle @Utilita Arena
Read More:- Tomorrowland Winter Will Not Be Affected By Coronavirus
Stay Tune With Siachen Studios For More Latest Updates And News.