Canadian musician, Grimes replied to her boyfriend Elon Musk publicly after he tweeted on Twitter that 'pronouns suck'. – Check out the tweet below.
On Friday, Musk took to Twitter: '[rose emoji] Twitter sucks.' Shortly thereafter, he tweeted "Pronouns suck." Then, Grimes replied to Musk's latter tweet asking him to turn off his phone or to give her a call, "I love you but please turn off ur phone or give me a dall [sic]," she wrote, "I cannot support hate. Please stop this. I know this isn't your heart."
MUST-READ – Taylor Swift Releases New Album 'folklore' – Stream Album Here 
Now Grimes' reply has been deleted, Musk's original tweet, at the time of writing, is still public.
Grimes Replies To Elon Musk That "She Cannot Support Hate"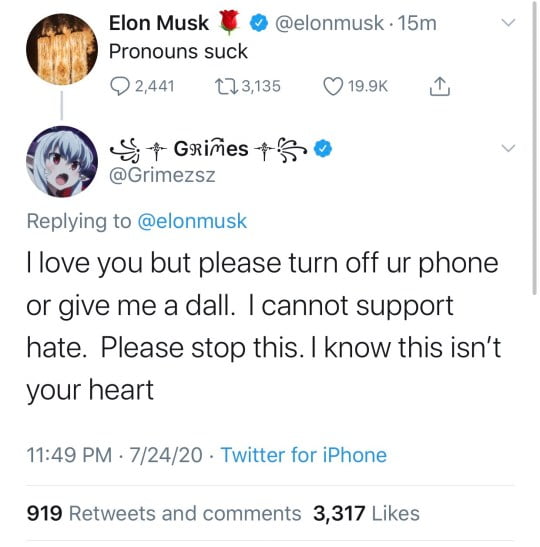 Grimes and Elon have been dating for over two years, making their surprise debut as a couple at the 2018 Met Gala. On 4 May this year, they welcomed their first child together and attracted much attention due to the totally standard name they bestowed on the tot – X AE A-XII. 
READ MORE – J Balvin, Dua Lipa, & Bad Bunny New Song 'UN DÍA (ONE DAY)' Out Now
Back in May, Grimes's mum Sandy Garossino was infuriated after her son-in-law tweeted: 'Take the red pill' – a phrase used to used to signal a right-wing political awakening, as well as being used in forums for 'men's rights'.
In a now-deleted tweet, Sandy wrote: 'If your partner went through a challenging pregnancy and childbirth in the last two weeks… And you were over 16 years old, would you be blaring MRA bulls*** on Twitter right now?'