Short Read –
The Canadian writer Katherine Ryan response to rapper Slowthai "didn't make her uncomfortable" during an awkward, close-up exchange at the NME Awards 2020.
In one footage that emerged on social media during ceremony, Slowthai, 25, could be seen calling Ryan, 36, "baby girl" and making a series of suggestive remarks. 
He said : "If you wanna do something see me later, yeah? You ain't ever had anyone play with you like me."
Slowthai clashed with a fan in the audience who called out his behaviour while he was accepting the Hero of the Year Award. 
Ryan tweeted that : "He didn't make me uncomfortable. This is why we need women in positions of power. To be continue below……
Read More :- Taylor Swift Wins Best Solo Act In The World At The NME Awards 2020
Full Article –
The Canadian writer Katherine Ryan response to rapper Slowthai "didn't make her uncomfortable" during an awkward, close-up exchange at the NME Awards 2020.
Ryan replied on twitter : "He didn't make me uncomfortable. This is why we need women in positions of power.
"I knew he had lost from the moment he opened his mouth like any heckler coming up against a COMIC – not a woman – a COMIC. 
"I was operating 2/10. What a sweet boy. I defused it. Tonight was fun!"
Check out the post below.
"If you wanna do something see me later, yeah? You ain't ever had anyone play with you like me," he said, addressing her as "baby girl" and telling the audience that she wanted him to "tend to her flowers".
"You are like the hottest guy I've ever seen," Ryan, 36, clapped back sarcastically. "Thank you Mike from Love Island. You are younger than my babysitter."
"Well played, Katherine. But it still doesn't excuse what he did," a follower responded, to which she replied: "He was fine. I'm the kind of woman he can say whatever he likes to! He's fun."
Check out the footage below.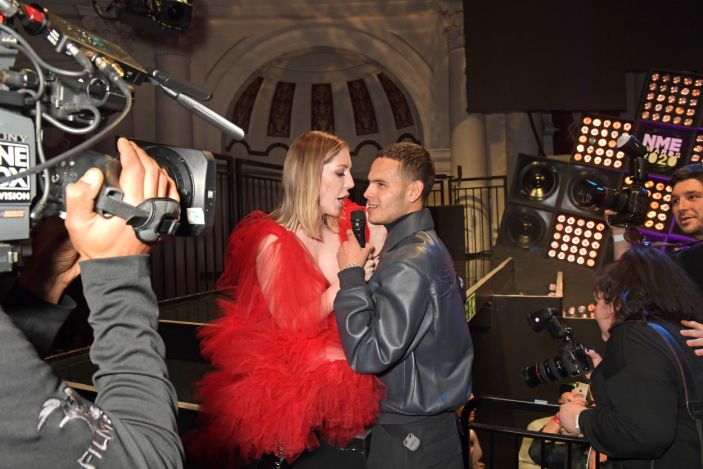 Read More :- Snoop Dogg Publicly Apologizes to Gayle King, After Had Talk With His Mom
Slowthai(Read Name Tyron Kaymone Frampton) is a British rapper from Northampton. He rose to popularity in 2019 for his notoriously gritty and rough instrumentals and raw, politically charged lyrics, especially around Brexit and Theresa May's tenure as British Prime Minister. 
Stay Tune With Siachen Studios For More Latest Updates And News.