Short Read –
A judge at New York's Supreme Court has ruled that Kesha defamed Dr.Luke after she sent a text to Lady Gaga, claiming he raped Katy Perry.
The American singer Kesha was ordered to pay the producer, real name Lukasz Gottwald, $374,000 in late royalty fees on Thursday.
According to legal documents, Kesha sent text to Gaga "falsely stated that, Katy Perry had been raped by Gottwald, and again repeated the baseless assertion that Kesha had been raped by Gottwald."  
"There is no evidence whatsoever that Gottwald raped Katy Perry or that Katy Perry, whose sworn testimony is unrelated, must not be believed," the newly-filed docs say.
You can check full statement of New York supreme court by clicking here : Kesha Defamed Dr.Luke
Read More :- Above & Beyond Announces 'Acoustic III' Album And Live Tour
Full Article –
A judge at New York's Supreme Court has ruled that Kesha defamed Dr.Luke after she sent a text to Lady Gaga, claiming he raped Katy Perry.
Judge Jennifer Schecter not only narrowed the focus of what could be argued at trial but ruled that Kesha defamed Dr. Luke when she falsely told Lady Gaga that the producer had raped Katy Perry.
Judge Schechter said: "Perry unequivocally testified that Gottwald did not [rape her]. In response, Kesha has not raised a triable issue. There is no evidence whatsoever that Gottwald raped Katy Perry, or that Katy Perry, whose sworn testimony is unrefuted, must not be believed."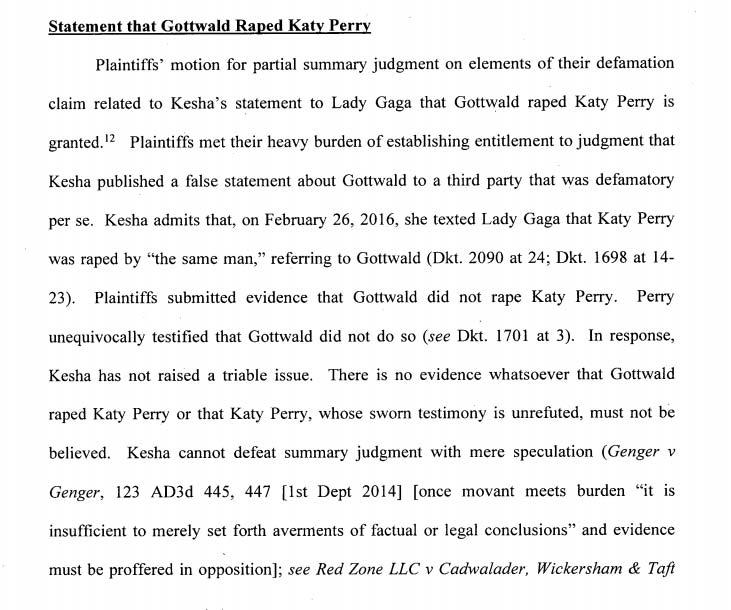 You can check full statement of New York supreme court by clicking here : Kesha Defamed Dr.Luke
Dr. Luke's said in a statement that – "Today's important decision by the Court in Dr. Luke's lawsuit brings him closer to the justice that he seeks," Adding more in the statement that – "First, the Court has now ruled that Kesha made a false and defamatory accusation about Dr. Luke when she baselessly claimed that he raped Katy Perry.  Second, the Court rejected Kesha's attempts to invoke legal technicalities to avoid responsibility for her statements.  And third, the Court also correctly held that Kesha breached her contract with Dr. Luke's company."
Read More :- The Rolling Stones Reveals New North America Tour 2020 Dates
Lepera said her Dr. Luke has been pursuing this defamation case for five and a half years against Kesha "to seek recovery for the serious harm Kesha's false accusations of rape have caused Dr. Luke, his family and his business."
Having done all of the damage publicizing her false claim of rape for years, Kesha now has asked Dr. Luke to not speak publicly about the evidence just being revealed… even though this is the first time Dr. Luke has the opportunity to do so with some of the actual facts. Ironic, indeed."
Stay Tune With Siachen Studios For More Latest Updates And News.