Mumbai-based music producer, Keydroid has released the brand new song, 'Ayigiri Nandini' featuring singer, Anisha Lakshmanan. Listen to the full song below.
This track is his rendition of the infamous 'Mahishasura Mardini' hymn in Sanskrit. It's about the triumph of Good over Evil, the rigour of a women's strength. He believes to have underlined this track musically with strong Basslines, re-sampled South-Indian percussions like Thavil, Chende, Kanjira, and Mridanga, and most importantly the boisterous voice of Anisha Lakshmanan.
MUST READ – Psychology Facts About Music Which You Should Know
Keydroid said about the track, "It was a challenge to infuse the original Raag Bhairavi hymn in a trap format where I believe my attempt has inconspicuously highlighted what the tune stands for. Along-with the natural energy of the vocal melody, I am sure that this single pulls no punches in its towering production and empowering vibe."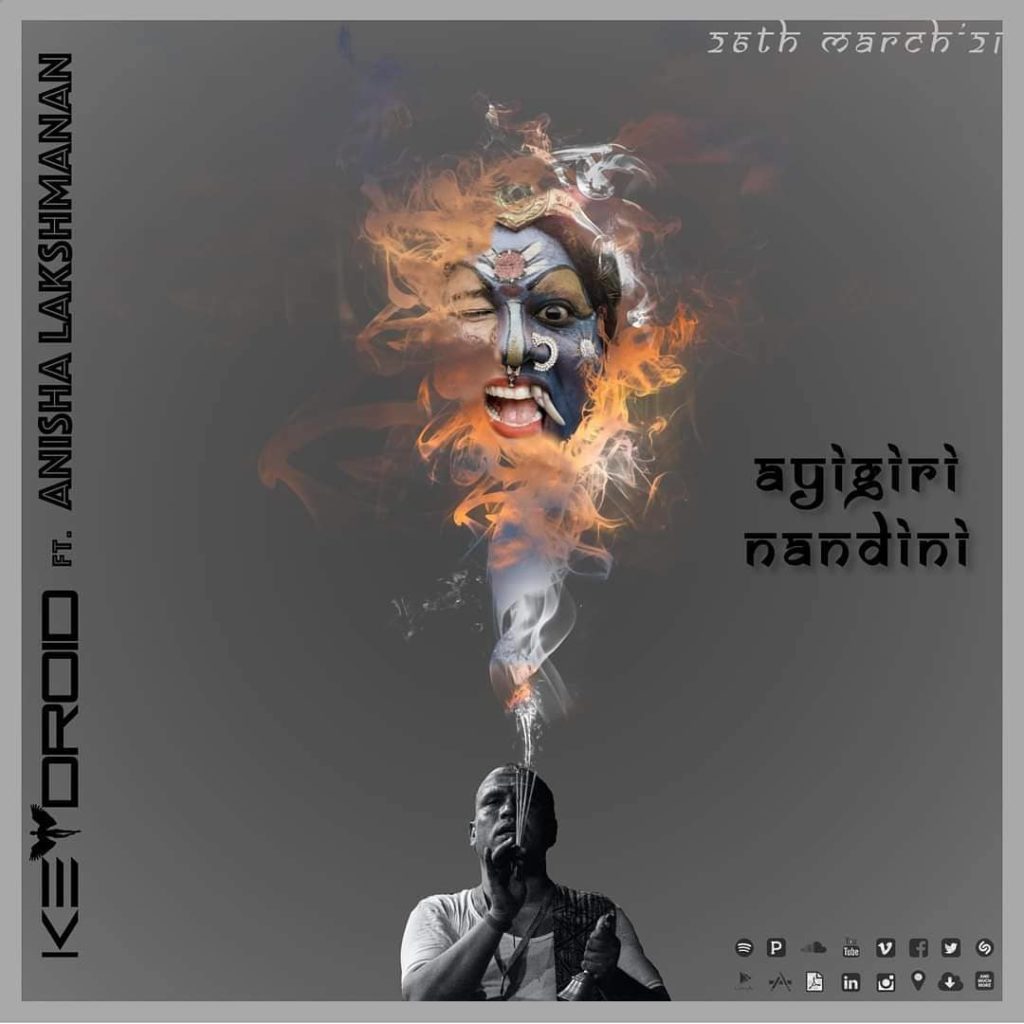 Keydroid Releases New Song, 'Ayigiri Nandini' Ft. Anisha Lakshmanan
Keydroid – 'Ayigiri Nandini' Ft. Anisha Lakshmanan Out Now! Like This Track? Stream & Download The Full Song By Clicking Here.
About Keydroid :-
Keydroid aka Rakshit Thantry is a Mumbai-based music producer. With experience spanning over 9 years in producing music and jingles for a lot of Indian Films and TV commercials, he was keen on experimenting with new sounds which he can call his own. Having played bass for metal bands like Halahkuh, Gaijin, and Insanity Quotient, He transcended into the electronic dance music scene back in 2018.
Since then he has exceeded the expectations of many. Devoted to his love for folk and artist collaborations with unconventional vocal abilities he wishes to break boundaries by merging distinctive soundscapes and instruments.
Channeling influences from legends like Daft Punk, Squarepusher, Prodigy, and Tonny Allen, Keydroid brings in a hardcore vibe to his tunes along with a tenuous idea of social consciousness.
READ MORE – 25 Top Classic Rock Songs That You Must Listen To
About Anisha Lakshmanan:
Anisha, a Berklee graduate currently based in Mumbai. She stunned many with her multi-lingual EP "Of Many" released back in 2019. She studied Hindustani Classical at Pune University at an undergrad level, and then travelled to Berklee College of Music, Valencia, Spain for her Master's degree. Apart from being a fabulous vocalist she is a song-writer herself.
Follow Keydroid On Socials : INSTAGRAM || WEBSITE || FACEBOOK || YOUTUBE || SPOTIFY