Rapper Kidshot takes a second shot and releases his new track 'Haadse' the second single from his upcoming EP Bhot kuch. The track 'Haadse' is released under the Mass Appeal India Record Label. Interesting fact – Today (31, July) is Kidshot's Birthday.
'Haadse' is written and performed by Kidshot and the beat is produced by Basshole. This track is Mixed & Mastered by Hanish Taneja.
Read More – King Returns With 5th Track 'Mafiia' From 'The Carnival'
The title of this single 'Haadse' literally translated means "incidents" or "accidents." "Haadse" goes deeper into KIDSHOT's innate referencing ability with a core message of staying strong, getting through tough times in life, and being positive and hopeful through it all.
On his last track 'Bhot Kuch' Kidshot showcases his unique one-of-a-kind chopper flow, bars, lyrical ability, and wordplay. And again in his new release 'Haadse' he showcases tight chopper flow on old school beat with lyrically strong bars.
Kidshot is better known for his chopping flows and powerful bars with rich lyrics of meanings and of course he did the same at this time. Rapping on the old school type beat brings the hard vibe to us. The track ensures that you move your head with a boom-bap beat and trying to catch the flow of Kidshot.
Watch Kidshot's "Haadse" video (animated by Thunder Medusa) below. Scroll down for the lyrics and album art.
Read More – Emiway Bantai Receives Youtube Diamond Creator Award
KIDSHOT – Haadse : Listen Now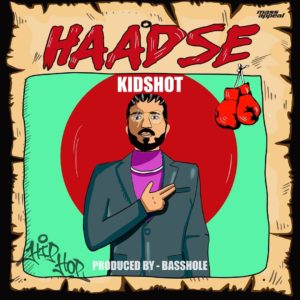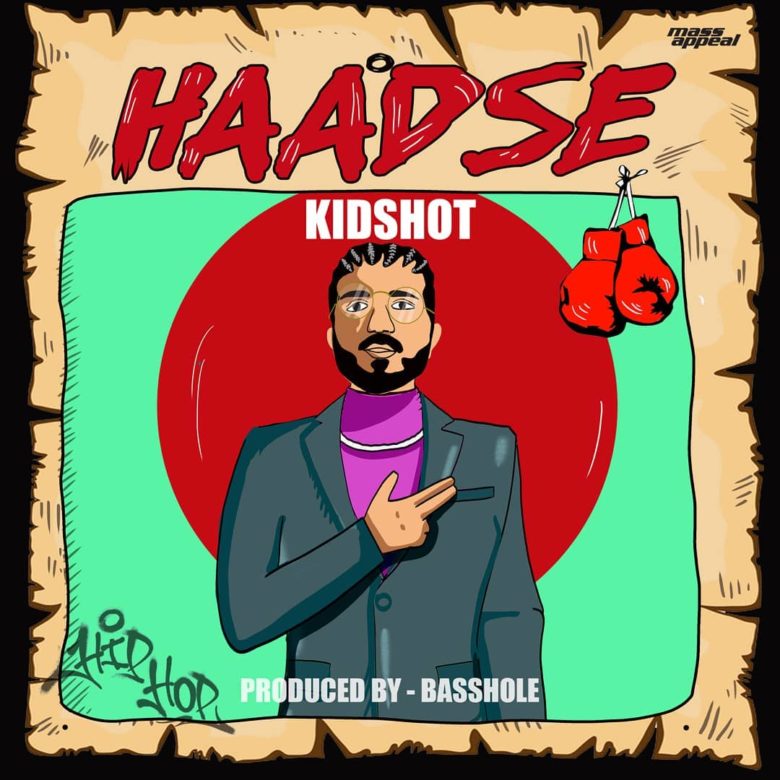 KIDSHOT – Haadse Lyrics
Dekhe Jo khwaab me karunga pure na mujhe bata Ke Karu me kya
Leke alaab me banunga bura hai Mujhe pata
Ye Tere riwaaz yeh Tera samaajh rakh tere paas na mujhe sata
Na aata me baaz me Banda hu baaz Rakhu na aas
Aur Tujhe laga yeh ke
Banda ye fheke
Maaru me laafhe hum maatha na teke
Ghumna hai puri duniya ji ha wo bhi
maata ko leke
Baaton me kisse, Baatun me jisse
Hojaata fan wo mere
Hunar hai tujhme
Hunar hai mujhme
Farak hai mene wo dekhe
Aur jabhi bhi laga mujhe me na karpaaunga yeh cheez
Kaha ki lagegi der iss cheez ko par jaaunga me jeet
Kya me bharpaaunga ye fees jo aanewaali mere paas mein bro
Dekhu na peeche me galtise kyuki mera past hai wo
Kya agli peedi puchegi ke tum kis caste ke ho
Ya koi dikha gareeeb to usko khaana last me do
Me guzra raaste se uspe pade laash the do
Sab karna chahte madad na pucha koi kis jaat ke ho
To ye enough hai
Hum horahe evolve hai bro
jo sorahe wo slow bade
wo maange gyaan to baatle bro
kya pata kyaa aage ho
Khelrahe hum aag se bro
Tu phone pe tere dost ke saath
Aur baate kal ke haadse jo
Hue the raat ko hi jo blast pe thi
Wohi train me tera baap bhi tha
Aur saath mi thi teri behen chottisi jo bas 7 ki thi
Mujhe pata ye ghatna kaalpanik par laazmi bhi
To dar ko leke chal
Parkho khudko leke fal
Tu har jagah se capable
Agar jawab hai ye akal
To har jagah pe thekedaar
Jo fheke jaal to fas mt tu bhi deke maar
Ye naav jaa tu bhi leke paar
Jo ghaav hai tere bharde aaj
Sar se paav tak tu karde unke Parde faash
Na hote sehen mujhe jab dekhu me ye Badhte daam ladhte aaj
Seher hai paak par hai Sadke jaam
Ab tu bata mujhe ke kyu nahi bhadke awaam
Asal me
Jo tujhe hai karni baat to bete pehle mere saamne naach
Peti me lu advance aur aada fhir lunga me kaamke baad
Fhir banu me Tera Bhagwan ah beshaq gai ke baad
Kare tu chai PE baat aur banayega Rai ke pahad
Laayi yeh bahar
To tehrna seekh
Me hu khabib
Na leta hu kabhi me L
Kamaata me dil
Banda Me hu kathin
Na pyaaega samjh tu
Hip hop ka me kavach hu
Mithadu tera astitva scene se
Tu bas ek punch dur
Tu majdoor
Me mast hu
Na majboor
Me Arjun lagaata me Aisa nishaana
Na pade bichaneko tera ye dastur
Me church hu kyuki wo bole pakadta khaali me maas
Jo Karu me aaj wo aayegi samajh sabko das saal baad
Tu rakh maal saath fhukenge sab, sab Shaam tak
Tu bas aam kha na gutliya tu gin khamakha
Me tees maar Khan hu ek saath bees tees maarta
Hu war ke LIYE ready par mujhe peace mangta
Wordd