Here we go guys, In this article, we will be looking for the best top 5 New Year Parties 2023 in Bhopal you must go. The New Year is a time to celebrate and what better way to do that than with the best New Year parties? Look no further! Our selection of amazing New Year's parties is sure to make this holiday one to remember. So, gather your friends and family and get ready to ring in the New Year in style! From top-notch music, delicious food, and plenty of drinks, you'll have a great time ringing in the New Year with our Parties.
READ MORE – SKG Events Presents Red Velvet Season 4 Luxurious New Year Party 2023 At Taj Lakefront Bhopal
Top 5 New Year Parties 2023 In Bhopal You Must Go
1 – Red Velvet Season 4 Taj New Year Party 2023 Bhopal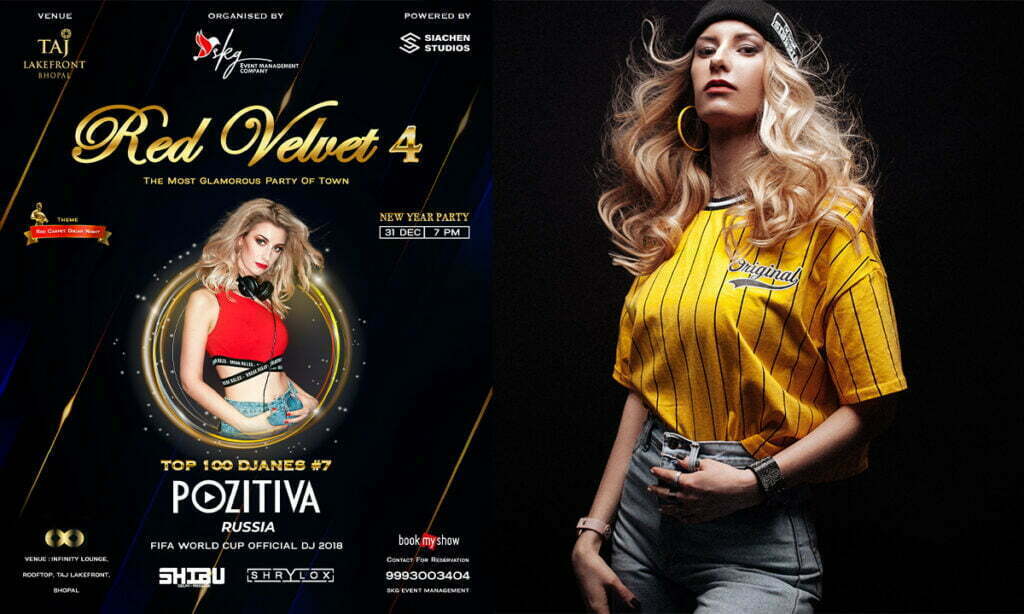 One of the best Luxurious New year parties. SKG Events is coming with the first most Elite, and glamorous Red Velvet Season 4 luxurious new year party 2023 co-powered by Siachen Studios.
The most Glamorous and Elite new year party will take place on 31st Dec 2022 at Infinity rooftop, Taj Lakefront Bhopal. Enjoy the 2023 new year's night with our Red Velvet Season 4 glamorous rocks and make indelible memories with your best friends and family.
Russian DJ Pozitiva to perform her massive DJ set at Red Velvet Season 4 new year party 2023 with energizing DJs Shrylox and Shibu.
You will get the best DJs(Pozitiva, Shrylox, and Shibu) in the Town who will perform at the party to make the party more Pleasurable. The party includes unlimited drinks, Snacks & Dinner that will make your evening more cheerful. In addition, you will get the beautiful Lake to view from the Roof Top, adding value to the blasting Party.
Grab your tickets now. For offline passes please contact: "9993003404" and for online passes click here.
2 – SMF 22-23 Pachmarhi New Year Party From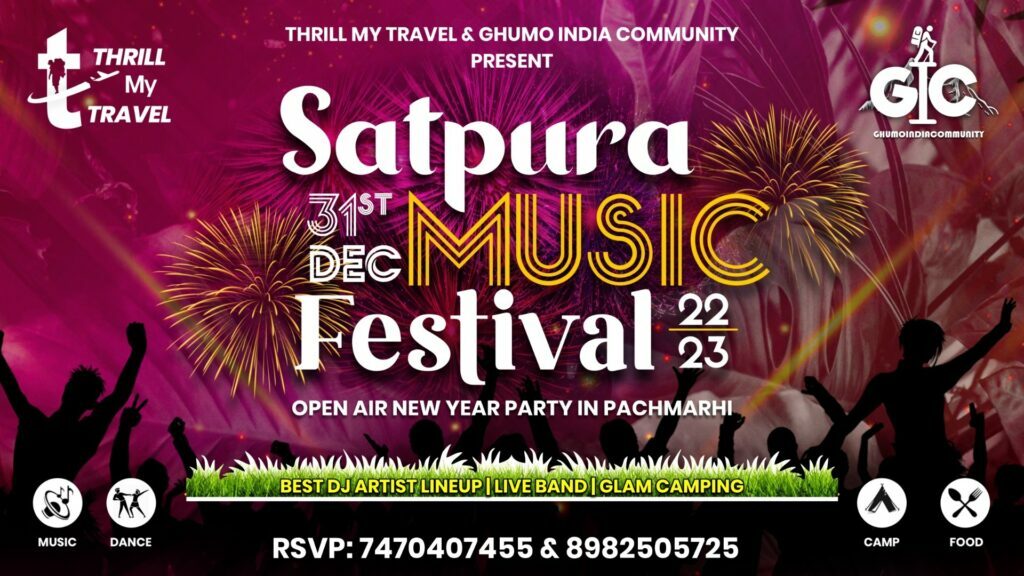 By dancing and partying like never before in Satpura`s naturalistic environment, you may make 2023 the most memorable year of your life. The Satpura Music Festival (SMF) New Year Party 2022-2023 in Pachmarhi, which will take place from December 31 to January 1, 2023, is the best and most notable new year`s music festival, new year party, and glam camping organized by ThrillMyTravel and Ghummo India Community.
With the SMF Bhopal Journey Pass, you have the choice of traveling from Bhopal to Pachmarhi with Bhopal to Bhopal transportation by party bus or traveler, choice camps/hotel stay, MAP meals, and a two-day sightseeing trip in Pachmarhi. The travel pass holder departs from ISBT Bus Stop in Bhopal, which is the meeting place. December 30, 2022, at 9 p.m., and return on January 2, 2023, at 9 a.m.
READ MORE – SKG Events Reveals Red Velvet Season 4 Lineup Including Artists, DJ Pozitiva, DJ Shrylox, & DJ SHIBU
3 – Sunburn Reload NYE –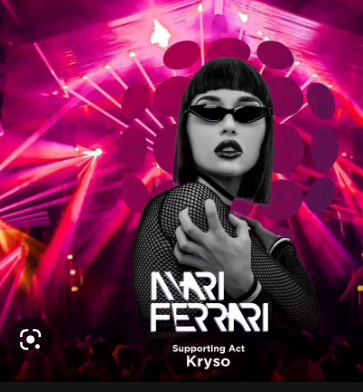 Sunburn Festival is back with the futuristic experience of music. The journey to Sunburn Reload NYE Bhopal 2022 has just begun. Coming in bigger and stronger this 31st December at Taj Lakefront, Bhopal.
It's time to Live Love Dance like never before!
Sunburn Reload NYE Bhopal 2022 – The Future is Now
4 – Backpackers Pachmarhi – New Year Party From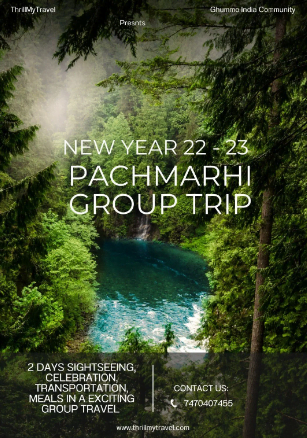 Backpackers Pachmarhi: Group Tour for Pachmarhi New Year`s Party in 2022-2023 is the best-rated Pachmarhi tour package departing from Bhopal/Indore/Nagpur/Ahmedabad. Spend New Year's Eve with a 2-day sightseeing trip, a party with the greatest DJs in the area, a selection of alcoholic beverages, herbal juice sets, and the area`s breathtaking beauty and diversity of wildlife.
In addition to a 2-day tour of the city`s principal attractions, the Best New Year`s Eve Party Trip 2022–2023 to Pachmarhi includes camp accommodation, meals, transportation, and other extras.
5 – New Year Bash – 2023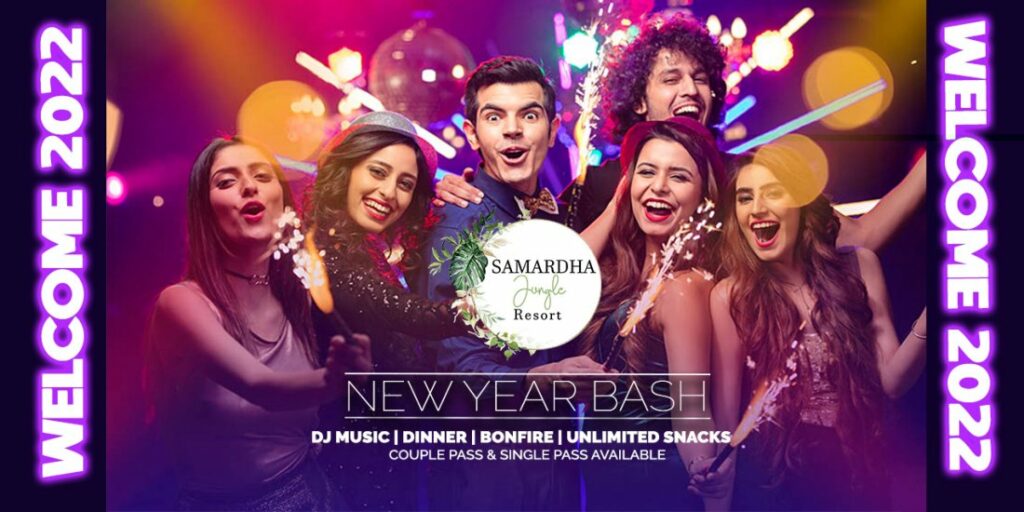 Get ready to be a part of the most rocking New Year celebration in Bhopal – The Goodbye 2022 party at Samardha Jungle Resort.