In this Blog we share the 10 best Indian Instruments Vst plugins for fl studio or ableton and all the 10 vst plugins are free to download.
Indian classical music is always famous for its sound that's why the sounds are not free so in this article i give the 10 best indian instruments plugins that you can download and make your music || Keep Producing||
---
DSK Indian DreamZ having a 6 indian instruments like sitar, sarod, veena, tar, tanpura and tabla. dskmusic.com is a website about freeware VST instruments.
There is a lot of free instruments on this site, and you can find good high quality multisampled instruments too.
You can download a lot of free stuff at dskmusic.com.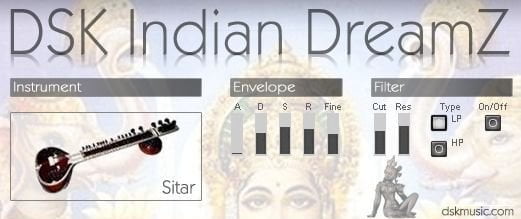 Features and download:
6 Indian Instruments: Sitar, Sarod, veena, Tar, tampura & Tabla
Velocity response
Amp. envelope and micro-detuner
HP/LP Filter
Midi automation
---
Acoustic Dhol is a sample based Indian Dhol Instruments. It has been sampled from 3 types of real Indian Leather Dhol Instruments.Wooden Dhol,Steel Dhol and Fiber Dhol.
It is the first VST and AU plugins that can play real Indian Dhol inside any Digital Audio Workstation. Indian,Punjabi,Bollywood and Bhangra styles are available in Acoustic Dhol. Over 100 articulation and 22 presets are available.
If you are tired of playing boring Indian Dhol loops,if you hunt daily for new Dhol loops, just try the Acoustic Dhol VST and AU plugins. You are not just limited to a loop, play real Indian Dhol right inside your favorite host.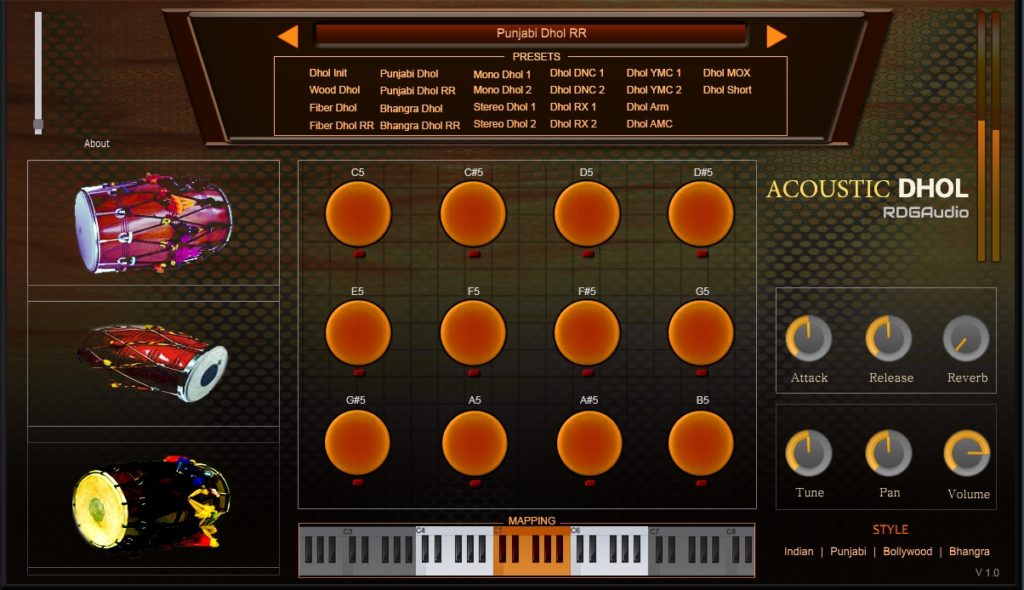 Features and download:
Sampled from 3 types of Indian Dhols
Over 100 different articulations
22 presets
Style : Indian,Punjabi,Bollywood,Bhangra
MPC style GUI
Velocity sensitive
Round Robin sampling : YES
Attack Realease Rotary Knob
Tune Volume Pan Rotary Knob
Algorithmic Reverb
Level meter
---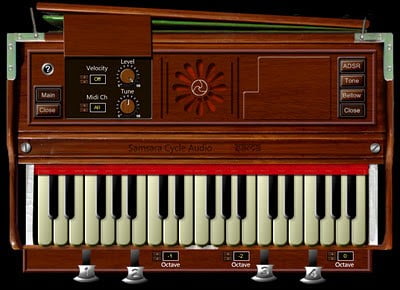 Windows – VSTi – VST – Virtual Harmonium
Features and download:
No Samples used – CPU friendly
4 Drawbars for control of reeds including octave select

Envelope Section: Attack Decay Sustain Release
Tone Section: 3 intuitive tone controls + reed control
Bellow Section: Delay Speed Depth + Host sync
Velocity Control + On / Off switch
Tune Control
Midi Learn
128 patch space
Installation
To install VST plug-in, follow these steps:
Unzipthe file.Place the Samsara_Sama_Harmonium_FR.dll into the folder where your VST host application is looking for VST plug-ins.
To uninstall remove the Samsara_Sama_Harmonium_FR.dll file from your VST Plug-ins folder.Make sure the folder permission are set to 'all'
---
Varazuvi Indian Flute features real recordings of an Indian Flute captured in high resolution for a fuller and more dynamic experience.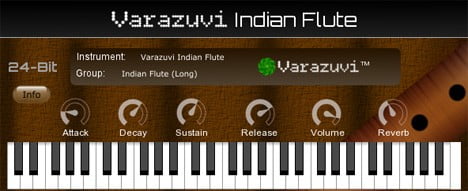 You have complete control over parameters such as attack, decay, sustain, release. volume and reverb in order to shape the sound exactly as you want it.
There are two octaves of multiple velocity layered samples, and includes three different playing styles, short, mid and long each recorded separately. This will allow you much more diversity and realism.
Features and download:
24 bit – 48khz sample rates.
Six variable effects.
Multiple velocity layers.
---
Syntar is a VST instrument designed to fulfill your every sitar sound requirement.

For best results play with droning continous bass notes and a higher melody line. Built in soft distortion, delay and flanger effects make it easy to tweak the Syntar to fit your style of music perfectly.

---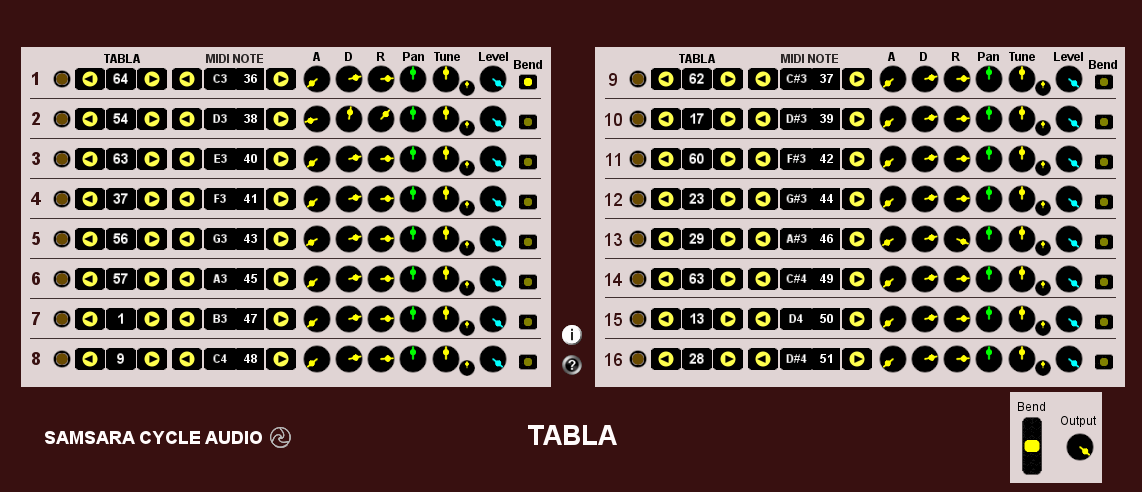 Features and download:
6 sample Controls Sections
120 Studio Quality Tabla Samples
Midi/Musical Note Reference Selector
Envelope Section:
release
Pan
Tune
Level
Bend On/Off for each control section (Bend Wheel)
Output Level
---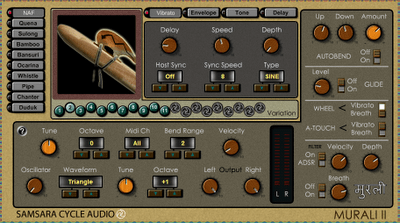 Murali II is an ethnic wind instruments plug-in.
Features and download:
10 instruments to select.
Autobend section.
Wheel breath control.
Aftertouch breath control.
Filter Velocity section for realistic dynamics and frequency responce.
Tone section.
---
SwarPlug is a VST, Audio Units and AAX plugin that will work on most DAWs. It features an ever increasing number of instruments (over 80 so far), each with a large quantity of MIDI loops that you can audition and simply drag & drop on your tracks, to achieve something genuinely sounding in instants.

Features and download:
over 80 perfectly sampled Indian instruments
customisable mapping of playing areas with specific parameters settings
multi-mic fader (for ML instruments)
MPE support
Cross-Legato mode for seamless cross-fading pitch bendings
scales customisation with semitone tuning
modulations panel with large array of modulation possibilities
time-stretching
buses and effect
and much more…
---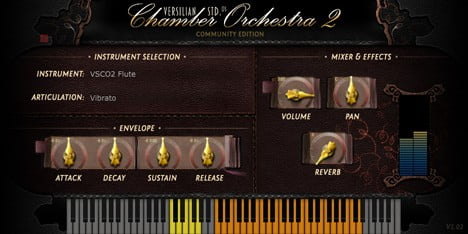 Versilian Studios Chamber Orchestra 2 Flute, also known as VSCO2 Flute, is an incredible free plugin that samples a real Flute.
All of the VSCO2 plugins are fantastic and I absolutely recommend them to anyone who is in need of some free ones.
---
Devanagari is a hybrid synth using 4 waves plus 4 oscillators.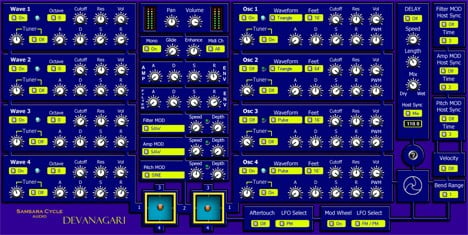 Features and download:
Four sound waves: Brass, Strings, Voice, Piano.
Osc 1 / Osc 2: 7 Waveforms.
Osc 3 / Osc 4: 8 Waveforms.
Joystick Mix Control.
Amp envelope.
Filter envelope.
Midi learn.
---
Stay Tune With Siachen Studios For More Latest Updates And News.