Are you a Music Producer and still sleeping on the Stock VSTs for FL Studio? Then you have to wake up and use these 5 best stock synth VSTs of FL Studio. Instead of putting a lot of money on super costly VSTs or making excuses for your bad music, you should just try these stock plugins.
These synth VSTs are better than many paid synthesizers. you will get many great presets, enough knobs to sound design and these do not even take much CPU. These are well optimized for your DAW and Low-end device. Many people make excuses like their music is not good because they don't have the best VSTs.
And best VSTs according to them are those famous, costly VSTs. You don't need to have Nexus or Serum to make good music just because some mainstream producer is doing that. You just need practice and a creative brain. We have personally used these synths countless times and it has a lot to offer.
MUST READ – 10 Best Indian Vst plugins For Fl Studio Free Download 
They got Bass, Keyboards, Leads, Pads, FX elements, Plucks, and many more kinds of elements. The sounds these VSTs include are top-notch and made by professionals. Not only presets are great but the freedom of Sound Designing in these VSTs is great too! In this article, you will get a brief idea of the best 5 stock synth VSTs of FL Studio.
So, Best 5 Stock Synth VSTs for FL Studio list is here:
1. HARMOR – Stock Synth VSTs For FL Studio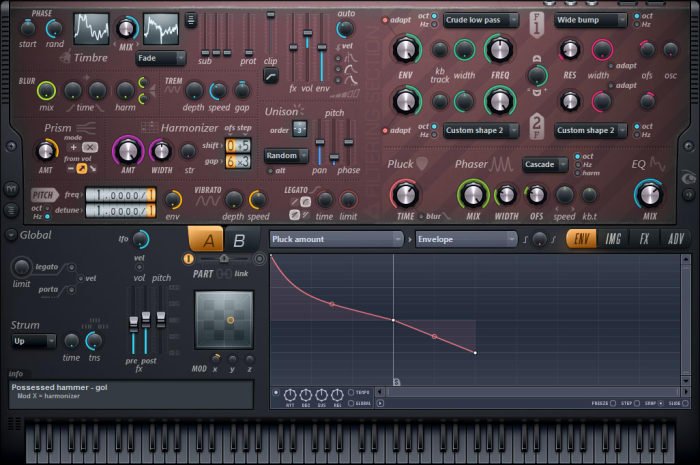 Harmor might be the best Synthesizer of FL Studio! It comes for free with the signature bundle and the free trial. This is an additive/Subtractive Synthesizer, Image Synthesizer as well as audio synthesizer. The possibility to create unique sounds in your song increases a lot with this Synthesizer.
It is mostly used in hard genres but in the end, it's your way of using it anywhere you want. The presets are great and you will get almost every kind of sound. Most of the presets are for hard genres like Dubstep and Big Room etc.
The best feature of this VST is not the presets but the interface and the possibilities of sound design. The interface is really clean too, it is divided into sections dividing different elements of the VST.
There are tons of knobs and endless possibilities, the wavetable is amazing, the filters, harmonize, etc are just so good! The Audio resynthesizing feature is insane! You will get the effects like Distortion, Reverb, Phaser, Chorus, Delay, etc in it too. Give it a try once and you will be a fan of it, you can create bangers with this VST easily! Buy Now by clicking here.
2. MORPHINE – Stock Synth VSTs For FL Studio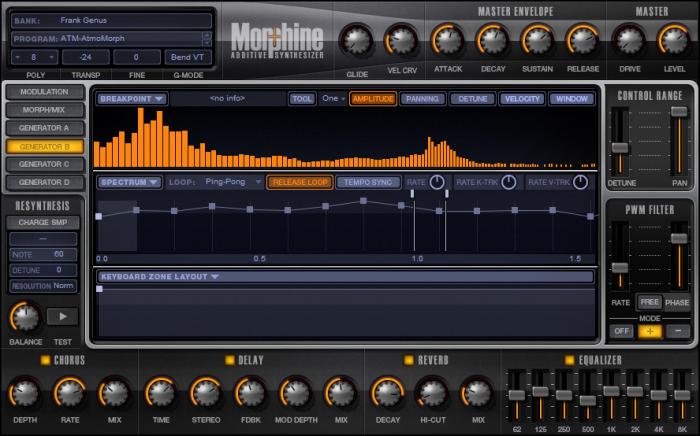 Now, this is a VST which is really underappreciated! Very few people use Morphine or know about it. the best feature is the presets of this VST. The sounds are well designed and really smooth! No doubt Image-Line has one of the best teams.
The theme of this VST is Retro, most of the presets in it sound retro or something LoFi HipHop producers would love. Retro sounds don't mean you can't use them in modern genres. You can use these presets in any genre with a little sound design as it is and you get percussions, SFX, Bass, Atmosphere, Synthetic, Strings, Pads, etc many more elements to work with. You won't get bored of this at all!
One can Produce something chill like tropical house, LoFi, Chillhop, and something hard-hitting like melodic dubstep, etc. You will get basic ADSR knobs with a few other great and useful knobs like Glide, Drive, Level, Velocity, etc. There are effects like Delay, Chorus, Equalizer, Reverb with brief knobs and it will really help to design the presets according to you. Just give it a try and you will become a fan of this VST.
Buy now by clicking here.
READ MORE – DSK Overture Free VST Plugin Download 
3. SAKURA – Stock Synth VSTs Of FL Studio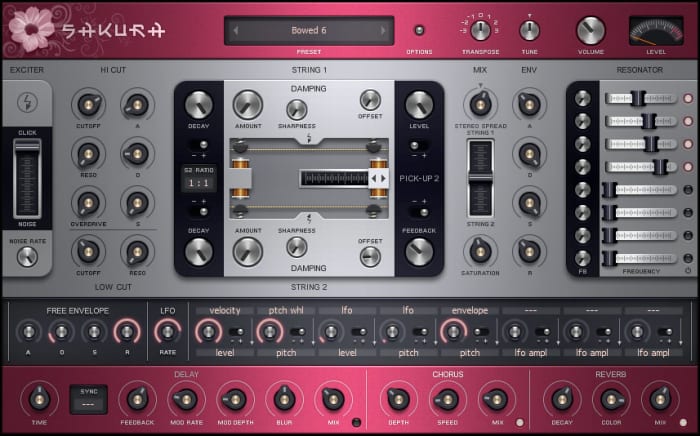 Sakura is a Japanese word that translates as Cherry blossoms in English. Sakura's best advantage is its ambiance, Sakura is not some kind of hardcore VST or super melodic one. Sakura has authentic and classical sound, violins, keys, ambiance, etc.
The soundbank of Sakura is based on eastern culture which means Asian sounds. This VST is not for hardcore genres or much EDM stuff (although creative thinking can produce anything) but mainly for Orchestral or HipHop music. The flutes, harps, violin are really good for hip-hop beats.
The interface of this VST might look complicated but it is pretty sophisticated as all the knobs are divided into sections. The interface might look complicated because of knobs but the graphical representation of the VST is great!
This VST also gives you the freedom of playing with their presets. Sections you get in this VST are your basic ADSR Envelope, HiCut and Low Cut sections, Exciter, and REsonator too. The effects you will get are basic like Chorus, Reverb, Delay with their brief Knobs. With this VST you can make some catchy beats and many producers use this in EDM too, so give it a try.
Buy now by clicking here.
4. SYTRUS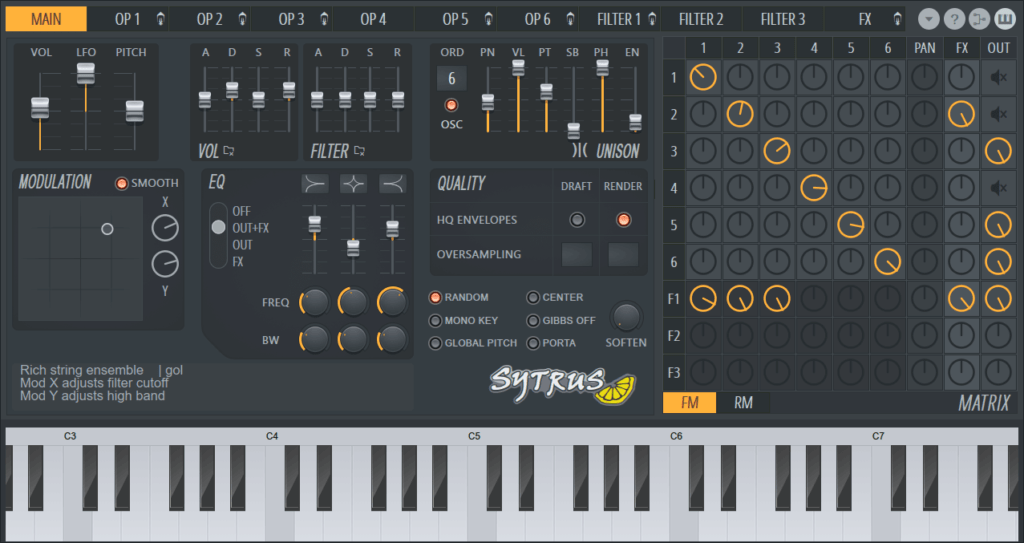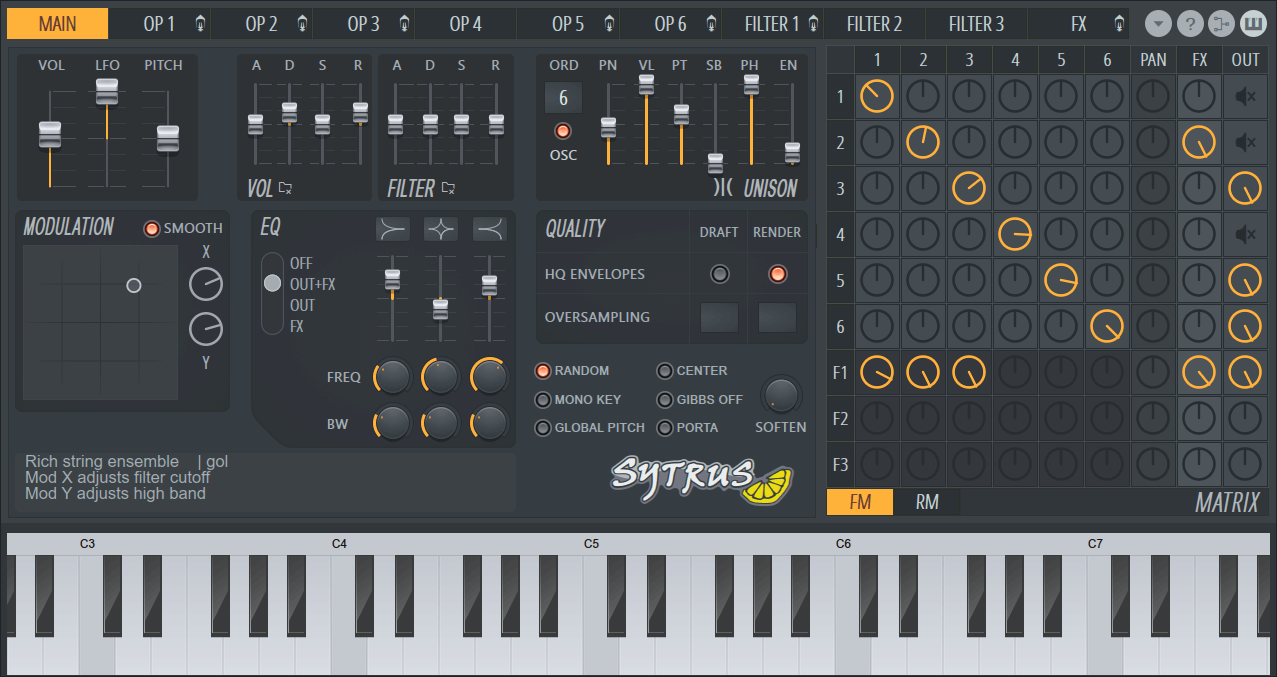 Sytrus is a classic Synth. This might be the most complex as well as simple VST out of all five. Complex because the interface is really confusing and simple because there are tons of modulation knobs so whatever you will touch will change the sound.
People use Sytrus a lot because of its presets, Sytrus has the most diverse presets in all VSTs. The presets can be used in dubstep, house, hip-hop, etc. They are made for all genres! And if you ask in the community then you will get to know how much respect Sytrus gets from producers. It is best for beginners as beginners like to work with catchy sounds.
It is popular for presets because there are more than 100 great presets in this VST. What more do you expect from a stock VST? This is even better than most of the pad overrated VSTs.So, stop chasing the trendy VSTs and try to make your unique stuff with stock VSTs.
Buy now by clicking here.
READ MORE – DSK Music Box Free VST Plugin Download
5. TOXIC BIOHAZARD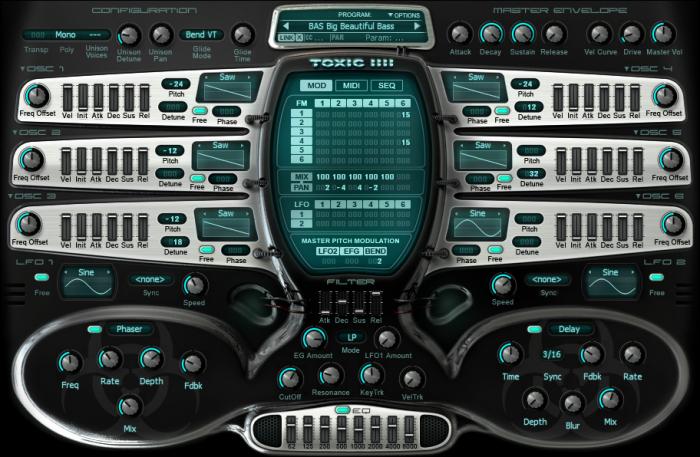 The fanciest looking synth with the easiest interface. Toxic Biohazard is the digital version of the analog synth of Toxic Biohazard. It has the best interface in all VSTs present in Fl Studio.
The sound design game of this synth tops the charts when you notice those six separate Oscillator sections. Just think about it, you can experiment a lot with them and might find your unique style.
Talking about the section, you get a configuration section containing Glide, Pan, Detune, and voices knobs, you get a Master envelope with basic ADSR, six oscillators, two LFOs, Filter, flanger, delay, EQ, and a display in the middle of everything consisting of Mod, Midi, Sequence. And at the top, you will get the presets!
About presets, they are not the best but are great for hardstyle. The best-preset biohazard has are the Pads. These Pads are just so diverse, easily can be used in any genre of music. The Synthetic presets are also great, you will find unique and catchy sounds in them. And if you don't want to spend much time on making sequences or rhythms then you get the sequence and different Rhythms in it too!
Buy now by clicking here.
READ MORE – Best Drum Machine Software 2021 
CONCLUSION
So, the list ends here and we hope we were able to share good enough knowledge about these underappreciated stock VSTs. We made this article because we noticed how a lot of Music Producers were making excuses about not having those fancy VSTs.
Many hit songs are made on iPhone in GarageBand, so we don't think there is any excuse to blame VSTs for your less practised skills. If you have enough money and skills and have already used the sound arsenal of stock VSTs then you can go for the fancy ones.
But at the end of the day, just make great music with whatever you have! Practice regularly and check out our blogs on how to get motivation and ideas for Music.