The Firefly music festival has revealed the full 2020 lineup, check out the list below.
The main headliners will be Rage Against The Machine, Billie Eilish, Khalid, Blink-182, Halsey and Maggie Rogers at Firefly.
The annual event will be held on June 18 – 21 at The Woodlands of Dover International Speedway in Dover, Delaware.
Additional Firefly 2020 performers include Big Boi, Diplo, Cage the elephant, CHVRCHES, David Lee Roth, Maggie Rogers, Rainbow Kitten Surprise, Run The Jewels, The Struts and more.
Tickets line are open now, you can pre-save your tickets by clicking here : https://fireflyfestival.com/
Read More :- Green Man Festival Reveals 2020 Headliners List [Check Out Here]
Firefly Music Festival 2020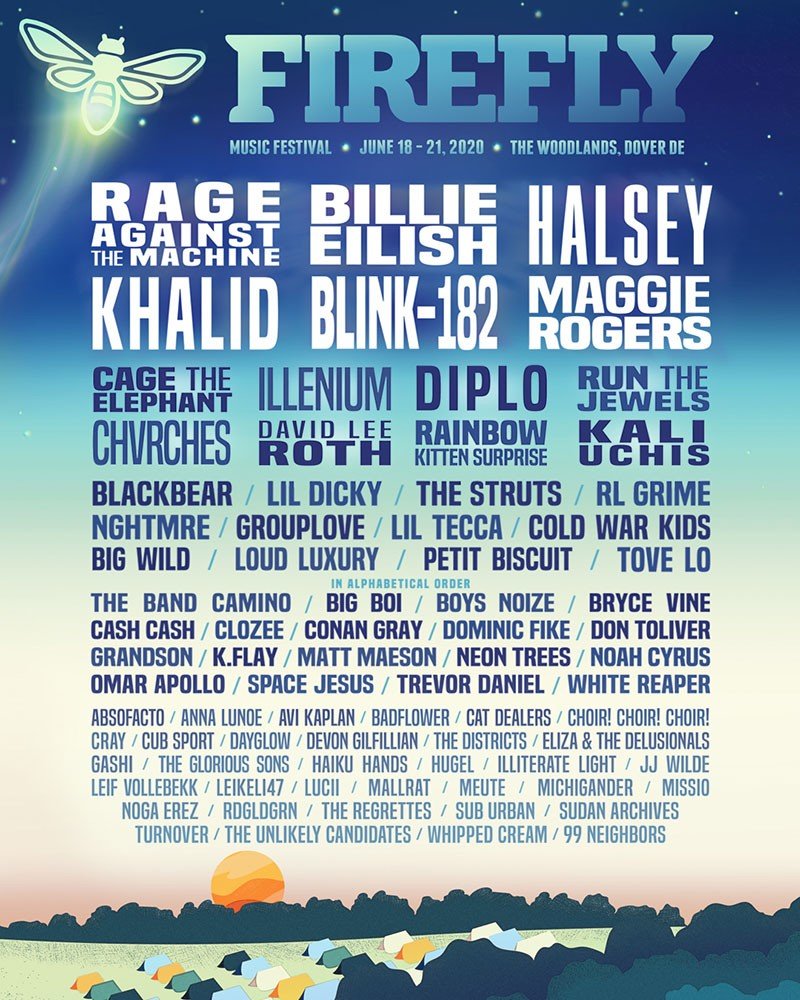 The most popular festival The Firefly music festival has revealed their 2020 lineup list. Billie Eilish, Khalid, Rage Against The Machine and many more music artists will be the main headliners at Firefly.
Additional Firefly 2020 performers include Big Boi, Diplo, Cage the elephant, CHVRCHES, David Lee Roth, Maggie Rogers, Rainbow Kitten Surprise, Run The Jewels, The Struts and more.
DJ Diplo, who got his start in Philly while making music as a student at Temple University also will be performing, along with Rapper Lil Dicky, from Cheltenham, Montgomery County.
Read More :- BTS Live Perfomance Of 'Black Swan' On The Late Late Show With James Corden
Firefly Music Festival is a music festival produced by Red Frog Events alongside Goldenvoice, that was first held on July 20–22, 2012, in Dover, Delaware. Firefly takes place in The Woodlands of Dover International Speedway, a 105-acre festival ground, over the span of three days.
Stay Tune With Siachen Studios For More Latest Updates And News.