Holi is a cheerful, friendly festival. It is full of colors, and love. Festivals are always meant to freshen our minds and souls with awesome vibes. Isn't it? When it comes to the Garden City of India, excitement and enjoyment get double. So, let's consider the best Holi Events in Bengaluru in 2023.
READ MORE- Top 5 Holi Events In Delhi 2023
Well, there are various holi fests that take place every year in Bengaluru. But people don't have enough time to scroll and search the web pages to find the best ones. No need to worry. Because, we have shortlisted the Top 5 Events to let you choose from them. Let's go and check them out.
1- Holi- Jashn-E-Rang by Swiggy SteppinOut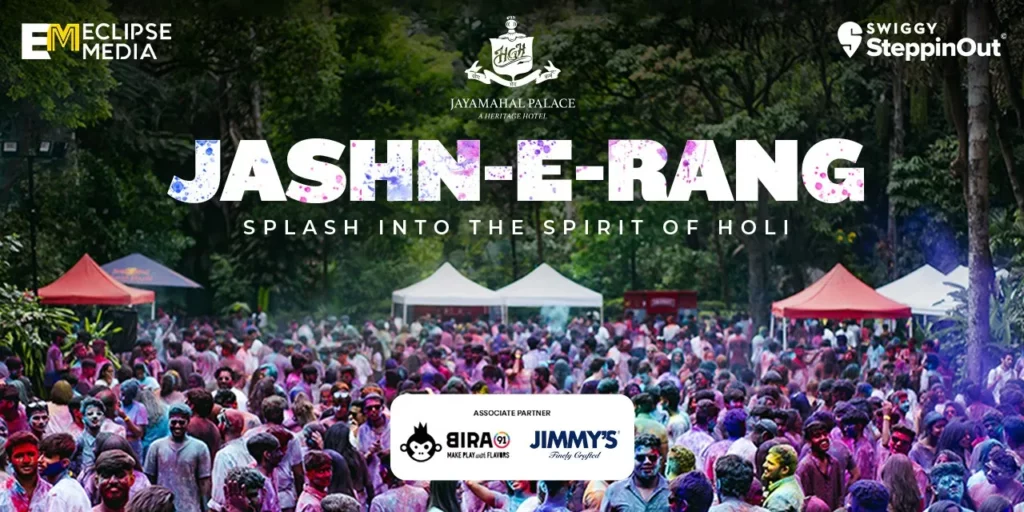 Here is one of the most happening Holi Events in Bengaluru 2023. Jashn-E-Rang include rocking performances from popular DJs including DJ Ganesh, DJ Vishnu, DJ Shane Periera, DJ Vipul Khurana, and many others.
Multi-cuisine food, non-stop party music and uplifting vibes, what else someone ask for? Get your tickets, and enjoy the joyful event this year.
Venue: Jayamahal Palace Hotel, Bengaluru
Ticket Price: ₹699 onwards
Date/Time: 08 March 2023 at 12:00 Pm
2- The Great Indian Holi Festival @Lalit Ashok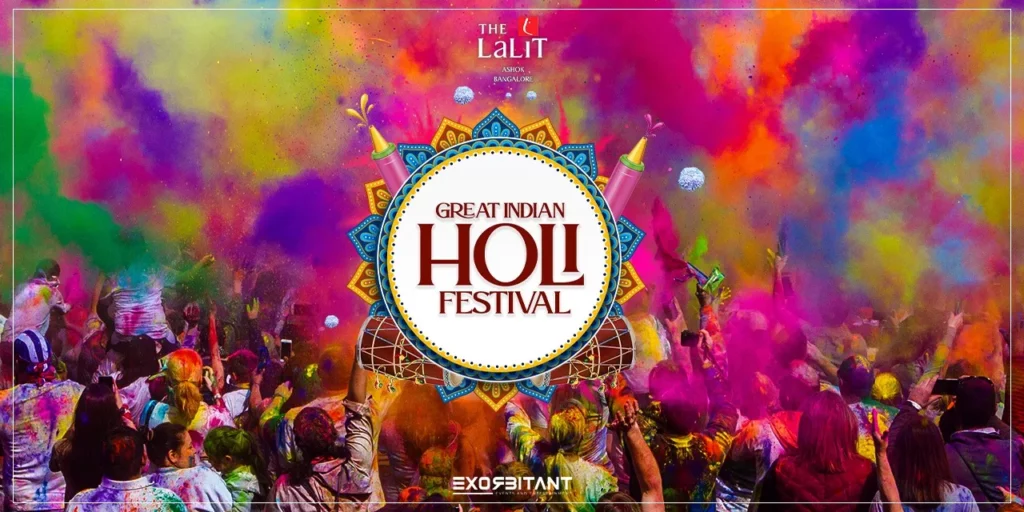 The Great Indian Holi Festival 2023 will be held at the Luxurious Lalit Ashok, Bengaluru. This event will be going to take place on the 7th and 8th of March. First-day artist lineup includes DJ Esha, DJ Jeevan, and DJ Audiophile.
While Second-day lineup includes DJ Prithvi, DJ Harsh Bhutani, and DJ Audiophile. Get your tickets otherwise you will miss the ecstatic experience along with the splash of colors, delectable food, and much more.
Venue: The Lalit Ashok Lawns and Poolside, Bengaluru
Ticket Price: ₹499 onwards
Date/Time: 07 March and 08 March 2023, at 12:00Pm-6:00Pm
3- Whitefield Biggest Holi Festival Gulaal 2023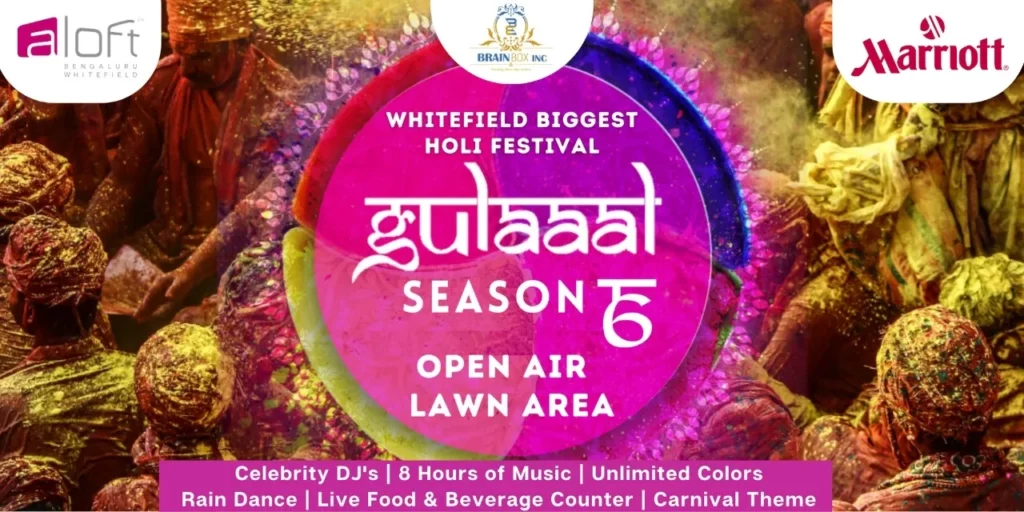 Buddies, here comes Season 6 of the event "Gulaal" to electrify your Holi celebration. This year the event will be held in Whitefield's Aloft Hotel on 5th March and 8th March. It will include ten celebrity DJs to rock the event.
There will be live music along with live dhol. What are you waiting for Gulaal lovers? Just pick up your phone and book your tickets before they sell out.
Venue: Aloft Hotel, Whitefield(Bengaluru)
Ticket Price: ₹99 onwards
Date/Time: 05 March and 08 March 2023, at 11 Am
4- Desi Rang- Holi Festival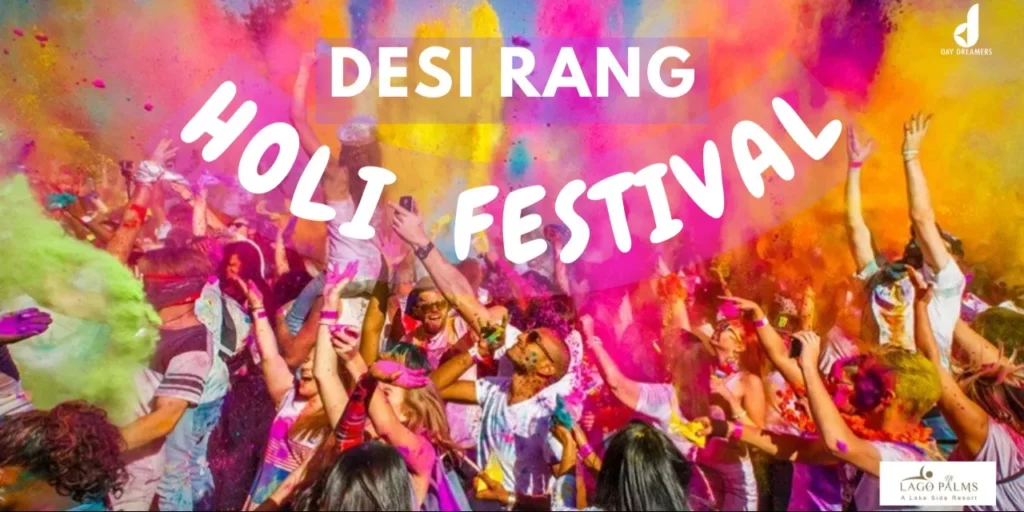 Desi Rang Holi Fest is an event by Day Dreamers. It will be held on 08 March at the Lago Palms Resort. Get your early bird tickets before the price increase.
Have fun with your dear ones on this holi and uplift your mind and soul with some gripping music performances from the famous DJs.
Venue: Lago Palms Resort, Bengaluru
Ticket Price: ₹199 onwards
Date/Time: 08 March 2023 at 10:00Am
5- Rang 2023- Pool and Rain Dance Party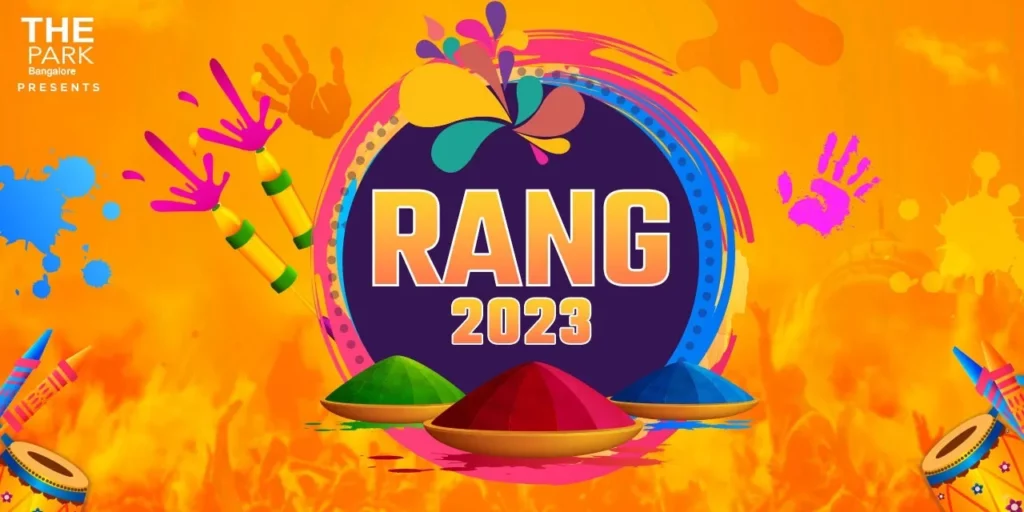 Here is another happening event in Bengaluru at the five-star The Park Hotel. Don't miss the chance of enjoying a pool party, color splash, and rain dance in one place.
It will include performances from some of the most popular DJs and live food counters to delight you. Grab your tickets for this amazing event in Bengaluru.
Venue: The Park Hotel, Bengaluru
Ticket Price: ₹700 onwards
Date/Time: 08 March 2023 at 10:00Am