Hello guys, Get ready for an International show named 'SKG Miss India International 2022' which will take place in Dubai[This Year].
As a Concept of the concert, The SMII conducts auditions all over India, including Centre, North, South, East & West with a motive to identify the Beautiful Cultural representatives from every corner of India and will Showcase them in the Finale held in Dubai.
SKG Miss India International is an International Pageant Show that yearly chooses the best female models of India to represent our Indian culture, custom & Tradition globally.
It's a Home Brand of Skg Event Management, Bhopal (MP) This is particularly for people who catch everyone's eye except can't track down the ideal chance to display their capacities. With the assistance of SMII, the Women of India can feature their qualities and abilities to the entire nation and the World on an International Platform.
You can register for the concert Here
SKG Miss India International Concert 2022: Register Now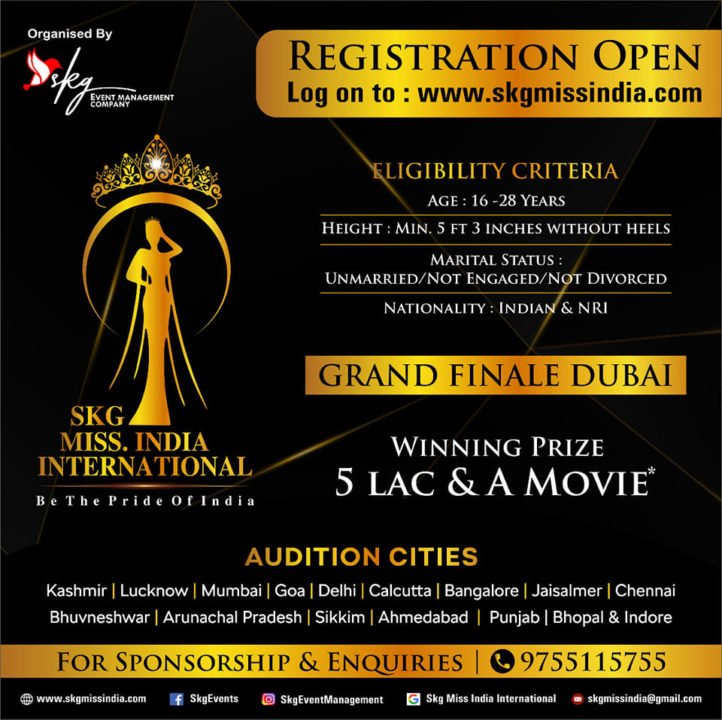 About SKG Event Management Company:
SKG Event Management is a committed and well-known event management company in Bhopal, our team of professionals has expertise in handling fashion shows, designer shows, Line Production & Management, live concerts, Theme Based Parties, Page 3 Parties, Destination Weddings, New Year Eve Party( Red Velvet ) & Holi Event( Rang Barse ) has been the benchmark event of us Bhopal.
We are a growth-oriented professional Event management company with all the Innovative concepts, positive approaches, work ethics, and integrity, with the use of the latest technology, & creativity. We organize and manage events that are not only free of errors but also in line with your organization and the way it should be represented, our work is dedicated to the prosperity of our clients.