Music composer and classical pianist, Victor Alexeeff has released his new album named "Classics Unleashed." Listen to the full album below.
The album, "Classics Unleashed" was released on May 6, 2022. It is an exciting experiment on the vast possible interpretations.
READ MORE – Music For Dancers That Are Just Exceptional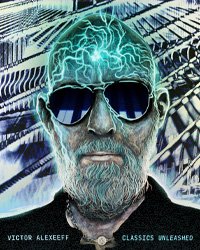 Said Victor, "Beethoven and Bach were the rock stars in their centuries and the instruments they composed with was what was available during their times. Today, with the power of computers and electronics, there is no limit to the sounds you can create."

Classics Unleased is an exciting experiment on the vast possible interpretations.

Said Victor: "Having been in rock bands, together with my classical background it seemed like an obvious project to produce."
Victor Alexeeff Releases New Album, "Classics Unleashed"
Like This Album? Stream & Download The Full Album By Clicking Here.
READ MORE – Psychology Facts About Music Which You Should Know
About Artist:
Victor Alexeeff is a prodigy who began studying piano at age four and attended the Royal Conservatory of Music, Toronto, beginning at age seven.
Although renowned for his performances of Chopin and Prokofiev, his musical interests are eclectic.
Besides working as a concert pianist and session player, he composes scores for film and television, produces original albums, and performs with experimental music groups and rock bands.
Q & A About Victor Alexeeff/Classics Unleashed:
How did this album come about?
I had the inspiration for this album a long time ago when Wendy Carlos released her album called 'Switched – on Bach'. I thought it was pretty cool that someone could take something with synthesizers and recreate some of that very well-known classical music. I thought that this was a great interpretation because that's what we're all about – interpretations. And here is someone who did this and it was really hard work for her. I actually ended up buying the first digital keyboard from her when I was in New York. And, I included one of the Bach pieces she did.
Then I was reminded of 'Hooked on Classics' which I thought was terrible. I was thinking that you could do a little better than just using a drum beat behind Beethoven's symphony – and turn it into essentially a disco song.
So back to Inspiration. Let's make it simple. I studied electronic music as a kid at the conservatory and learned a lot about it. So I thought, What if I could fuse all that electronica with the classics, how cool would that be!
It's all about the instrument. The instrument comes first – then comes the musician. When an instrument maker invents a new organ or keyboard, that's when the composers/musicians come in.
So when you introduce new sounds, the orchestra gets bigger and the music gets more color and more tone, so to speak, and everybody gets excited. And now with digital sounds at your fingertips, we have an explosion! Now we have an infinite number of sounds. The colors and tones are absolutely explosive. For a composer to have this at his disposal is very exciting and cool.
If Bach was alive today, what would he do with these pieces? How would he use it?
I thought to myself I'd like to put myself in their shoes and if I can re-orchestrate this music maybe I can give it a new perspective. I had a lot of fun doing this. I thought it was really cool to replace the traditional sounds with something that nobody has ever heard – and give new life to it.
What does the title Classics Unleashed mean?
In the fine arts world, there seems to be a consensus on interpretation. You just have to play it like this or that and they say they know that this is how the composer intended it to be played. You are really constrained by what your teachers tell you: Play faster here, play louder there. You don't really get to express yourself. If you try to do a different interpretation you get slammed. The fine arts world is very conservative, at least on the educational side.
What people don't get nowadays is that these composers were partygoers and womanizers… but the conservatory of music turns them into statues. They remove the human aspect. And that's what I found when I joined rock
bands – you can be anything you want without any restrictions. So there, you're completely unleashed. Anything works! All of it. Nobody will say that was too fast or too loud or not loud enough. And at the conservatory I would think, I didn't play it like you are used to hearing it and the way you like it – and I get it.
This album is about breaking a lot of traditions. The conservatory is very traditional in many ways. I wanted to break that mold. I wanted to be unleashed. I wanted to do anything I want with these pieces and they can't say anything about it!