Here we go guys, In this article, we will be looking for the best Sports & Fitness anime of all time. Sports & fitness anime are a great way to get in touch with your competitive side! These anime have characters that are dedicated to their sport and they will do anything to be the best. There's something for everyone with these anime and they're perfect for sports fans and anime fans alike.
READ MORE – 12 Best Vampire Anime You Must Watch
15 Best Sports & Fitness Anime Of All Time
1 – Haikyu!!
Haikyu!! is a popular Japanese manga sports series written by Haruichi Furudate. The story follows Shoyo Hinata, a boy determined to become a great volleyball player despite his little stature. The manga series won the 61st Shogakukan Manga Award for best shōnen manga in 2017. As of November 2020, Haikyu!! delivered over 50 million copies in circulation.
2 – Kuroko's Basketball
The story tells a high school basketball team trying to make it to the national tournament. Taiga Kagami and Tetsuya Kuroko aim to take the Seirin High School basketball team to the very top, Kagami is a star player, but Kuroko has a secret skill. As of November 2020, Kuroko's Basketball had over 31 million copies in circulation. One of the best Sports & Fitness anime of all time.
READ MORE – 15 Popular Gore Anime You Must Watch
3 – Chihayafuru
Chihayafuru is a famous sports anime manga series written by Yuki Suetsugu. The manga has won the Manga Taishō and the Kodansha Manga Award.
It narrates the story of Chihaya, she takes on a new dream of evolving Japan's best karuta player, she is soon split from her karuta playing friends as they grow up. Now in high school, Chihaya reunited with her childhood friend, Taichi Mashima. Together, they form the Mizusawa Karuta Club.
Author: Yuki Suetsugu
Adaptations: Chihayafuru Part I (2016), Chihayafuru (2011), Chihayafuru Part 3 (2018), Chihayafuru Part 2
Books: Chihayafuru 22, Chihayafuru 23, Chihayafuru 24, MORE
4 – Free! – Iwatobi Swim Club
Free! is an anime TV series, directed by Hiroko Utsumi and produced by Kyoto Animation. The anime is a sequel to the light novel. Free! has members of a high school boys' swimming team(Haruka Nanase, Makoto Tachibana, Rin Matsuoka, and Nagisa Hazuki). The story focuses on how the Iwatobi boys seek to reconcile with an apparently changed Rin while also designing the reinvented swim club.
Genre: Sports (swimming)
Original run: July 8, 2013 – July 2, 2014
Published by: Kyoto Animation
Volumes: 2
READ MORE – 20 Best Harem Anime You Must Watch
5 – Slam Dunk
Slam Dunk is a famous sports manga series written by Takehiko Inoue. It tells the story of a basketball team from Shōhoku High School in the Shōnan area of Japan. In 1994, it received the 40th Shogakukan Manga Award for the shōnen category. One of the best Sports & Fitness anime of all time.
6 – Baby Steps
Baby Steps is a famous anime manga series by Hikaru Katsuki. The story is about Eiichirō Maruo, a first-year honor student who one day chooses that he is lacking practice. Then, he enters the Southern Tennis Club (STC) where he starts his tennis journey. In 2014, Baby Steps won the 38th Kodansha Manga Award for the Best Shōnen Manga category.
Eiichirō Maruo one day decides he is unhappy with the way things are and lacks exercise. He sees a flyer for the Tennis Club and chooses to check it out. He is instantly captivated by it.
READ MORE – 12 Best Anime Movies On Netflix Must Watch (2022)
7 – Ping Pong the Animation
Ping Pong is one of the famous manga anime series, written by Taiyō Matsumoto. The story is all about table tennis sports. Peco and Smile, both are talented members of the table tennis club of Katase High School. Peco gets decisively defeated by a Chinese student and thus becomes so devastated that he quits practicing. It was serialized in Shogakukan's seinen manga magazine Big Comic Spirits from 1996 to 1997 and collected in five tankōbon volumes.
8 – Inazuma Eleven
Inazuma Eleven animated series tells of a school football team whose captain is desperate to save it. The series first started out as a sports role-playing game for the Nintendo DS. It has had numerous sequels since then. One of the best Sports & Fitness anime of all time.
READ MORE – 20 Best Anime Characters Of All Time
9 – Yuri!! On Ice
Yuri on Ice is popular Japanese sports anime TV series about figure skating, produced by MAPPA & directed by Sayo Yamamoto. The series launched on October 6, 2016, and ended on December 22, with a total of 12 episodes. It won three awards at the Tokyo Anime Award Festival, a Japan Character Award & more.
The series pivots around the relationships between Japanese figure skater Yuri Katsuki, his idol, Russian figure-skating champion Victor Nikiforov, and up-and-coming Russian skater Yuri Plisetsky, as Yuri K & Yuri P.
10 – Bamboo Blade
Bamboo Blade is a Japanese manga series written by Masahiro Totsuka. The sequence narrates the story of Toraji Ishida, a hard-luck high school Kendo instructor, who is challenged by his ex upperclassman, also a kendo instructor, to a competition between their female students. The bet encourages Toraji to assemble and train a team of five girls, where he meets Tamaki Kawazoe, a gifted young female kendo practitioner.
READ MORE – 12 Best Anime For Beginners All The Time
11 – Zatch Bell!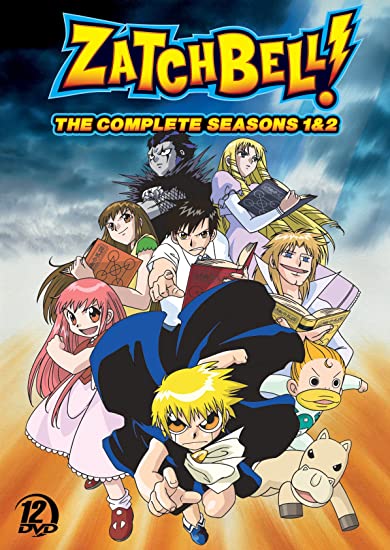 Zatch Bell! aka Konjiki no Gash!! is a Japanese anime manga series written by Makoto Raiku. The series pursues the title character Zatch Bell, a supernatural being called a Mamodo, who is partnered with a 14-year-old schoolboy Kiyo Takamine for a once-a-millennium tournament on Earth that determines the right to rule the Mamodo world asking.
During their incident, Zatch and Kiyo meet and battle diverse Mamodo and their human partners, and meet members who aid Zatch in his pursuit to become a "kind king."
12 – SK8 The Infinity
A comedy manga spin-off started serialization on the Young Ace Up manga website in January 2021. In the series, High school sophomore and hardcore skater Reki introduces transfer student Langa to a secret, no-holds-barred race down an abandoned mine. One of the best Sports & Fitness anime of all time.
First episode release: 10 January 2021
Episodes: 12 (List of episodes)
Music by: Ryō Takahashi
Created by: Bones; Hiroko Utsumi
Genres: Sport, Adventure fiction
READ MORE – Who Is The Strongest Anime Character?
13 – Ace Of Diamond
Ace of Diamond is a Japanese baseball-themed manga series written by Yuji Terajima. In 2010, it won the Kodansha Manga Award for best shōnen manga. The sequence follows Eijun Sawamura, a baseball pitcher with a unique pitching technique that inherently causes the ball to move unpredictably at the plate. Sawamura plans to go with his friends to a local high school and play baseball to the best of their capabilities.
Author: Yuji Terajima
Episodes: 126 + 5 OVA (List of episodes)
Volumes: 47 (List of volumes)
Genre: Sports manga
Books: Ace of the Diamond, Vol. 1, Ace of the Diamond, Volume 2, MORE
14 – One Outs
One Outs is one of the famous baseball-themed anime series written by Shinobu Kaitani. The anime TV series adaptation produced by Madhouse and directed by Yuzo Sato aired on Nippon TV from October 2008 to April 2009. One of the best Sports & Fitness anime of all time.
Genre: Gambling, Psychological, Sports.
READ MORE – 10 Best Naruto Movies You Must Watch
15 – Princess Nine
Princess Nine Aka Princess Nine Kisaragi Girls High Baseball Club is a 26-episode Japanese anime TV series and 3 manga volume sets. The sequel is about the trials of nine girls at the Kisaragi School for Girls, who form a baseball team with the goal of playing on equal footing with boys' teams at the most prestigious high school tournament in Japan, the National High School Baseball Championship.
Genre: Sports (baseball), romance, drama
IMDB: 7.8
Original network: NHK-BS2
Studio: Phoenix Entertainment
Characters: Ryo Hayakawa, Keiko Himuro, Kanako Mita, MORE