Hey folks, how are you doing? Do you find Arthur Characters intriguing? If yes, then this is the article that you need. The article is going to be short yet crisp to let you go through the 10 best Arthur Characters.
To the people who don't know about what Arthur is, let me give you an overview. Arthur is an animated educational television series for children ages 4 to 8.
Arthur characters, The television series is based on the Arthur book series written and illustrated by Marc brown. 
Each episode of Arthur ran for half an hour. so, it's always been fun to watch Arthur characters. In addition to the TV series, the Arthur franchise has spawned seven hour-long films, some of which used be often run on PBS during pledge drives. How about discussing Arthur characters? 
Now, let us take you through the top 10 best Arthur characters of all time that will reminisce about your childhood days. 
READ MORE – 15 Best Paw Patrol Characters Of All Time 
1- Arthur Read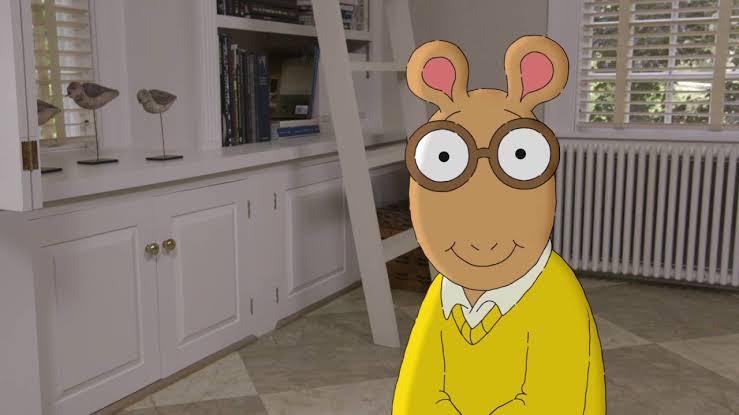 His full name is Arthur Timothy Read. He is the protagonist of both the book series and the television series also. In the series, it's shown that he is an 8-year-old boy who lives in the fictional city of Elwood City. 
Throughout the series, voiced by several voice artists. Speaking of the protagonist's physical appearance, he is an anthropomorphic aardvark, like the rest of his family. 
The shape and appearance of his head come mostly from his father, David. He and many other characters also originally had a tail and were sometimes pants-less, but Arthur's eyes and all later books removed the tails and made them more humanoid and dressier.
Arthur's summertime attire consists of a blue short-sleeved T-shirt with white accents and dark blue shorts; when swimming, Arthur wears yellow swimming trunks.
Guys as Arthur Read is the protagonist, so I will definitely discuss his appearance a bit more than discussing the rest of the characters. During wintertime, Arthur wears a red hat, a brown winter coat, red mittens, and brown boots. 
Arthur's baseball uniform consists of a yellow T-shirt and white shorts, both with blue accents. His baseball uniform consists of a yellow baseball cap, a yellow T-shirt with an orange #7 on the rear, and the "LW" logo for his school is sometimes seen on the front. 
2- Binky Barnes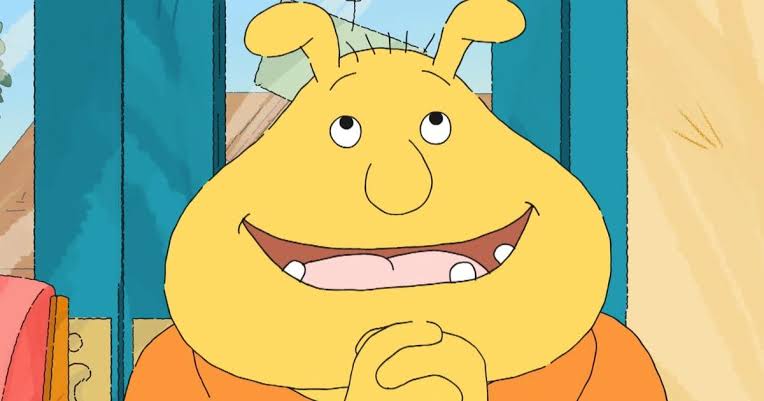 Binky Barnes, real name is Shelley. He is a student in Mr. Ratburn's class at Lakewood elementary school.
He is one of Arthur's friends. However, he is also the leader of a club of bullies called the tough customers.
Speaking of his physical appearance, Binky Barnes is an anthropomorphic bulldog with a mustard-yellow skin tone, a large, wide face with small eyes, and three snagged teeth rising from his lower lip. 
He usually wears a long-sleeved orange-pecan button-up shirt, dark blue slacks, a light blue belt buckle, and brown loafers. For formal occasions, Binky will wear a gray polka-dotted suit with a top front pocket on the right-hand side of the jacket. Binky kept three pencils in his pocket. 
On the contrary, he is been portrayed as a typical school bully. He does make a point in the cartoon that he has reformed. Albeit, he has a softer side, he dances ballet, plays the clarinet and flute, and is a lepidopterist ( but he was nice that he wants to keep the butterflies alive while in his collection. He is a secret keeper and wants to keep all these things private from others as doesn't want to show all these concerns that he possesses to others. 
3- Muffy Crosswire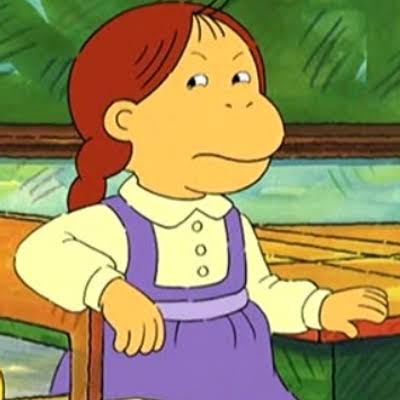 Mary Alice or Muffy is a student in Mr. Ratburn's third-grade class at Lakewood Elementary School. She is in Mr. Ratburn's class again for fourth grade.
She is the richest girl in Elwood City and lives in an enormous mansion. Muffy entered Lakewood in second grade when she met Arthur and his friends and quickly became best friends with Francine. 
She is often labeled as snobbish and spoiled because of her wealth, attitude, and frequent selfishness, but makes up for it in most cases.
Muffy is a medium-skinned anthropomorphic monkey. Her usual outfit is a purple puffy sleeveless knee-length dress with a lavender fabric belt over a long-sleeved white blouse, finished with knee-high white socks with brown Mary Jane shoes.
Muffy's hairstyle consists of two chest-length auburn braids tied with a pair of matching purple bows. She is seen with this hairstyle in most of the episodes but sometimes changes the style, especially for formal events.
READ MORE – Best 15 Famous Saiki K Characters Of All Time 
4- Buster Baxter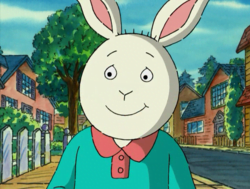 This character is often liked by many people. Buster Baxter is a student in Mr. Ratburn's third-grade class at Lakewood Elementary School, along with his best friend Arthur Read and the rest of their friends. Later, he is in Mrs. Grimslid's fourth-grade class. He resides in Elwood City in a condominium with his divorced mother, Bitzi Baxter.
Speaking of the personality of this character, Buster is easygoing, fun-loving, funny, and somewhat odd. He has a strong interest in space aliens and claims to have seen flying saucers over Elwood City. His easygoing personality often takes its toll on his performance at school: he sometimes has trouble finishing reports, math assignments, and book reports. 
5- Mr. Ratburn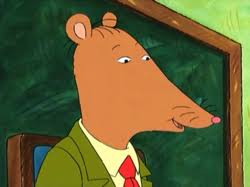 Tell me, being honest, don't you find this name as well as the appearance of this character funny?
Well, He teaches Arthur's third and fourth-grade classes. In "Mr. Ratburn and the Special Someone," Mr. Ratburn marries a chocolate shop owner named Patrick.
Mr. Ratburn's appearance consists of a green suit complete with a solid yellow shirt and a bright red necktie. 
Being a rat, he has long whiskers, which he appears to keep trimmed.
The character has brown clumps of hair in the books; although, in the cartoon show, his hair was restricted to thin black lines.
Rat-burn also wears his shirts tucked into his pants and always wears a belt buckle with his pants.
The character also wears blue pajamas, and in one episode, he wore a turquoise nightshirt, and in another episode, he also wore a tan colored sweater and black pants, and brown or black slippers.
6- Brain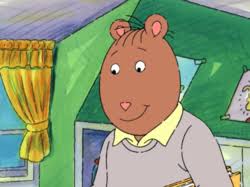 Alan Powers or The Brain is a third-grade student in Mr. Ratburn's class at Lakewood Elementary School. 
He is voiced by Luke Reid, Steven Crowder, Alex Hood, Paul-Stuart Brown, Lyle O'Donohoe, Siam Yu, Max Friedman Cole, and Evan Blaylock.
The brain is an anthropomorphic bear who wears a grey sweater with olive green pants and brown loafers.
In the books, he wears different-colored shirts and sweaters, and blue jeans, or sometimes khakis. He has clumps of hair that are brown in the books, although the cartoon depicted the hair in thin black lines to simplify the animation process. He wears sneakers when playing sports. 
READ MORE – 15 Best 90s Cartoon Characters Remind Your Childhood 
7- Sue Ellen Armstrong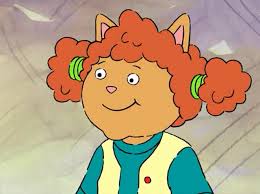 Sue Ellen Armstrong is a new student in Mr. Ratburn's third-grade class at Lakewood Elementary School, upon moving to Elwood City from abroad.
Later, she is a student in Mrs. Grimslid's fourth-grade class. Sue Ellen is an anthropomorphic cat who is depicted with a tan complexion, curly orange hair worn in "messy buns" bound by lime green scrunchies, and wears a teal "T-shirt"-type dress with a cream-colored vest over it, finished with red-and-white hi-top sneakers and lime green slouch socks. 
However, speaking of her personality, Sue Ellen is assertive, proactive, brave, tough, strong, a little bossy, kind, athletic, tolerant, honest, creative, open-minded, nice, mature, charismatic, well-read, lonely, artistic, and vegetarian.
She is an amazing storyteller and is big-hearted. She is also easy to get along with and can solve problems on her own. Sue is very mature and artistic for her age and interested in world culture. 
8- D.W. Read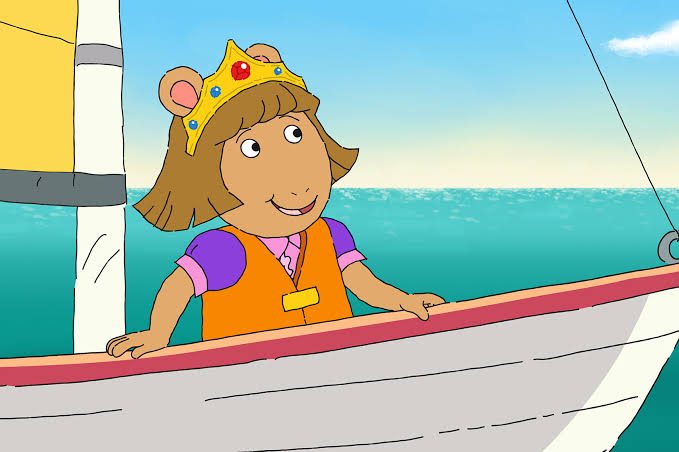 Dora Winifred "D.W." Read is a preschooler who's the younger sister of Arthur and the older sister of Kate. She is the middle child in the Read family. Speaking of her appearance, Like the rest of her family, D.W. is an anthropomorphic aardvark.
She has short, light brown slightly curled/waved hair in the form of a bob cut, which is up to her cheeks; plus, she has bangs. She wears a white long-sleeved blouse and a frilly sleeveless knee-length magenta jumper dress. 
Despite her superficial appearance, D.W. is often annoying to Arthur and he often seems to dislike her.
Sometimes, she takes pleasure in getting Arthur in trouble. Also, she holds Arthur accountable during the Virtual Goose episodes, and in "Arthur's Almost Boring Day." But occasionally, she seems to show that she truly loves her brother, and gladly works with Arthur whenever their family is in trouble.
9- Prunella Deegan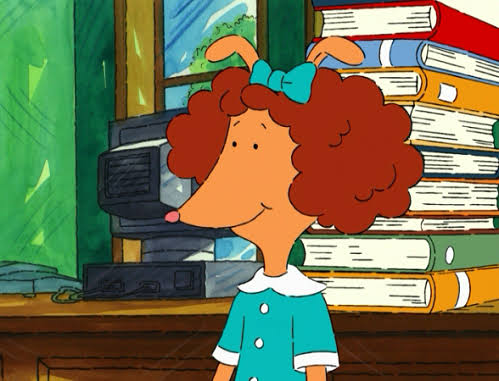 This character's appearance is quite quirky than the rest of the characters' names. Prunella Deegan is a 4th grader who lives in Elwood City. She is best friends with Marina Datillo and is also friends with Arthur Read and the other third graders. She is an avid reader and, like her sister Rubella, is interested in the supernatural. 
However, Prunella is a tall, slender anthropomorphic poodle with curly auburn hair adorned with a turquoise bow and black dot eyes. In almost all of her appearances, she is shown wearing a short turquoise dress. She occasionally has whites for eyes when she expresses surprise about things happening During formal occasions, she wears a light blue dress with white strings that she ties together.
10- Grandma Thora Read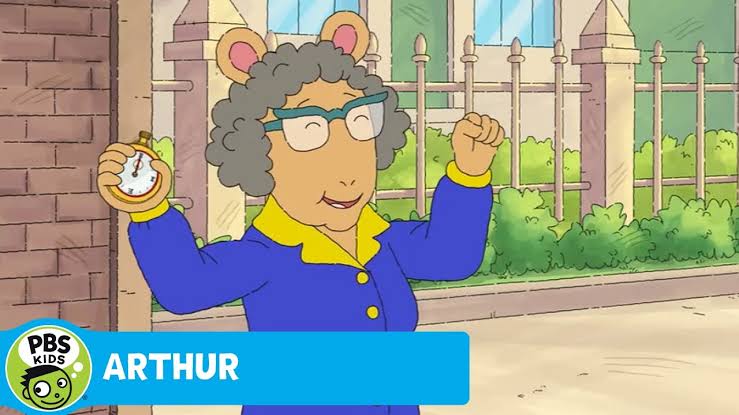 Aah! What a beautiful character it is. She grew up in Elwood City.
Since the town was founded recently, Arthur did not recognize it in early photographs. She was able to cross the street guided by denizens, law enforcement, and Zeppelins.
However, The character remembers her parents were very polite and understanding. She has three older brothers that she was jealous of. 
Why this jealousy? Because they did not find any durable toys, Thora spent her early childhood without any of her own. She eventually is gifted with Clarissa and developed a love for Strawberries. 
Thora is shown to be very kind, supportive, and understanding. She is very active and is not able to effectively cook.
Therefore, She will not hesitate to tell the truth about other people's mistakes, but at times speaks very softly. And tell me who is not going to adore such a beautiful character?