Here we go guys, In this article, we will be looking for the best Lesbian celebrity couples who unveil their relationship openly in Public. As we all know, A lesbian is a homosexual woman. The word lesbian is also used for same-gender (women) in relation together.
In the celebrities world, there are many Lesbian Couple who unveils their relationship openly in public & also, they are probably the most well-known duos in the industry, who are out, proud, and talk about their marriage without any hesitation.
The list contains famous couple names including, Samira Wiley and Lauren Morelli, Ellen DeGeneres & Portia de Rossi, Jodie Foster, and Alexandra Hedison, Sarah Paulson and Holland Taylor & many more.
READ MORE – 10 Best Adorable LGBTQ+ Celebrity Couples
Lesbian Celebrity Couples With True Love
1 – Samira Wiley and Lauren Morelli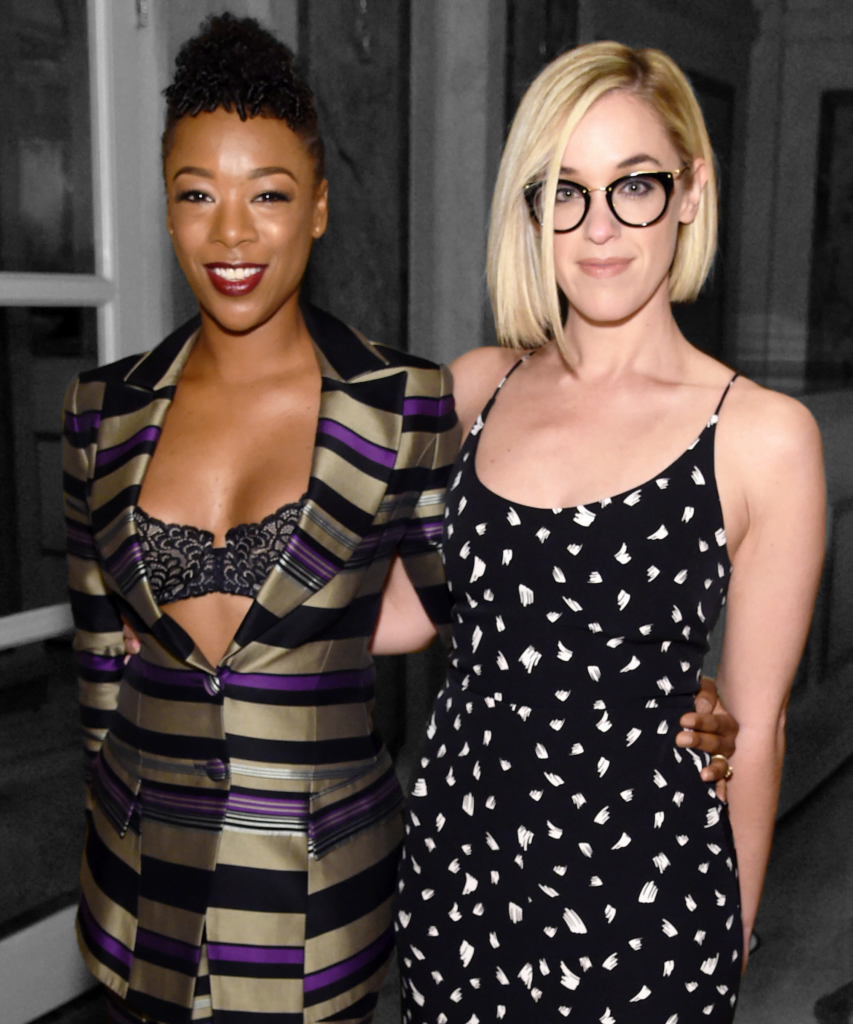 Samira Wiley & Lauren Morelli have been in a relationship since 2014 and recently welcomed their first child. They first met when they started filming the famous Netflix series "Orange Is the New Black," where Morelli was a lead author and Wiley recreated the character Poussey Washington, then they evolved into friends and ultimately fell in love.
"I remember those first months with her, trying to figure out her journey with her own sexuality. Feeling like she picked me as the person she was going to talk to about all of it," Wiley told Bust in 2018.
2 – Ellen DeGeneres & Portia de Rossi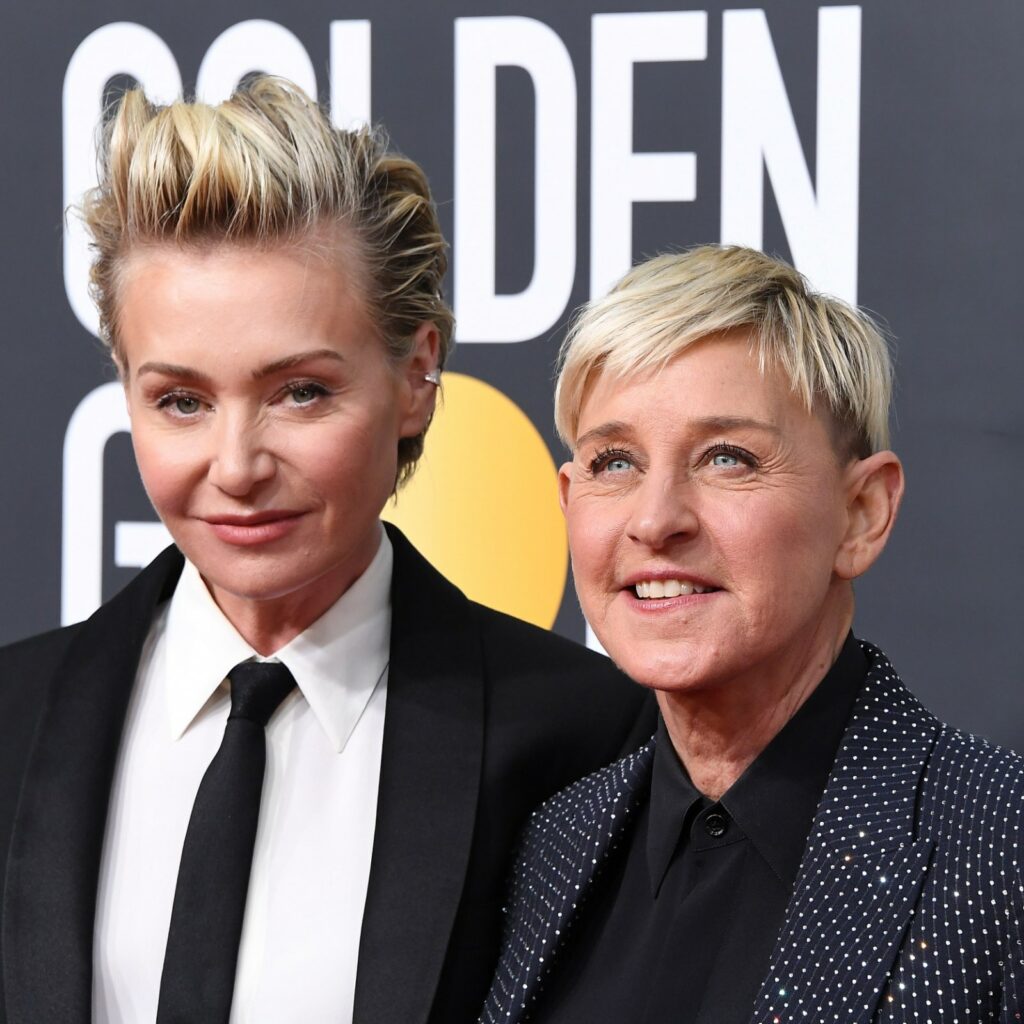 Ellen Degeneres & Portia De Rossi first met at a party in 2000, then Their relationship started after VH1's Big in '04 awards show, which gave de Rossi the trust she needed to publicly come out as gay.
In August 2008, Officially, They tied the knot, and continue to inspire others with their love story. One of the best Lesbian Celebrity Couples ever.
3 – Meghan Rapinoe and Sue Bird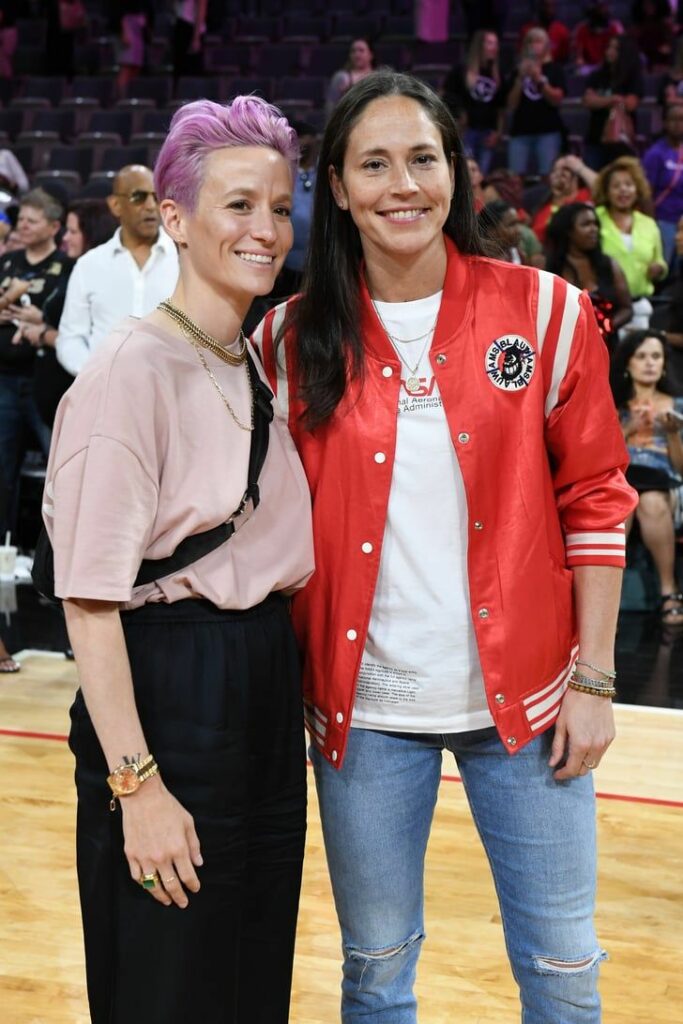 In 2017, both Olympic gold medalists, Sue Bird and Megan Rapinoe started dating. The pair first met while backstage at a photo shoot for the 2016 Rio Olympics. In 2021, they gave NBC the details of their first encounter. "She was in her basketball uniform and she had her hair down," Rapinoe said
"I'm gay. Megan's my girlfriend … these aren't secrets to people who know me," In an interview, she says. "I don't feel like I've not lived my life. I think people have this assumption that if you're not talking about it, you must be hiding it like it's this secret. That was never the case for me."
READ MORE – Top 15 Best Indian American Actors Everyone Discuss
4 – Jodie Foster and Alexandra Hedison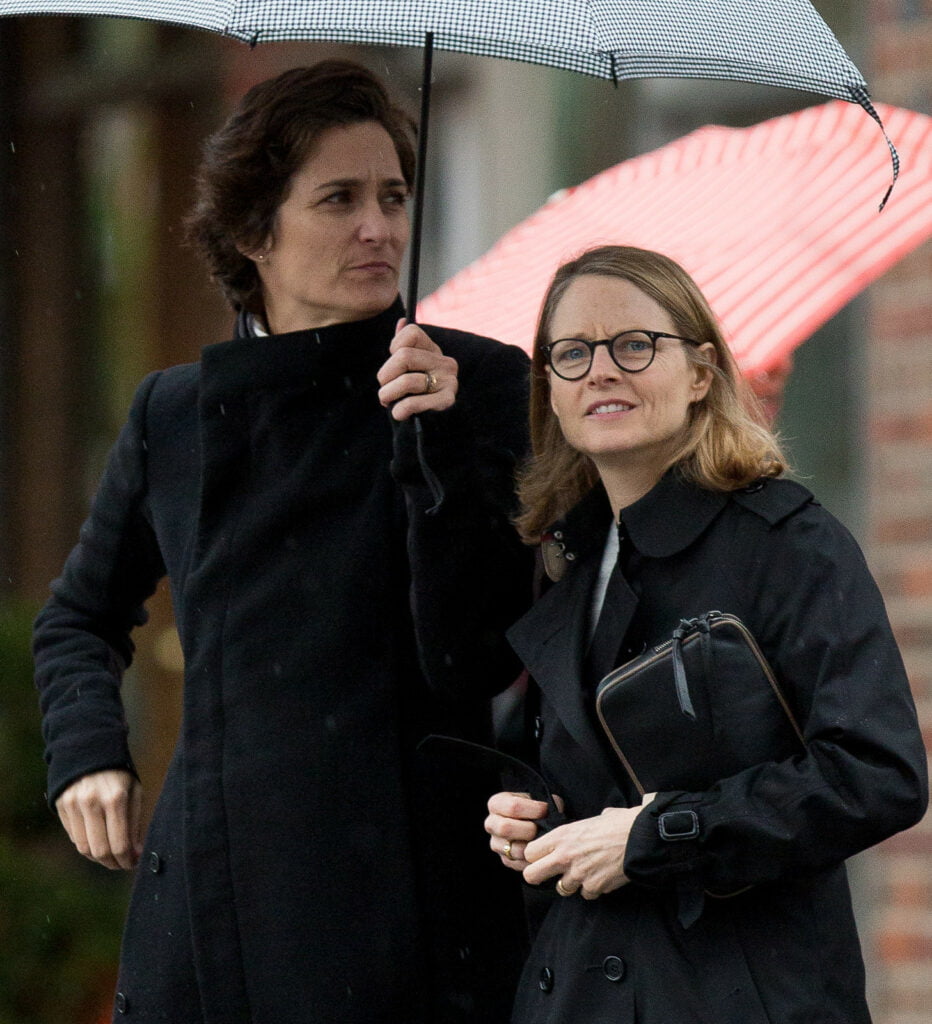 Jodie and Alexandra have been married since 2014, after a little over a year of dating. Jodie Foster's Golden Globe win wouldn't have been complete without her wife, Alexandra Hedison!
On Sunday, February 28, 2021, Jodie Foster won a Golden Globe for best supporting actress for her work in The Mauritanian. In her endorsement speech, Foster said, "Are you kidding me? I think you made a mistake. I'm a little speechless. I just never expected to ever be here again, and wow."
Sitting on the couch in silk pajamas next to Foster was her wife, Alexandra Hedison, and their dog, Ziggy. "I love my wife! Thank you, Alex, and Ziggy [the dog] and Aaron Rodgers," she said.
The Best lesbian celebrity couples ever. She then kissed Hedison, which is both important and normal—because representation matters but society is also quickly normalizing LGBTQ+ relationships.
5 – Catherine Shepherd & Brandi Carlile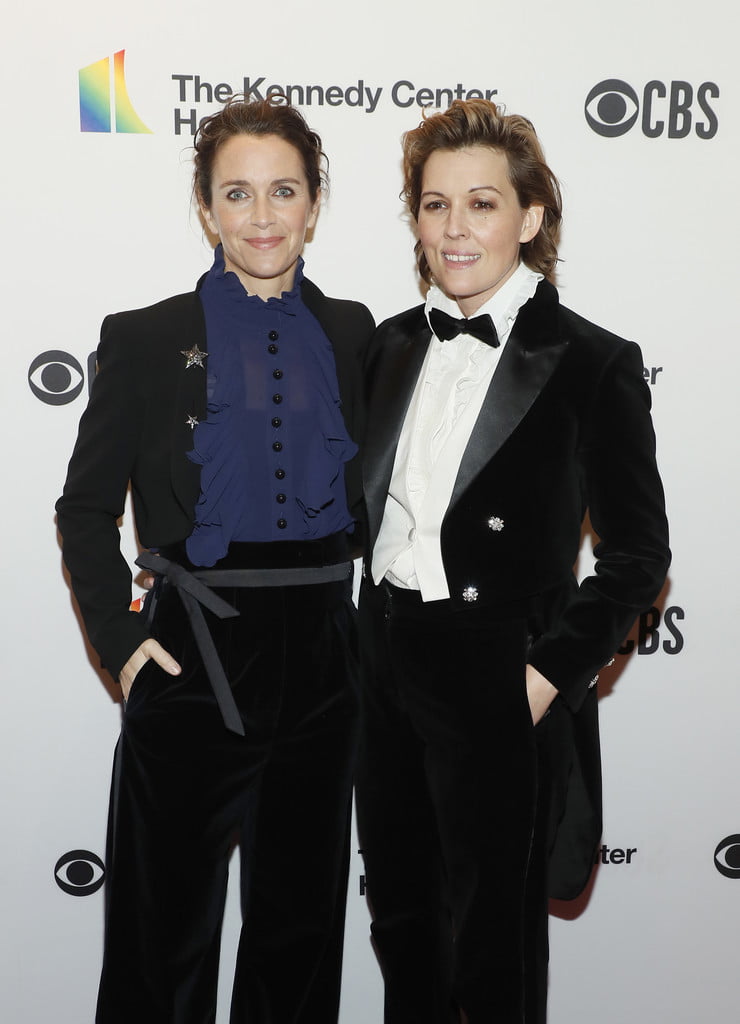 Brandi Carlile is one of the most talented singers & songwriters over the last decade. Brandi Carlile's wife, Catherine Shepherd, met the famous singer backstage at a charity event in 2009.
Carlile and Shepherd started dating after meeting in person, and they married in 2012. While Shepherd is known for being Carlile's wife.
According to People, Shepherd coordinated Paul McCartney's charity work for a decade, and they connected over donating Beatles' memorabilia to Carlile's Fight the Fear campaign. They spoke on the phone for a year before meeting in person. Shepherd was located in the U.K. and Carlile lived in the U.S. until they finally met face to face.
"It was shocking to say the least," Carlile told People of meeting Shepherd. "Every time I talked to her over the phone, I thought I was talking to somebody who was like, 65 years old. I don't know why. I think because of her wisdom and her demeanor. Or maybe I thought she was Paul's age or something. So we met backstage in New York, and we were both like 27."
6 – Cynthia Nixon and Christine Marinoni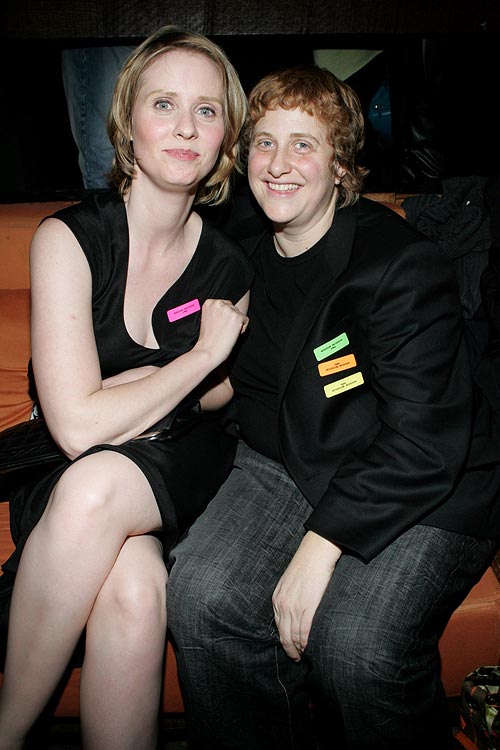 Cynthia Nixon and her wife, activist Christine Marinoni, are a New York City-based power couple. On May 27, 2012, Cynthia Nixon and her girlfriend, Christine Marinoni, were legally married in the state of New York," her rep tells PEOPLE in a statement. "Nixon wore a custom dress by Carolina Herrera.
Both have been together since 2004. In February 2011, Marinoni gave birth to their son, Max Ellington Nixon-Marinoni. One of The Best lesbian celebrity couples ever.
READ MORE – Bald Actors: 12 Famous Bald Celebrities Of All Time
7 – Sarah Paulson and Holland Taylor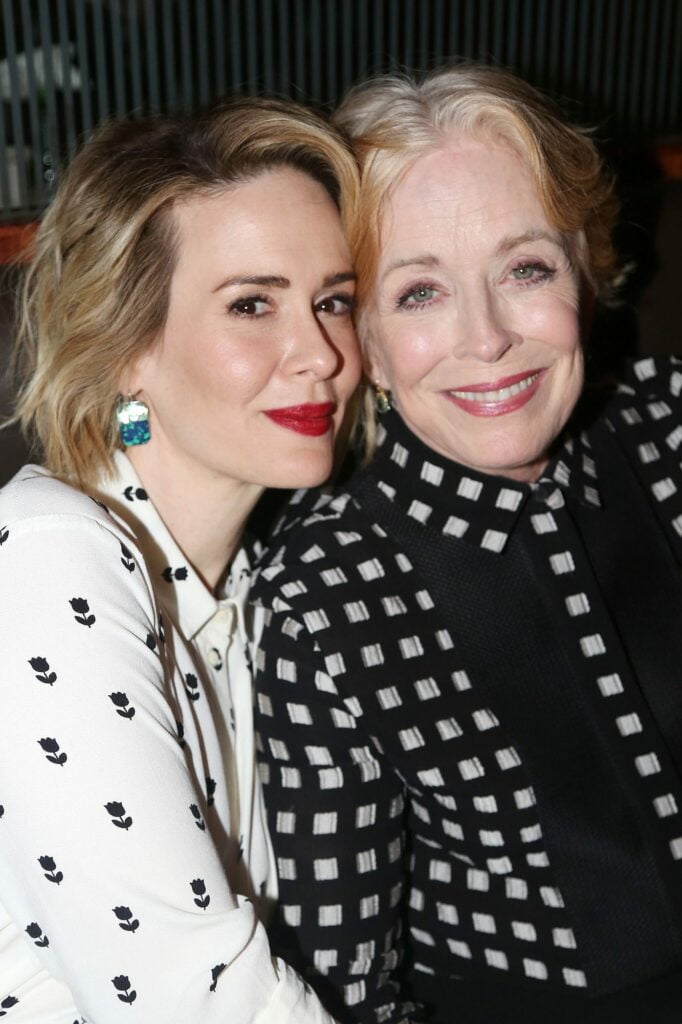 In 2005, Sarah Paulson & Holland Taylor met at a dinner party, but they didn't start dating. In November 2015, Taylor confirmed she was in a relationship with a woman who was younger than her, without giving Paulson's name.
Paulson Confirms Their relationship with Taylor In March 2016. "There's a very big age difference between us which I'm sure shocks a lot of people, and it startles me," she said in an interview with radio station WNYC.
8 – Ariana DeBose & Sue Makkoo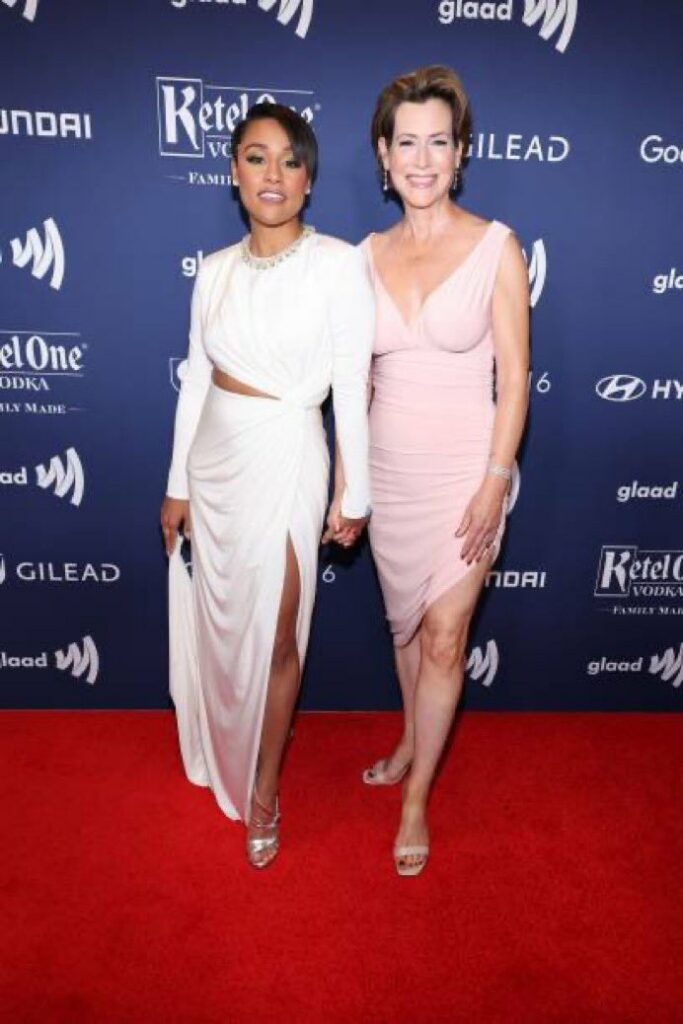 Ariana DeBose & Sue Makkoo first met while working on Summer: The Donna Summer Musical. Ariana played Disco Donna while Sue was the costume associate, as per Purewow.
Recently, Sue created a website called Civilized where she seeks out and shares "moments in a day that was kind," in her own words.
9 – Wanda Sykes and Alex Sykes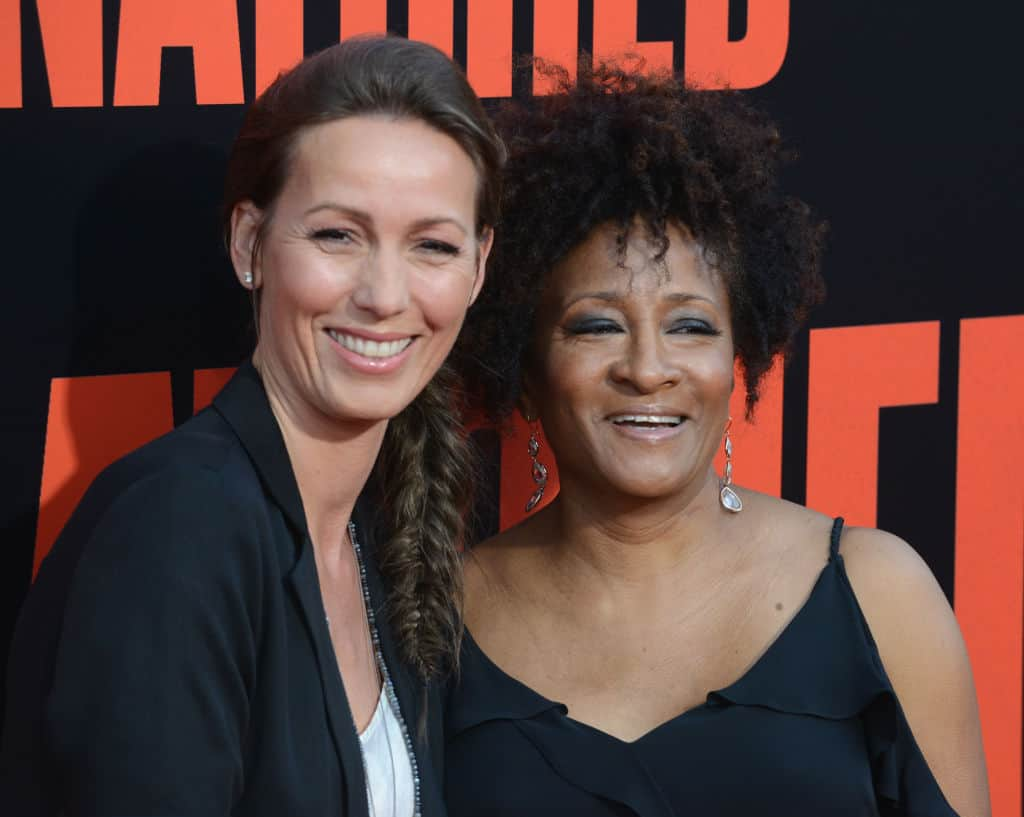 Wanda Sykes is married to Alex Sykes, whose maiden name is Alex Niedbalski. Alex is from France, and the couple is raising their twins to speak both French and English.
In 2006, The couple first met, and Wanda revealed to The Guardian that she first spotted Alex on a ferry to Fire Island in New York. The comedian recalled, "Something said to me, like, audibly, 'Wow, that's what you need, Wanda.'"
After marriage, Nearly 13 years later, their relationship is still going strong. While celebrating their 12-year wedding anniversary in 2020, Wanda wrote in an IG tribute, "Twelve years! Happy Anniversary ma femme!" The Best lesbian celebrity couples ever.
READ MORE – How Tall Is Tom Holland? 10 Facts You Need To Know
10 – Kristen Stewart & Dylan Meyer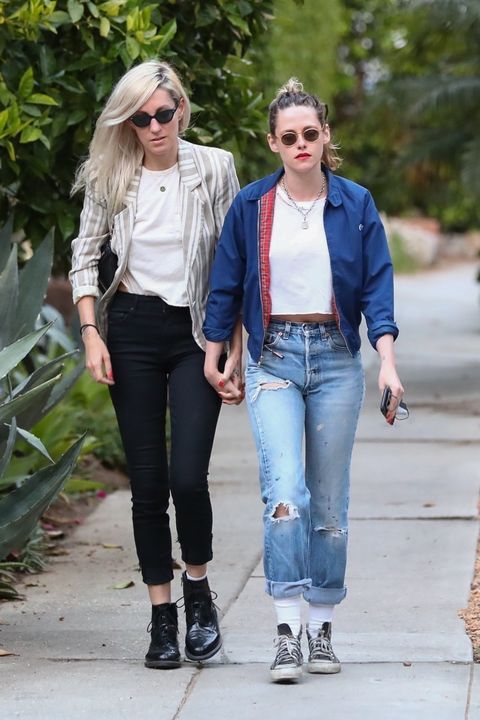 On November 2, 2021, Stewart revealed the two are engaged to Howard Stern, and Meyer popped the question. "We're marrying, we're totally gonna do it," Stewart said. "I wanted to be proposed to, so I think I very distinctly carved out what I wanted and she nailed it. We're marrying, it's happening."
In August 2019, Rumors about Meyer and Stewart's relationship started when the pair were seen kissing on a New York City stoop.
11 – Jane Wagner & Lily Tomlin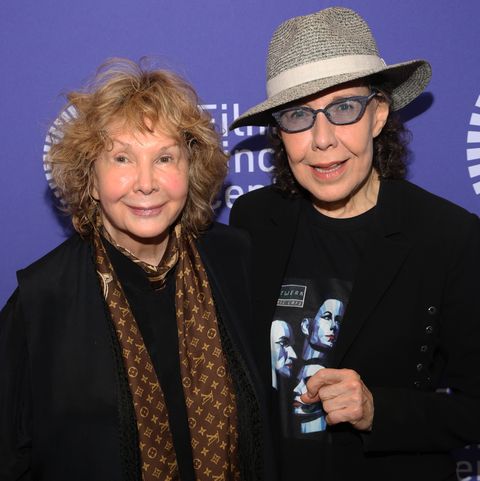 Lily Tomlin and Jane Wagner have been in a relationship for more than 50 years(a half-century) of together. Their work together has shaped a specific, irreplicable canon in American social commentary. In the early 1970s, They both started their romantic relationship.
"She expresses how I feel, which I have no ability to do," Tomlin said of Wagner, her wife, and longtime partner, on Tuesday to Variety in 2020. "She can express in words what I feel about the world, about humans, about the struggle that we're in — and, presumably, not the inevitability of it all, something that I know speaks to other people."
12 – Jennifer Cheyne & Jane Lynch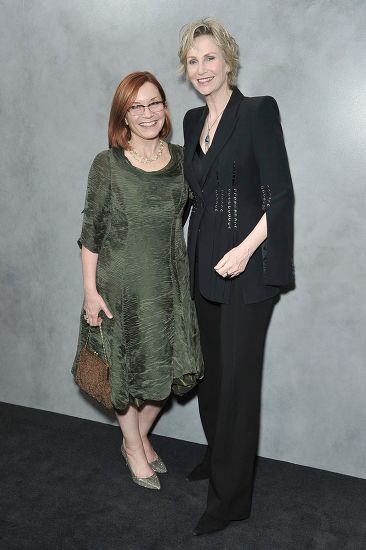 "We've been together a really long time. It was more touching than I was expecting," Jane Lynch Saya. "Because the impulse to do this, was we're looking for insurance for Jennifer and I said, 'Let's just get married.'"
In 2020, Lynch opened up to PEOPLE about the relationship, saying Cheyne "makes me thankful all day long." "She's really smart. We work so well and we're really grateful that we found each other," she shared.
Previously, Lynch married psychologist Lara Embry from 2010 until they filed for divorce in 2013.