Hello friends, how have you been? Wishing you all a very happy new year. Today's article is about Colombian singers.
Do you know what is so special about all these Colombian singers? It's a passion that reflects the great cultural, regional and ancestral diversity of Colombian people. 
Music is something that is extremely important to all Colombian people. This is mainly because music is a way of showing their pride in their roots, and a way of living in the moment.
Often we hear that music is a feeling or an emotion, seeing Colombians it's righteous to say. For Colombian singers, music is an integral part of their lives. The intriguing part here is Every part of Colombia moves to a different sound; each region has its own rhythms.
Colombian singers call Colombia the land of a thousand rhythms. However some of the best-known genres of Colombian music include, Cumbia, vallenato, champeta, etc. so, without any further ado, let's dive straight into the list of best-ever Colombian singers. 
READ MORE – 15 Best Popular Blind Singers Of All Time 
The list of Colombian singers is given below: 
1- Shakira
When this wonderful woman was young, she started developing an interest in belly dancing. Later, when she turned 10, she developed a passion for writing songs and taking part in several competitions.
Let me tell you she is the No.1 dancer in the world, this adds beauty overall when she performs as a singer. She has won Grammy awards, and several other awards.
Being a queen of Latin music, she has set a record for more than 80 million, hence this makes her the best-selling Latin female artist in history.
2- J Balvin
He is a big name in musical history. He was born and raised in Colombia till he was 17. Later, he moved to New York in order to learn English. This was the turning point of his life.
Whilst he was trying to learn English as a language, he got influenced by the music there in New York. So, following his interest, he learned music. He started his career performing in clubs at first. Slowly he became popular.
Balvin has experimented with several other musical genres such as electronics, house music, trap, R&B, etc. he continued to sing in the Spanish language with an aim of introducing this language to a global audience.
3- Juanes
His actual name is Esteban Aristizabal Vasquez. Apart from being a singer, he is a songwriter, guitarist, activist, and great human.
Whenever he gives a performance, people get mesmerized by his voice and stage persona. He got popular in the early 21st century with his crazy songs filled with passion for love, romance, and social struggle.
Juanes has been nominated for Grammy awards 7 times, out of which he has won three.
4- Carlos Vives
He is a wonderful singer, songwriter, and actor from Colombia. Vives loves traditional music.
The different forms of traditional styles in which he is great to include, Vallenato, Porto, Cumbia, and champeta. Apart from this, he is also good at pop, reggaeton, and rock.
This singer has superior taste in music. On his videos, you will find views in billions. Isn't that great? Till now, he has been nominated 7 times for Grammy awards out of which he has won two. 
READ MORE – 15 Talented Blind Piano Players Ever
5- Fonseca
Let me tell you why he is an extremely famous personality. He is great at selecting rhythms. Following this, he is known for a mix of pop, traditional vallenato, and cumbia rhythms.
This man learned at a very early age that he is going to be a singer. He was only 12 when he wrote his first-ever song. Moving on, his family supported him throughout to opt for music as his career. The list of his popular hits includes Maganue, Hace Tiempo, and Come Me, Mira.
Fonseca has won three Latin Grammy awards and one VMALA award.
6- Maluma
Following the year 2012, he released an album named "Magic or Magia", which became a global hit. Now, this helped him in gaining huge popularity worldwide.
Apart from being a singer, he is a songwriter and a wonderful actor. Not just one or two, but his multiple singles have charted within the top ten on billboard hot Latin songs.
Following the year 2020, he won an MTV Video Music Award For Best Latin 2020. Albeit, he has given numerous hit films as well.
7- Manuel Turizo
Have you heard of his song named "Una Lady Como Tu"?
If not, go and play it right now. Why am I saying this? Is because this was his best hit in 2016 which helped him in getting global attention.
This song was streamed more than 235 million times on Spotify. When he was only 11, he started training his voice. Later, he grew up under the influence of phenomenal artists. This helped him in enhancing his skills in writing songs.
Hence, he is a singer and a songwriter as well. At present, he is wonderfully capable of creating his own style of music.
8- Karol G
She is a big name in the musical industry. Karol is the epitome of grace and beauty. Her singing makes her look damn adorable.
Let me tell you, she is the star of musica Urbana. Well, it's a fusion of reggaeton, Latin trap, and some Spanish language hip hop.
Apart from this, she is also great at R&B and Pop. She faced a lot of struggles in the initial days of her musical career.
It was due to earlier as it used to be a male-dominated world of reggaeton, she was the only female who was competing with them. 
READ MORE – 15 Best Alto Singers Of All Time 
9- Kali Uchis
She is a Colombian-American singer, songwriter, record producer, and music video director.
However, she is very fond of writing and producing her own taste in music. People adore her for the uniqueness that she brings through her music and her writing abilities.
Apart from this she also learned to play musical instruments namely, piano, and saxophone.
10- Sebastian Yatra
The list of his popular hits includes,
Ojos marrones
Robarte un beso
Tacones rojos
Apart from being a singer, he is a songwriter and a popular actor as well.
He began his musical career as a Latin pop artist. Moving on, his reggaeton singles became extremely popular as soon as he released them.
He is known for the magic that he creates with the sense of romance in his music. Throughout his successful career, he has recorded with several artists from various genres.
The singer has won an ASCAP Latin award for one of his singles. In addition to this, he has been nominated for two Grammy awards and other awards as well.
11- Andrés Cepeda
He is a famous singer and songwriter. When he turned 5, he started developing an interest in piano. Moving on, the time when he turned 12, he released his first masterpiece.
His musical journey as a singer began with working as a lead vocalist of a pop group band. He has been nominated for Latin Grammy awards 8 times, out of which he won one.
However, the list of his popular hits includes,
Besos usados
Dia tras dia
Lo mejor que hay en mi vida
This gentleman has remained active in the music scene of his homeland.
12- Alejo Durán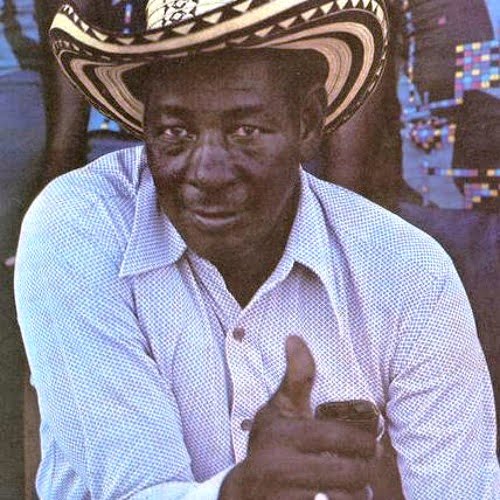 Duran was a well-known personality. Why? He was great at performing Colombian vallenato music. He performed the roles of composer, singer, and accordionist as well.
Throughout his life, he worked as a cowboy. He was a songwriter as well. The list of his popular songs includes,
Alicia adorada
Sielva Maria
El chevrolito
13- Andrés Cabas
His popular hits include,
Bonita
Mi Bombon
Tu Boca
Enamorandonos
This Colombian musician has won a Grammy Award for Best Latin children's album. Apart from this, he has been nominated for 5 other Grammy awards.
He has music in his blood. Apart from being a singer, he is a great composer as well. In addition to this, he was also nominated for best rock album and best rock interpretation.
However, over the years he has performed with other popular artists as well. 
READ MORE – 15 Best Black Male Singers That Everyone loves 
14- Toto La Momposina
Toto la, is the First Lady of traditional Colombian sounds. Her influence is as great as ever. Her latest album named "Tambolero" has helped her in gaining global success.
She is a Colombian singer of African and indigenous descent. Toto la has an extremely powerful voice. The lady is also great at dancing. She was born into a family of musicians. Now, because of that she is born talented.
Her father was a drummer and her mother was a dancer. She traveled with them to several villages where she learned a plethora of rhythms. This helped her in learning music from her roots.
15- Camilo
He is a singer, songwriter, 5 times Latin Grammy awards winner. Camilo was also nominated twice for Grammy awards.
Speaking of his musical hits includes, Manos de Tijera, Buenos Dias, tutu, etc. following his family traditions he always sings barefoot. He calls his fans Tribu.
Camilo has that breezy tenor vocal that will indirectly force you to love him even more. He writes songs for other popular artists as well. Some of his musical hits includes, manos de tijera, buenos Dias, tutu, indigo.