Hey Guys! What's up? Are you ready to celebrate the New Year, but end up scrolling and searching for the new year parties for 2023 in Mumbai? No need to search anymore. Here, we are going to consider the most happening parties for New Year 2023 in Mumbai.
New Year comes with new beginnings, new resolutions, and new commitments. All of us celebrate the upcoming year and are grateful for the past one. Isn't it? A new year always brings some positivity and hope for new journeys.
READ MORE- Top 5 New Year Parties 2023 In Bhopal You Must Go
What are you waiting for? Are you ready with your dresses, your dancing shoes, and your soulful attitude? Hurry up and reserve the ticket for this celebration. For that, you must choose where you want to go to celebrate this year. Let's check out the Top 5 New Year Parties 2023 in Mumbai.
1- Bora Bora Big Bollywood New Year Party: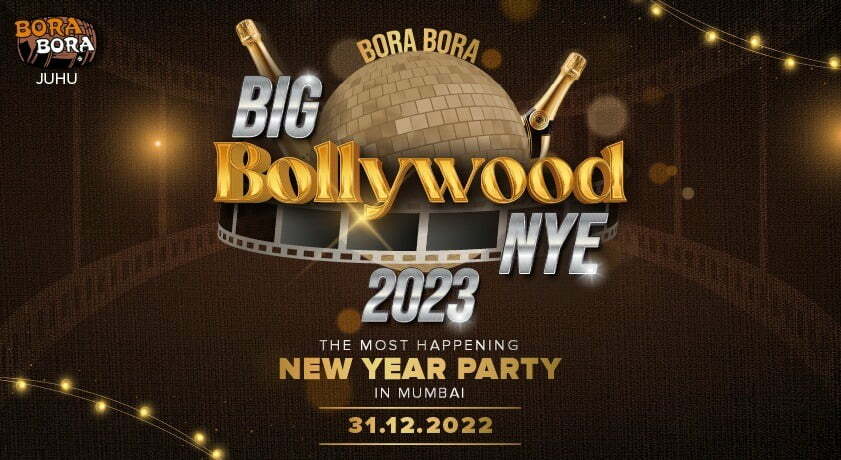 Let's know about one of the most happening New Year Parties. Bora Bora Big Bollywood Party will be held on 31 December.
Enjoy the party with delightful food, dancing floors, drinks, and a lot more. The party also includes live performances to soothe your soul.
Moreover, it will be held in multiple venues in Mumbai. Check out the details to know more.
Venue: Bora Bora MIDC, Bandra West, Andheri, Juhu (Mumbai).
Cost: Rs. 2,500 onwards.
Time: 8.00 PM onwards
You can also book tickets from the link given below. It is just a click away to go.
2- The Lalit Mumbai- Grand New Year Festival: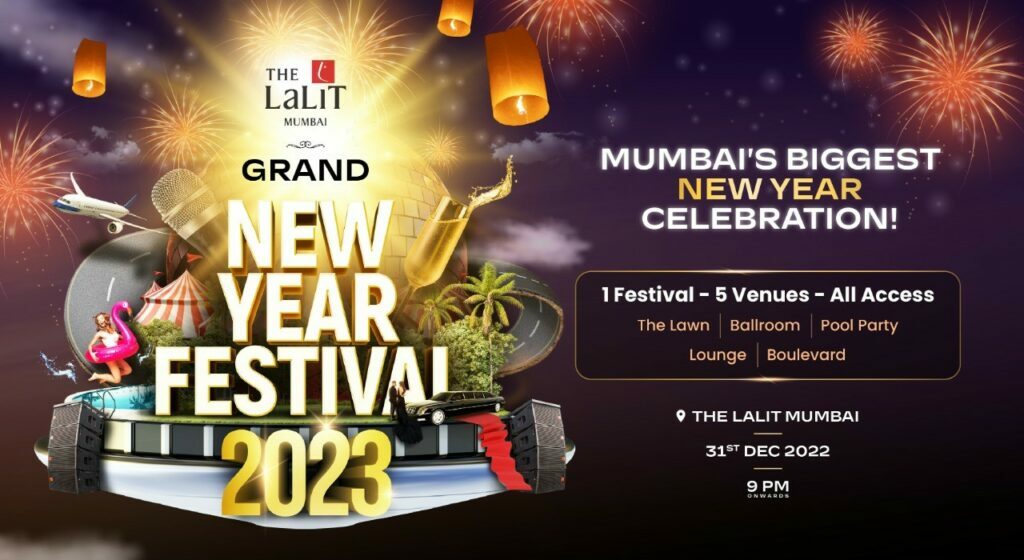 If you are looking for a grand party in Mumbai for the 2023 celebration, The Lalit hotel party would be the best for you. The five-star offers a themed festival party. It includes five different zones for people to enjoy the way they want to. These five zones are:
Majestic Ballroom
The Grand Lawn
The Boulevard
The Pool
The Lounge
Let's know more about the party(31st December) at the five-star Lalit hotel in Mumbai.
Venue: Lalit hotel, Mumbai.
Cost: Rs. 2,000 onwards.
Time: 9.00 PM onwards.
Hurry up, guys! Book the tickets from the given link to enjoy the larger-than-life experience.
3- Imagica New Year Bash 2023: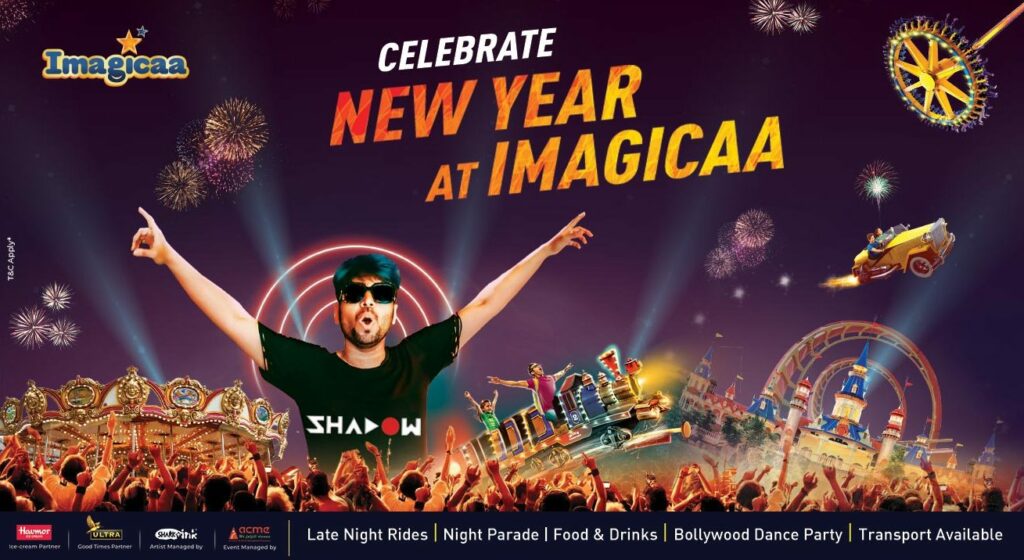 Another New Year Bash is going to be held in Imagica Theme Park, Mumbai on 31st December. Do whatever you want to do. Be it enjoying mind-blowing rides, live performances, and dancing like crazy. How one could resist doing that?
In fact, let me tell you about the passes and the entry levels. People who have Early Bird and Silver passes may enter the park from 8.00 Pm onwards. However, one who has the Gold, Diamond, or VIP pass can enter the park from 10.00 Am onwards.
Do you know which artist is coming for fascinating the party? It's DJ Shadow Dubai. Don't miss the chance to see him. Book your tickets now.
Venue: Imagica Theme Park, Khopoli(Mumbai)
Cost: 2,058 onwards.
Time: 10.00 AM onwards.
4- Tap Big Bollywood NYE 2023: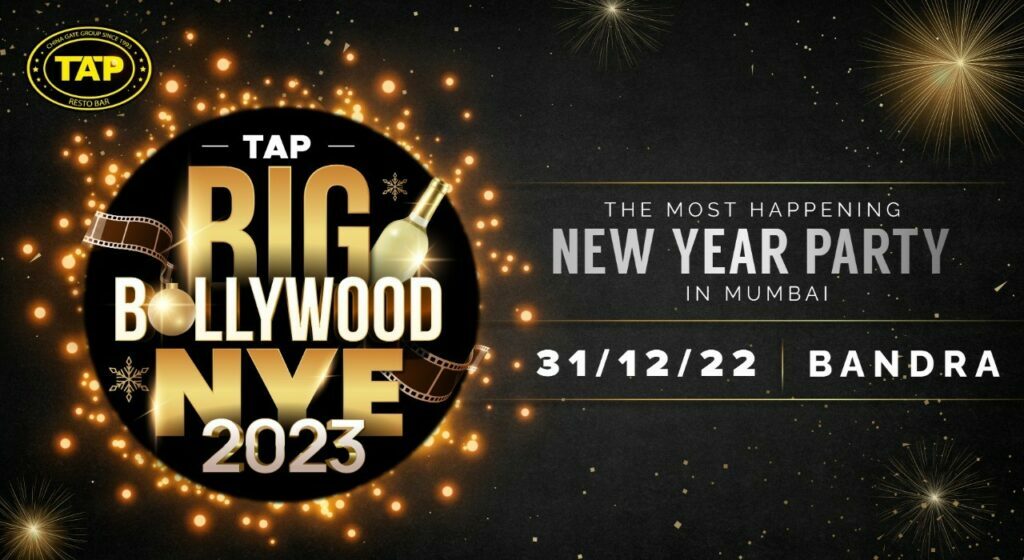 Tap Big Bollywood is popular for Bollywood-themed New Year parties. Dance like never before on stupendous floors. Feel the amazing lounge experience at the venues.
There are multiple venues including Juhu, Andheri, Bandra, etc. You can book tickets according to your preference.
Venue: Tap: Andheri, Bandra, Sakinaka, Juhu, Worli.
Cost: 3,000 onwards.
Time: 8.00 Pm Onwards.
READ MORE- SKG Events Presents Red Velvet Season 4 Luxurious New Year Party 2023 At Taj Lakefront Bhopal
5- Sensational New Year's Eve: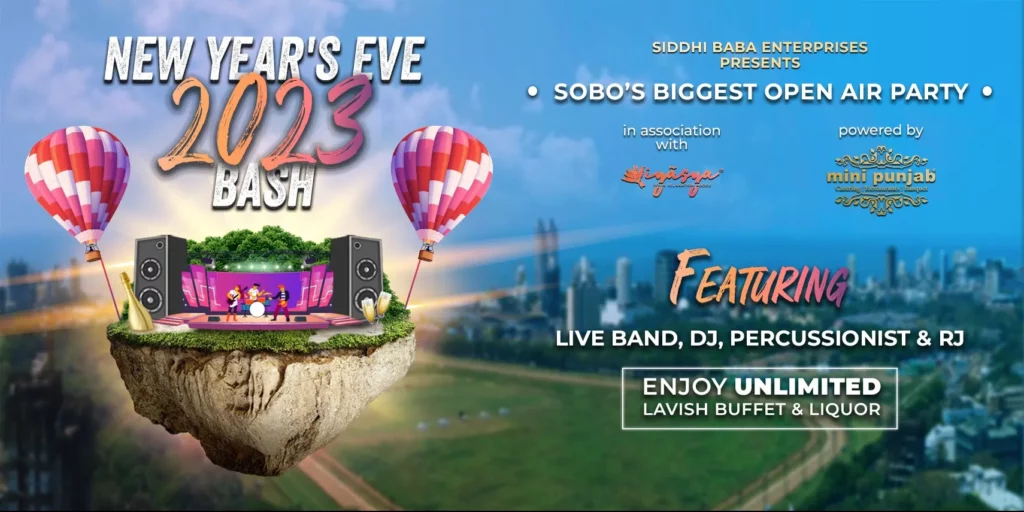 Visit one of the biggest Open Air Party, Sensational New Year's Eve. Here you will get the biggest dance floor to hit, unlimited cocktails, lucky draws, rocking music, and live performances.
What else one could ask for? The Mahalaxmi Racecourse is the perfect place for those who want to party in the open air and wants mouth-watering appetizers. Don't miss that New Year vibe and Book the tickets now.
Venue: Mahalaxmi Racecourse, Mumbai.
Cost: Rs. 1,999 onwards.
Time: 8.30 Pm Onwards.