Hey folks! Today's article is all about the best yellow cartoon characters ever. However,  As the lightest hue on the color spectrum, yellow is often associated with warmth and happiness. It's no surprise so many cool characters wear yellow.
Furthermore, after reading this article on yellow characters you will be able to decide Who's your favorite yellow character?
Here I have ranked the best yellow characters of all time, from Homer Simpson to Bert. Albeit this list also includes fan favorites like SpongeBob Square Pants, Winnie the Pooh, etc.
READ MORE – 10 Powerful Villain In Sonic You Must Know 
So, without any further ado let's dive straight into the list. 
1- Homer Simpson
Homer Jay Simpson is one of the best yellow cartoon characters. He is one of the main characters of the American cartoon sitcom The Simpsons.
However, His voiced by Dan Castellaneta and first appeared, along with the rest of his family, in The Tracey Ullman Show short, Good Night.
Created by: Matt Groening
Designed by: Matt Groening
2- SpongeBob Square Pants
SpongeBob SquarePants is an American cartoon comedy television series, created by marine science educator and animator Stephen Hillenburg for Nickelodeon.
Furthermore, SpongeBob SquarePants has won a variety of awards including six Annie Awards, eight Golden Reel Awards, four Emmy Awards, 19 Kids' Choice Awards, and two BAFTA Children's Awards. A Broadway musical based on the series opened in 2017 to critical acclaim.
Created by: Stephen Hillenburg
Designed by: Derek Drymon, Tim Hill, Nick Jennings
READ MORE – 15 Most Popular Cartoons From The 2000s 
3- Winnie the Pooh
Winnie the Pooh, the fictional teddy bear created by English author A. A. Milne, One of the most popular yellow cartoon characters adapted for film and television by The Walt Disney Company.
Furthermore, In 2002, TV Guide compiled a list of the 50 greatest cartoon characters of all time as part of the magazine's 50th anniversary. Winnie the Pooh was given the honor of number 27.
Created by: A. A. Milne, E. H. Shepard
4- Pikachu
Pikachu is a fictional species in the Pokémon media franchise. Pikachu first appeared in the 1996 Japanese video games Pokémon Red and Green. It is definitely one of the most popular yellow cartoon characters of all time. 
Furthermore, considered to be the most popular and well-known Pokémon species, largely due to its appearance in the Pokémon anime television series as the companion of protagonist Ash Ketchum.
Moreover, Pikachu has been well received by critics, with particular praise given for its cuteness, and has come to be regarded as an icon of Japanese pop culture.
Designed by:  Atsuko Nishida, Ken Sugimori
Created by: Game Freak and Nintendo
READ MORE – 15 Famous Animated Cartoon Cats Characters Of All Time 
5- The Simpsons
The Simpsons is an American cartoon sitcom. As a whole, the Simpsons are easily some of the most memorable cartoon characters of all time.
Furthermore, The Simpsons made their first on-screen appearance in 1987 as part of The Tracey Ullman Show. Their short segment became so popular that The Simpsons followed up with their own series in 1989 and it has been on the air ever since.
Moreover, the creator of the Simpsons revealed in an interview why are the Simpsons characters yellow? He said he did not want to pick the "conventional cartoon colors" for the characters. An animator had come up with the idea of giving them the typical yellow hue and as soon as he saw it, he agreed.
Created by: Matt Groening
Developed by: James L. Brooks, Matt Groening, Sam Simon
6- Wolverine
Okay, I know that Wolverine technically isn't yellow – but his costume is so he still deserves a spot on this list.
However, Wolverine introduced in an issue of The Incredible Hulk comic book in 1974. He has gone from being nothing more than a guest star to having a storyline of his own.
Furthermore, Wolverine is arguably the most popular member of the X-Men and his ability to heal quickly has made him a major asset to the team.
Moreover, He has appeared in every X-Men project to ever exist and that probably won't change. One of the most popular Yellow Cartoon Characters ever.
Created by: Roy Thomas, Len Wein, John Romita Sr.
READ MORE – 12 Best Fat Cartoon Characters You Must Know
7- Minions
Minions are fictional yellow creatures that appear in Illumination's Despicable Me franchise. However, They characterized by their childlike behavior and unique language, which is largely unintelligible.
Furthermore, The Minions serve as the official mascots for Illumination and are also described by The New York Times as "corporate icons" for Comcast in the years.
8- Tweety Bird
Tweety is a yellow canary in the Warner Bros. However, The name "Tweety" is a play on words, as it originally meant "sweetie", along with "tweet" being an English onomatopoeia for the sounds of birds.
Furthermore, Despite the perceptions that people may hold, owing to the long eyelashes and high-pitched voice, Tweety is male although his ambiguity was played with. One of the most popular Yellow Cartoon Characters ever.
Created by: Bob Clampett, Friz Freleng 
Designed by: Rod Scribner, Thomas McKimson, Friz Freleng
READ MORE – 15 Hottest Female Cartoon Characters Of All Time 
9- Pac-Man
Pac-Man is a fictional character and the titular protagonist of the video game franchise of the same name.
However, Pac-Man's most common antagonists are the Ghost Gang — Blinky, Pinky, Inky, and Clyde that determined to defeat him to accomplish their goals, which change throughout the series.
Furthermore, Pac-Man also has a voracious appetite, being able to consume vast amounts of food in a short time span, and can eat his enemies by consuming large "Power Pellets".
Created by: Toru Iwatani
Designed by: Toru Iwatani, Tadashi Yamashita
10- Jake the Dog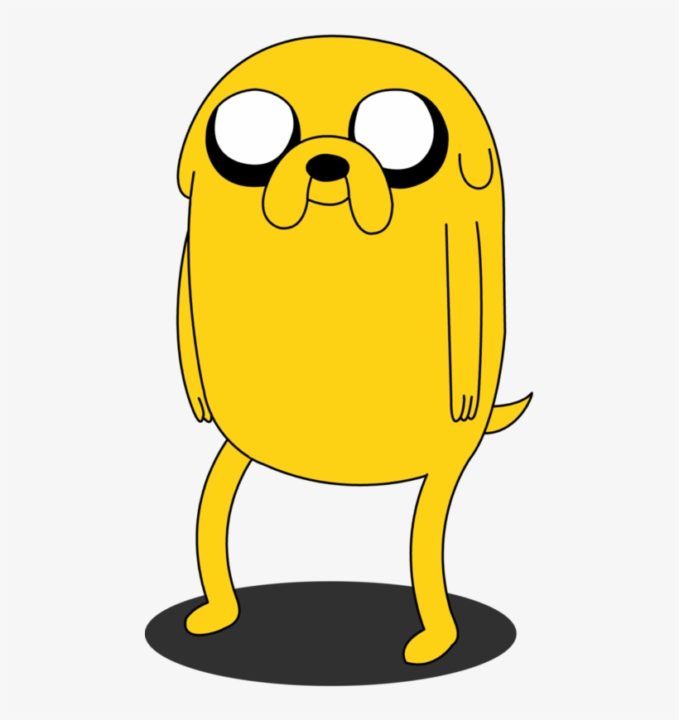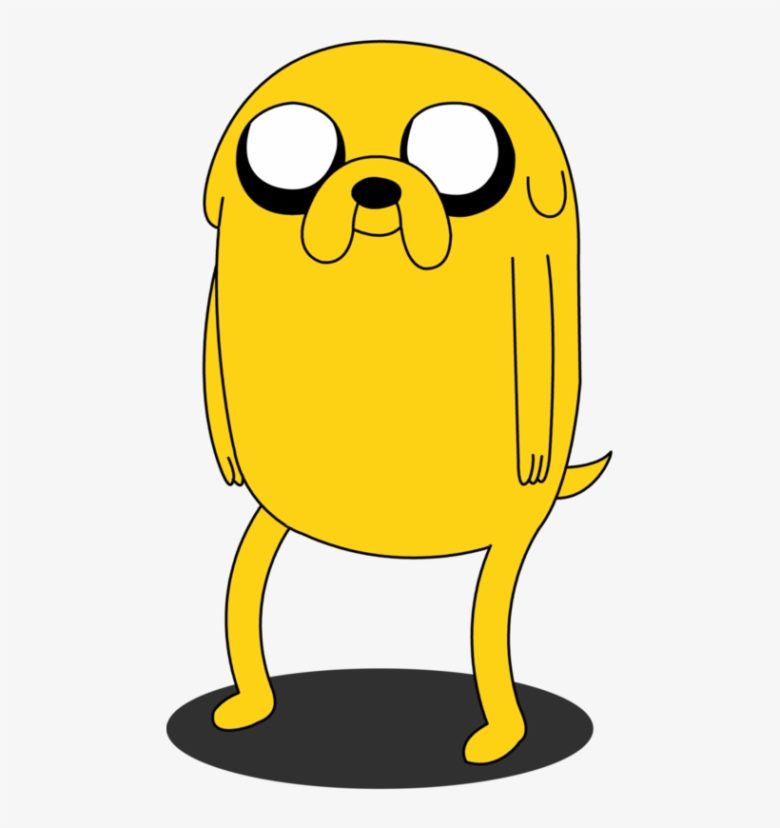 Jake the Dog is a fictional character in the American animated television series Adventure Time. One of the most popular Yellow Cartoon Characters ever.
However, He also appeared in the spin-off series Adventure Time: Distant Lands. He is voiced by John DiMaggio. The character made his debut in the original pilot.
Furthermore, Jake has received mostly positive reviews from critics. A gender-swapped version of Jake called Cake the cat appeared in the third-season episode "Fionna and Cake", and is the main character of the spinoff series Adventure Time: Fionna and Cake.
Created by: Pendleton Ward.
READ MORE – 15 Best 80s Cartoon Reminds Your Childhood Memories 
11- Flounder
Flounder is a major character in Disney's 1989 animated feature film, The Little Mermaid. He is Ariel's best friend, who regularly embarks on her adventures despite his cowardly demeanor.
Though his name would imply otherwise, he is not a flounder, but rather a tropical yellow fish with teal stripes.
Created by: Ron Clements & John Musker
12- Bert
Bert first appeared in the test episodes of Sesame Street in 1969, with his unibrow never moving, and a little more time.
Then later in the years starting in Season 3 of Sesame Street, Bert can move his unibrow up and down. Starting in 1997, he was funnier and nicer but still grumpy. Bert has been known to be changed nine times.
He is indeed an extremely famous one of the yellow characters.