Hey folks, hope you all are doing great. To begin with, "cartoon dogs" does the term excite you? if yes, then today's article is all about the best popular animated cartoon dogs of all time. 
However, we all can agree on this point that dogs are beautiful creatures, who are extremely loyal, loving, and caring towards their owner. So, people are also very fond of even cartoon dogs.
Furthermore, There is no doubt that dogs and humans have a millennia-long history of close relations, and since the dawn of television, countless dogs have appeared on the big blue screen.
Moreover, Cartoon dogs are even more special. They can solve puzzles, talk to babies, walk on their hind legs, and will remain loyal to their respective owners no matter what happens. 
So, without any further ado, let's dive straight into the list of best cartoon dogs of all time. In case you like the article, do not hesitate to share it with people who are dog freaks.
READ MORE – 12 Most Popular Yellow Cartoon Characters Ever  
1- Scooby-Doo
Scooby-Doo is the eponymous character and protagonist of the animated television franchise of the same name, created in 1969 by the American animation company Hanna-Barbera.
Furthermore, He is a male Great Dane and lifelong companion of amateur detective Shaggy Rogers, with whom he shares many personality traits.
Moreover, He features a mix of both canine and human behaviors (reminiscent of other talking animals in Hanna-Barbera's series) and treated by his friends more or less as an equal. He speaks in a slurred, dog-like voice. His catchphrase is "Scooby-Dooby-Doo!"
Created by: Joe Ruby, Ken Spears
2- Droopy
Droopy is an animated character from the golden age of American animation. He is an anthropomorphic white Basset Hound with a droopy face; hence his name.
However, Droopy moves slowly and lethargically, speaks in a jowly monotone voice, and—though hardly an imposing character—is shrewd enough to outwit his enemies.
Furthermore, The character revived several times for new productions including films and television shows. One of the most Popular Animated Cartoon Dogs of all time.
READ MORE – 15 Most Popular Cartoons From The 2000s 
3- Pluto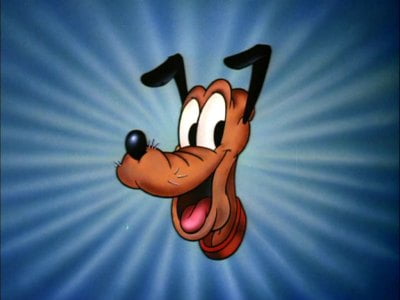 Pluto is a cartoon character, created by The Walt Disney Company. He is a yellow-orange color, medium-sized, short-haired dog with black ears. Unlike most Disney characters. 
Furthermore, Pluto is not anthropomorphic beyond some characteristics such as facial expression. He is Mickey's pet. Officially a mixed-breed dog, he made his debut as a bloodhound in the Mickey Mouse cartoon, "The Chain Gang".
Moreover, Pluto debuted in animated cartoons and appeared in 24 Mickey Mouse films before receiving his series in 1937. All together Pluto appeared in 89 short films between 1930 and 1953.
Created by: Walt Disney, Norman Ferguson
4- Brian Giffin
To begin with, H. Brian Griffin is a fictional character from the American cartoon television series Family Guy. An anthropomorphic white Labrador voiced by Seth MacFarlane, he is one of the show's main characters as a member of the Griffin family.
However, He primarily works in the series as a less-than-adept writer struggling to find himself, attempting essays, novels, screenplays, and newspaper articles.
Furthermore, As a character, Brian was initially very well received by critics although reception in later years has been mixed.
Created by: Seth MacFarlane
READ MORE – 15 Famous Animated Cartoon Cats Characters Of All Time
5- Goofy
Goofy is a cartoon character. Well, appearance-wise He is a tall, anthropomorphic dog. However, He typically wears a turtleneck and vest, with pants, shoes, white gloves, and a tall hat originally designed as a rumpled fedora.
Furthermore, Goofy is a close friend of Mickey Mouse and Donald Duck. Characterized as hopelessly clumsy and dim-witted, this interpretation is not always definitive; occasionally, Goofy is shown as intuitive and clever, albeit in his own unique, eccentric way. 
Later on, Goofy debuted in animated cartoons, starting in 1932 with Mickey's Revue as Dippy Dawg. One of the most Popular Animated Cartoon Dogs of all time.
Created by: The Walt Disney and Wilfred Jackson
Designed by: Walt Disney, Tom Palmer
6- Odie
To begin with, This fictional dog is absolutely special. He is the dog who appears in the comic strip Garfield by Jim Davis.
However, He has also made appearances in the animated television series Garfield and Friends and The Garfield Show, two live-action/CGI feature films, and three fully CGI films. Amazing, right?
Furthermore, if we talk about his appearance then, Odie is a yellow-furred, brown-eared dog. He has a large tongue and slobbers.
Moreover, In the live-action/animated films based on the Garfield franchise, he depicted as a wire-haired dachshund/terrier mix.
READ MORE – 12 Best Fat Cartoon Characters You Must Know
7- Snoopy
Begin with, Snoopy is an anthropomorphic beagle in the comic strip Peanuts by Charles M. Schulz.
However, He can also be found in all of the Peanuts films and television specials.
Furthermore, The original drawings of Snoopy were inspired by Spike, one of Schulz's childhood dogs. Snoopy can be selfish, gluttonous, and lazy at times, and occasionally mocks his owner, Charlie Brown. 
Nevertheless, on the whole, he shows great love, care, and loyalty to his owner.
Moreover, Snoopy imagines himself to speak, but never actually does, other than nonverbal sounds and occasionally uttering "Woof". He's very articulate thoughts are shown in thought balloons.
Snoopy blessed with a rich, Walter Mitty-like fantasy life. One of the most Popular Animated Cartoon Dogs of all time.
Created by: Charles M. Schulz
8- Bolt
Bolt is the titular protagonist of Disney's 2008 cartoon feature film of the same name.
However, He is a white German shepherd and the star of a live-action superhero series. When he becomes spirited away from his owner, Penny, Bolt embarks on a journey in the real world to get home.
Furthermore, The character of this dog received mostly positive critical acclaim from film critics and became a breakout character, leading to strong sales of merchandise and toys.
Created by: Chris Williams, Byron Howard, Joe Moshier
READ MORE – 15 Hottest Female Cartoon Characters Of All Time 
9- Huckleberry Hound
Huckleberry "Huck" Hound is a fictional cartoon character, a blue anthropomorphic coonhound that speaks with a North Carolina Southern drawl.
However, He first appeared in the series, "The Huckleberry Hound Show". The cartoon was one of six TV shows to win an Emmy Award in 1960.
Furthermore, Most of his short films consisted of Huck trying to perform jobs in different fields, ranging from policeman to dogcatcher, with results that backfired, yet usually coming out on top, either through slow persistence or sheer luck.
Moreover, Huck's name is a reference to the 1884 American novel Adventures of Huckleberry Finn, written by Mark Twain. Hanna and Barbera almost named Yogi Bear "Huckleberry Bear".
Created by: William Hanna, Joseph Barbera
10- Underdog
Underdog is an American Saturday morning animated television series that ran from October 3, 1964, to March 4, 1967.
However, Underdog, Shoeshine Boy's heroic alter ego, appears whenever love interest Sweet Polly Purebred is being victimized by such villains as Simon Bar Sinister or Riff Raff.
Furthermore, Underdog nearly always speaks in rhyming couplets.
Couplets, as in "There's no need to fear, Underdog is here!"  Cute isn't it? One of the most Popular Animated Cartoon Dogs of all time.
Created by: W. Watts Biggers, Chet Stover, Joe Harris
READ MORE – 15 Best 80s Cartoon Reminds Your Childhood Memories
11- Santa's Little Helper
To begin, Santa's Little Helper is a fictional dog in the American animated television series The Simpsons. He is the pet greyhound of the Simpson family.
However, The dog was introduced in the first episode of the show, the 1989 Christmas special "Simpsons Roasting on an Open Fire", in which his owner abandons him for finishing last in a greyhound race.
Furthermore, Santa's Little Helper has since appeared frequently on The Simpsons and is the center of the plots of several episodes. One of the most Popular Animated Cartoon Dogs of all time.
Created by: Matt Groening
Designed by: Matt Groening
12- Jake The Dog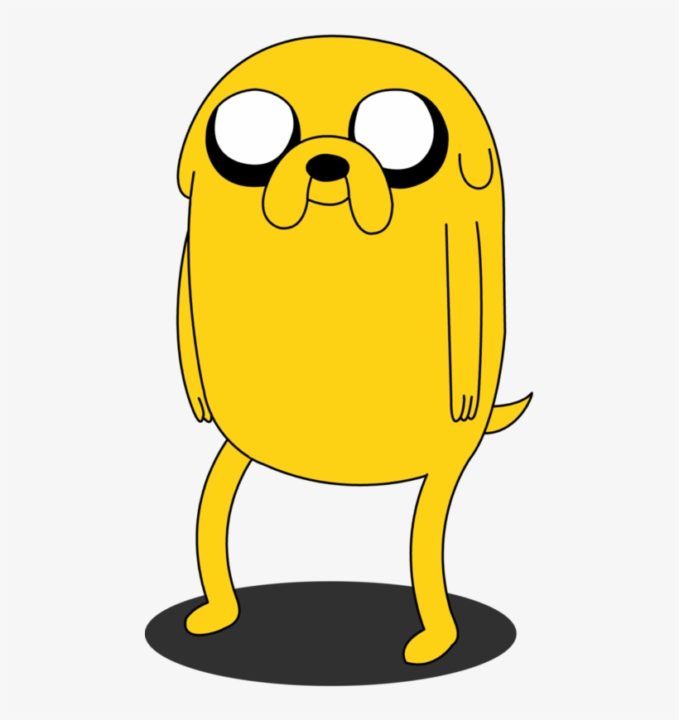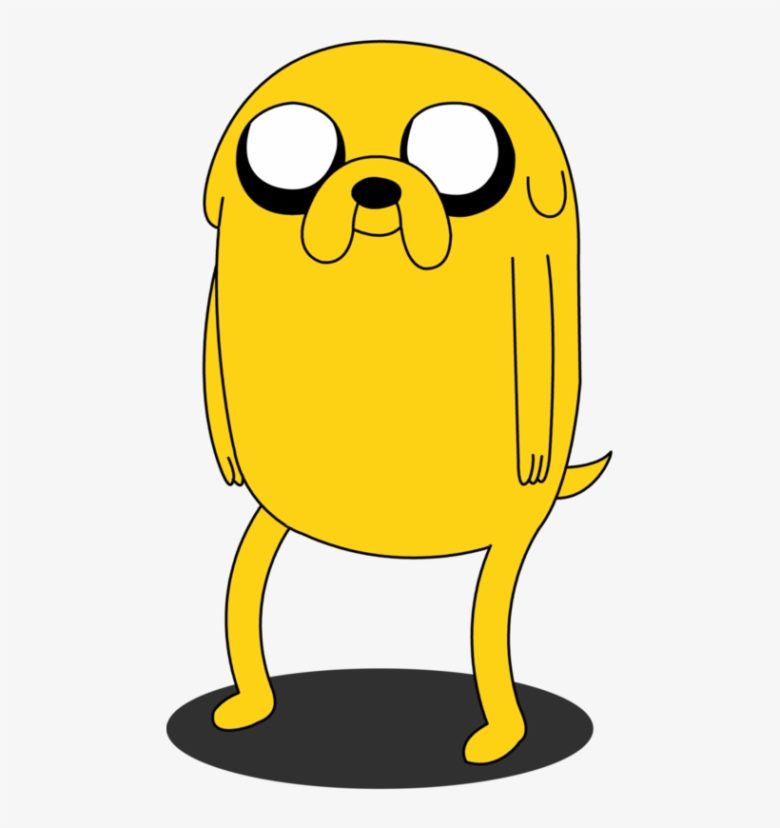 Jake the Dog is a fictional character in the American animated television series Adventure Time.
However, He also appeared in the spin-off series Adventure Time: Distant Lands. He is voiced by John DiMaggio. The character made his debut in the original pilot.
Furthermore, Jake has received mostly positive reviews from critics. A gender-swapped version of Jake called Cake the cat appeared in the third-season episode "Fionna and Cake", and is the main character of the spinoff series Adventure Time: Fionna and Cake.
Created by: Pendleton Ward.